Hiking the Highlands Trail in NJ is one way to see some of the most scenic areas of the state. Experienced hikers, and newbie hikers, can find a section of the NJ Highlands Trail that will fit their needs. This trail is a scenic pathway through New Jersey's northwestern region. This trail offers outdoor recreational opportunities for hard core hikers that can cover 10+ miles at a time and folks who just want to stroll through the woods. If you want to see the wilder side of the Garden State, try a hike on the Highlands Trail.
Where is the Highlands Trail in NJ?
The Highlands Trail in New Jersey is located in the northwest corner of the state. The trail begins on the Riegelsville Bridge over the Delaware River at the border of Pennsylvania and New Jersey. The Highlands Trail travels northeast and enters New York State east of Greenwood Lake.
The Highlands Trail in NJ runs through Hunterdon, Warren, Morris, Sussex, and Passaic counties.
How long is the Highlands Trail in NJ?
The Highlands Trail in NJ is approximately 129 miles long, although the actual mileage can change each year due to trail relocations.
We used data from the NY/NJ Trail Conference, the Sierra Club, and The Hiking Project (THP) and ultimately used the number from THP's interactive map for New Jersey's mileage.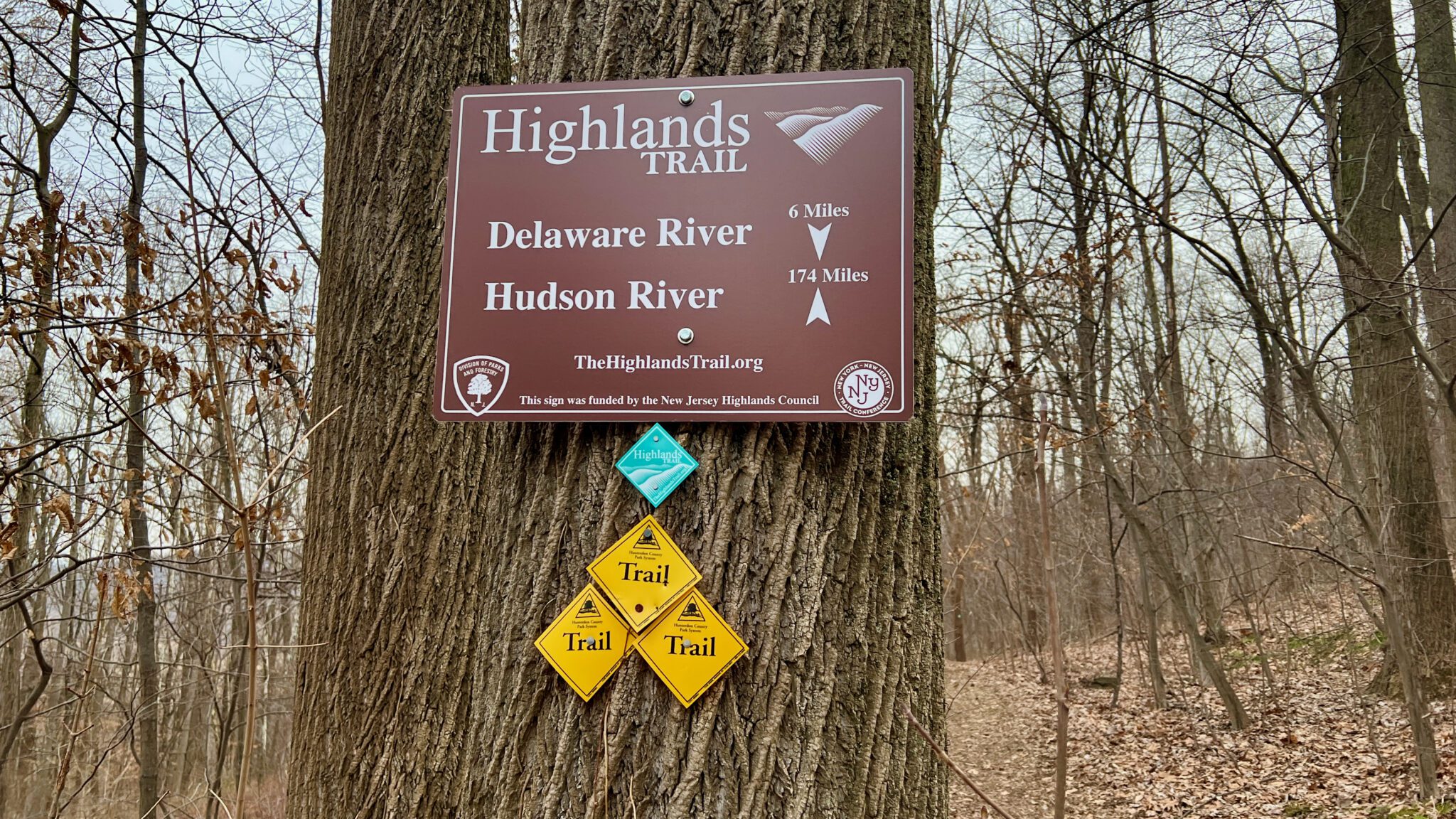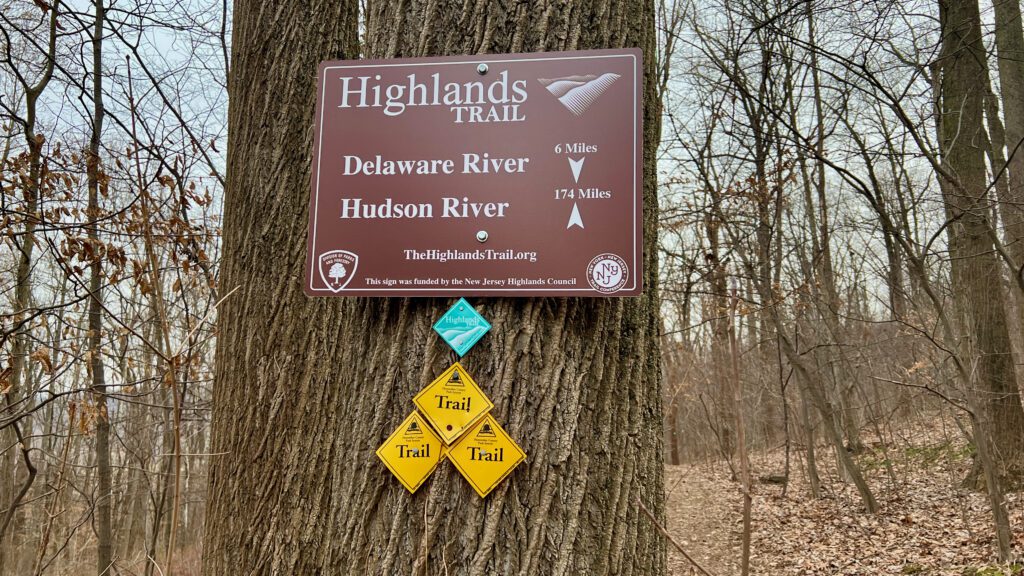 Having a map of the Highlands Trail in New Jersey is very helpful to planing your hikes. We used several sources for a Highlands Trail NJ Map. 
First, it's best to visit the NY/NJ Trail Conference website, which has detailed information about each section. I usually take a screen shot of my planned hike so I have it on my phone if I lose wireless reception. 
The best option for a detailed Highlands Trail NJ Map is to download the Avenza Maps app on your iPhone or Android device. The app is free and the Highlands Trail NJ Map is free as well. This is by far the most recommended trail map option for the entire Highlands Trail.
Finally, I like to use The Hiking Project interactive map after my hike to confirm the miles that my gps recorded.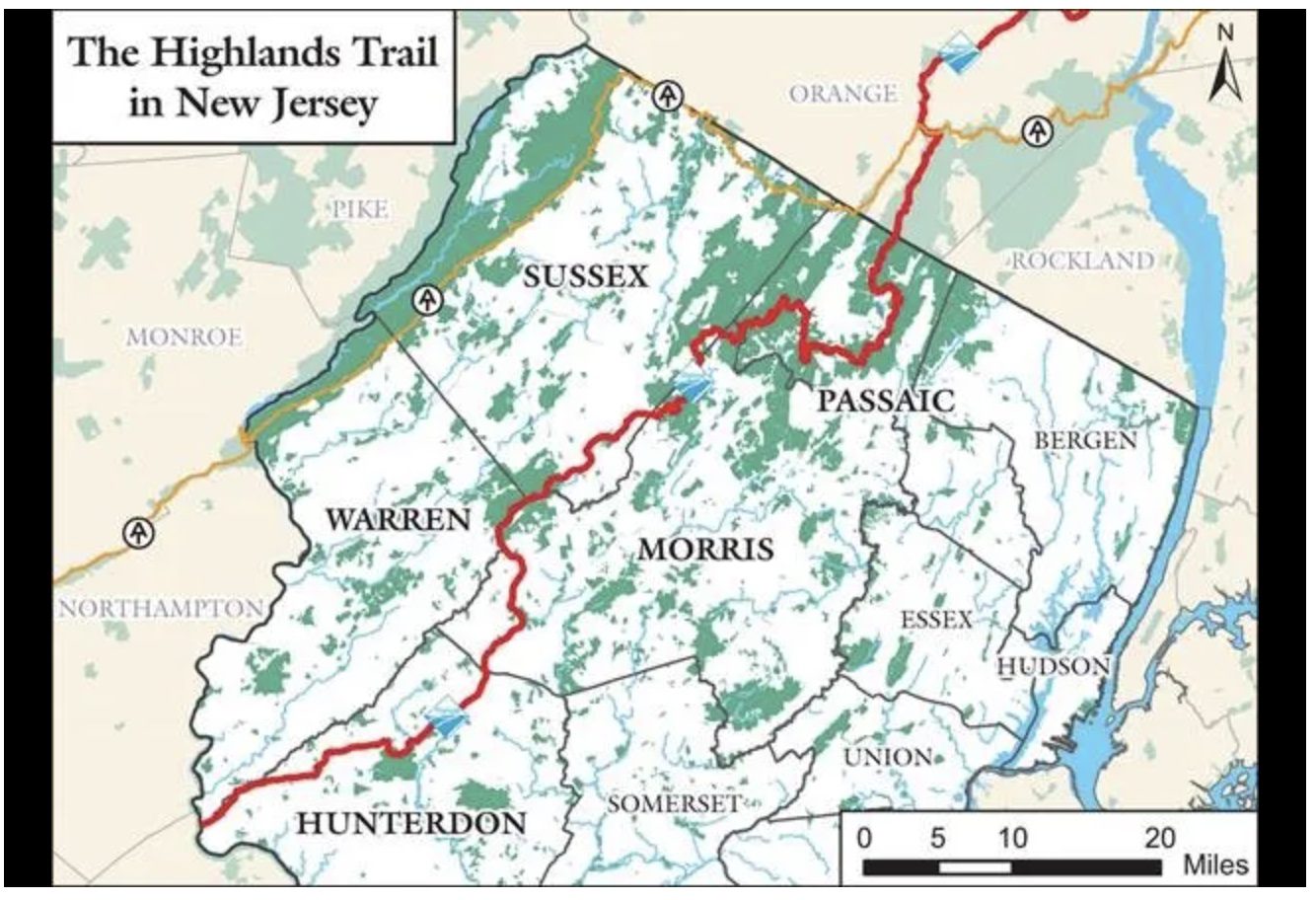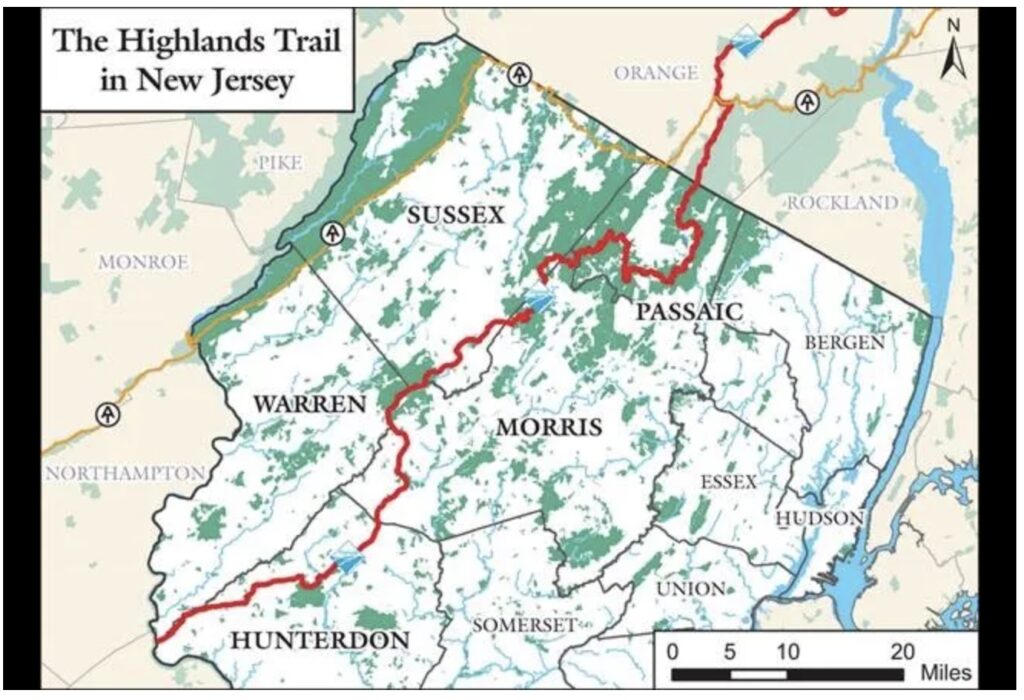 I always like to research trails before a hike. Having a NJ Highlands Trail Guide gives a hiker more details than a map offers. For example, having tips from hikers who have already completed a section can point out interesting aspects that might be missed. Also, a NJ Highlands Trail Guide provides a hiker with key data points like water sources, additional parking areas, where private land is, and potential areas of concern.
In addition to the NY/NJ Trail Conference website, we post trail section details (tips, pictures, notable sections, trail hazards, video summaries, and trail notes) as I section hike my way from the Delaware River to the NJ/NY border.
Click here to see the NJ Highlands Trail Guide by section.
The Highlands Trail in New Jersey is a wild and beautiful hiking destination that can be enjoyed year-round. Whether you're looking for some wintertime snowscapes, the lush greenery of springtime, or the iconic mountain laurel and rhododendron blooms of summer, there's something for everyone along this scenic trail.
For seasoned hikers or a casual walkers, the Highlands Trail is sure to delight and impress. So when's the best time to experience this beautiful trail for yourself? Read on for some tips and recommendations!
Wintertime hikes on the Highlands Trail can show off the scenery in a different light, with snow-covered trees and a blanket of white over the landscape. It's also a great time to see more of the trail, as leafless trees provide better views.
Springtime hikers can enjoy new growth on plants and trees, rushing rivers and streams, and potentially the first bear sighting of the year.
In late May through early July, mountain laurel and rhododendron take center stage as these iconic flowering plants burst into full bloom along the Highlands Trail. At this time of year, native wildflowers are also visible, adding a splash of color to the scenic landscape.
Whether you're looking to take on a challenging hike or simply enjoy a leisurely stroll, the Highlands Trail is an ideal destination.
So what are you waiting for? Start planning your next trip today!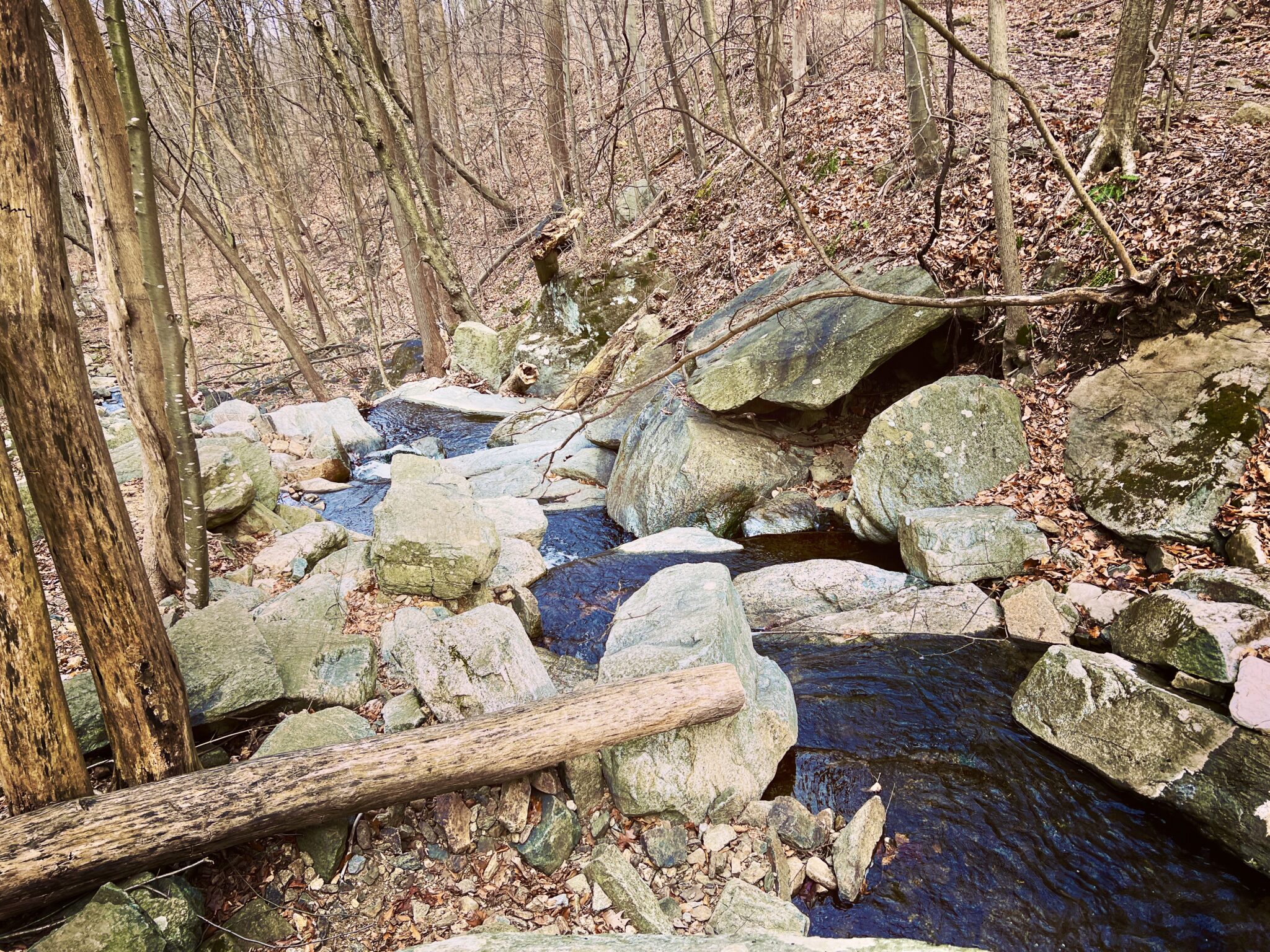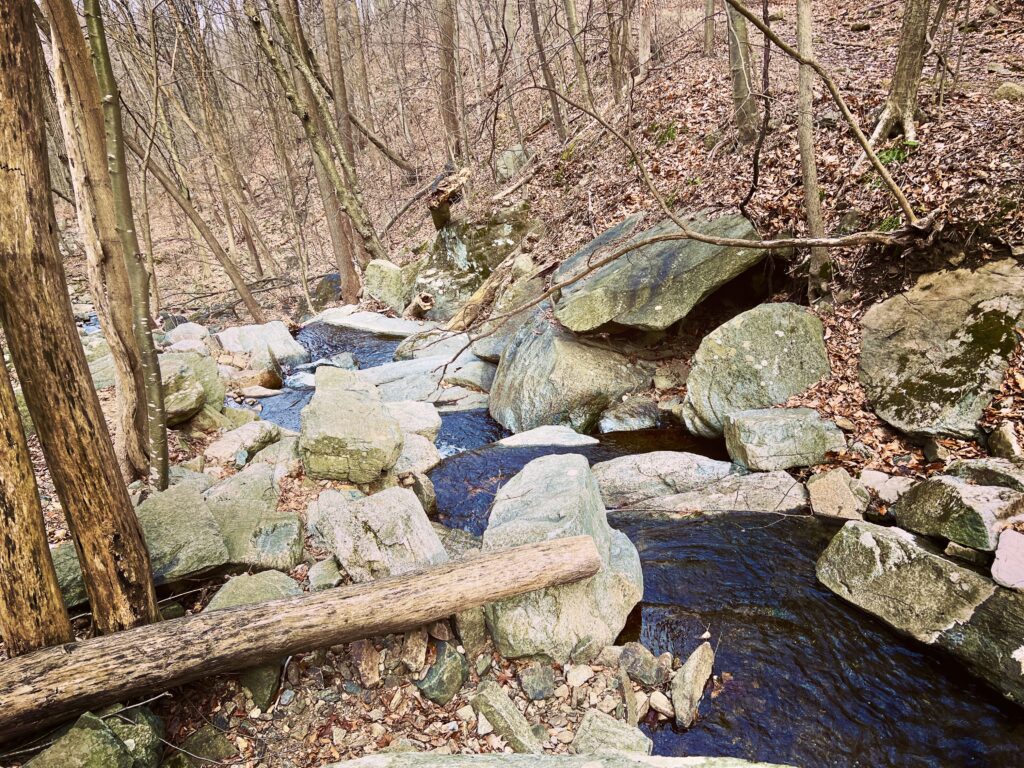 How to hike the Highlands Trail NJ End-to-End
Hiking a trail end-to-end takes time, planning and determination. Most people think of end-to-end hikes as thru-hikes, but and end-to-end hike can be a series of day-hikes that cover the whole trail. As a matter of fact, day-hiking is the only way to complete the entire Highlands Trail in NJ since camping is not allowed on the trail.
Tips for hiking the entire trail in New Jersey
Get to know the trail and it's sections. Visit the NY/NJ Trail Conference website, other websites, search YouTube for videos, and use the information here at OutdoorZ.Life. Research and planning hikes is fun and will ensure you are prepared.
2. Travel to and from your hike
It is important to plan how you will travel to the start and end of each day hike. There are a few possibilities:
Out-and-Back hike: this is where you are stuck with parking in one place and hiking out and then back to your car. The upside is that its wasy but the downside is that you hike double the miles than necessary. Only use this method as a last resort.
Car shuttle: have a family member of friend follow you to the planned end point and drop of your car there. Then both drive to the starting point and hike to your car. This works great if you can find someone will do help you.
Paid Shuttle: I haven't tried this one yet but plan to at some point as section hikes are farther from where I live. This could be a taxi or UBER that picks you up from the end point and drives you to the start point….Uber Hiking! My plan, when I try this is to be prepared to do an out-and-back if I can't get and Uber to pick me up. Trails parking can be in remote areas, so this one might be a challenge!
Hike home: this one can only be used once and only if you live near the Highlands Trail as I do. I had family members drop me off down the trail and I hiked home.  It was fun, but now I have to use the methods mentioned above for the rest of my hikes.
I carry a daypack to ensure that I am prepared for longer hikes. Water, snacks, a small first aid kit, head lamp, extra clothes, camera, and gopro gear all are in my daypack. In winter, I am sure to carry gloves, hats and hand warmers.
4. Communicate your plans to someone
its is always good to have at least one other person knowing your planned hiking route and expected time to complete the trip. 
Hiking 129 miles may seem daunting, but it all starts with one step. Even if you don't complete the entire trail, you had some tremendous hikes and saw new things. However, after a section or two are completed you will gain momentum towards your goal.
I find it good to keep track of each hike as the enter Highlands Trail NJ end-to-end hike might take years to complete. I usually keep summary data in a spreadsheet so that I remember down the road.
Take it easy, hike your own hike, and enjoy all that the Highlands Trail in NJ has to offer!
"In every walk with nature, one receives far more than he seeks."
"Me thinks that the moment my legs begin to move, my thoughts begin to flow."
"Walking is a man's best medicine."