Reading Time:
5
minutes
Jenny Jump by Mountain Lake in Warren County has trails that offer a fun out-and-back hike over the mountains west of the lake. For accessible hiking that mostly avoids large crowds, try the Mountain Lake Trail and the southern portion of the Jenny Jump Trail. These trails have elevation changes, seasonal views of the Delaware Water Gap, creeks, off-trail rock cliffs, and wildlife viewing opportunities.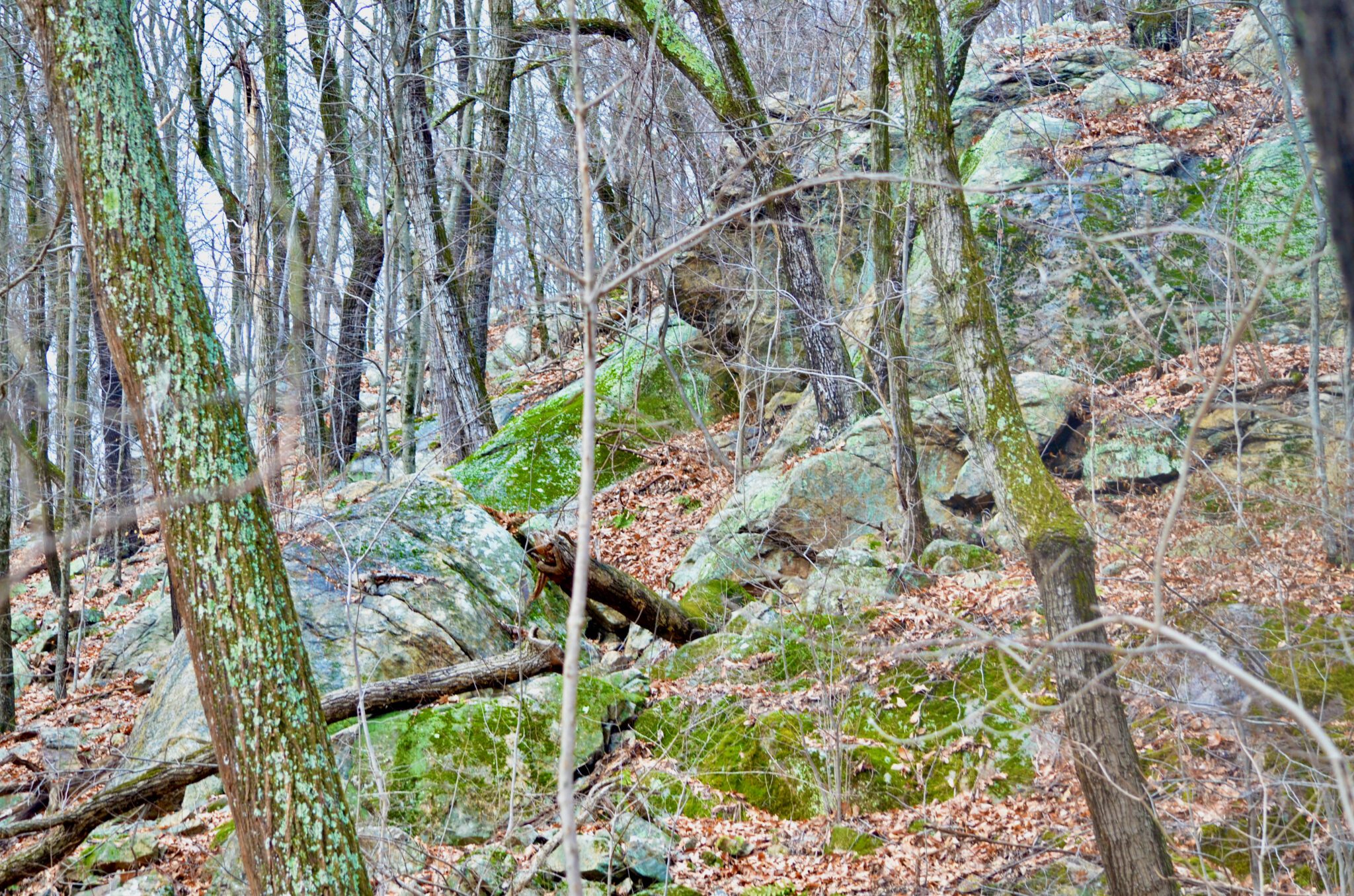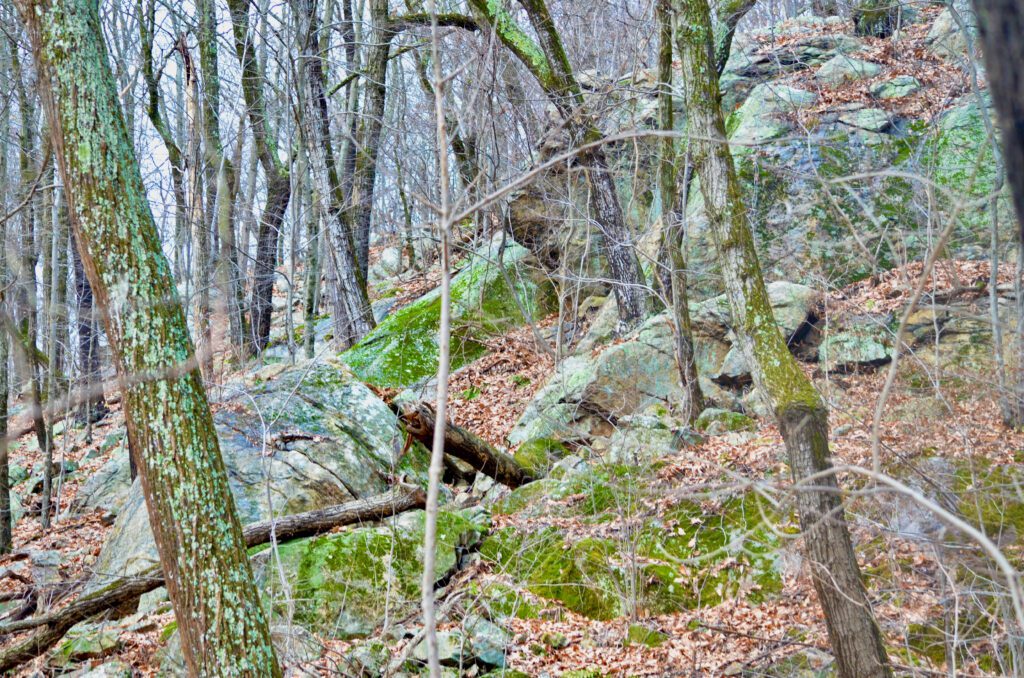 Jenny Jump State Forest
Jenny Jump State Forest is a beautiful place to visit in northwest New Jersey. The forest has many hiking trails that wind through the trees and provide stunning views of the area. Jenny Jump has plenty of recreational opportunities available, including fishing, camping, and bird-watching. Jenny Jump State Forest is an excellent place for nature lovers of all kinds!
Hikers will definitely enjoy exploring Jenny Jump State Forest's many trails…including the hike detailed below!
Key Facts: Jenny Jump by Mountain Lake Hiking Trails
Mileage and time
This out-and-back hike measured 4.63 miles with an elevation gain of over 1,000 feet. The hike, including time for pictures and a few breaks, lasted for 2 hours and 24 minutes. My average pace was just about 30 minutes per mile.
Hikers can shorten their trek by turning left on Lakeside Drive West and walking back to the parking area. I turned around and hiked back on the trail to maximize my time in the forest.
Travel Logistics for this hike
Jenny Jump by Moutain Lake hiking trail parking is at the north end of Mountain Lake on Lakeside Drive North. The trailhead for the Mountain Lake Trail is a few steps from the parking area, and it is near a nice-looking well-house.
Mountain Lake is a short drive from Rt. 46 in Warren County, NJ, not far from the Delaware River. This section of Jenny Jump State Forest is at the center of a triangle formed by the towns of Belvidere, Oxford, and Hope.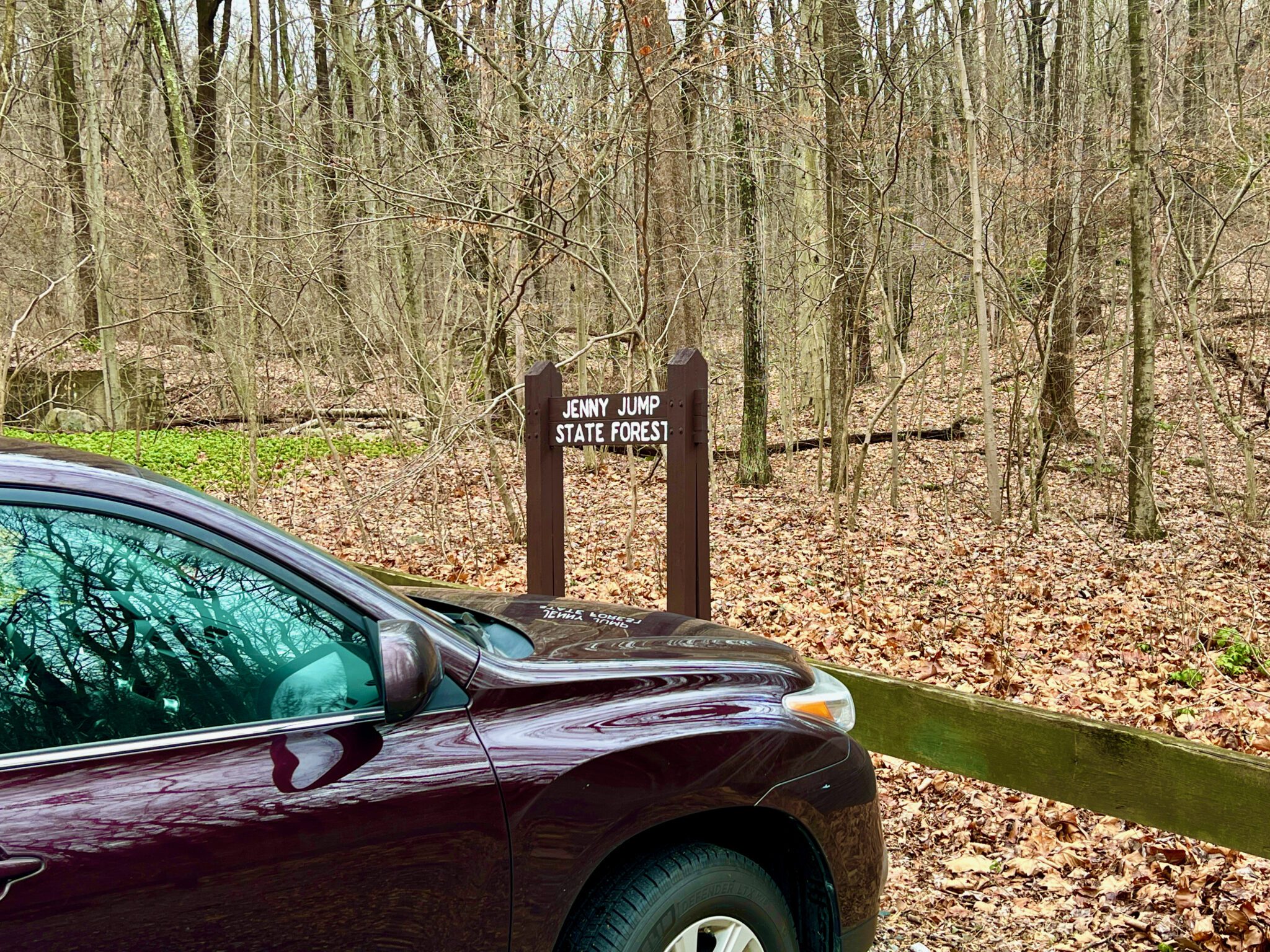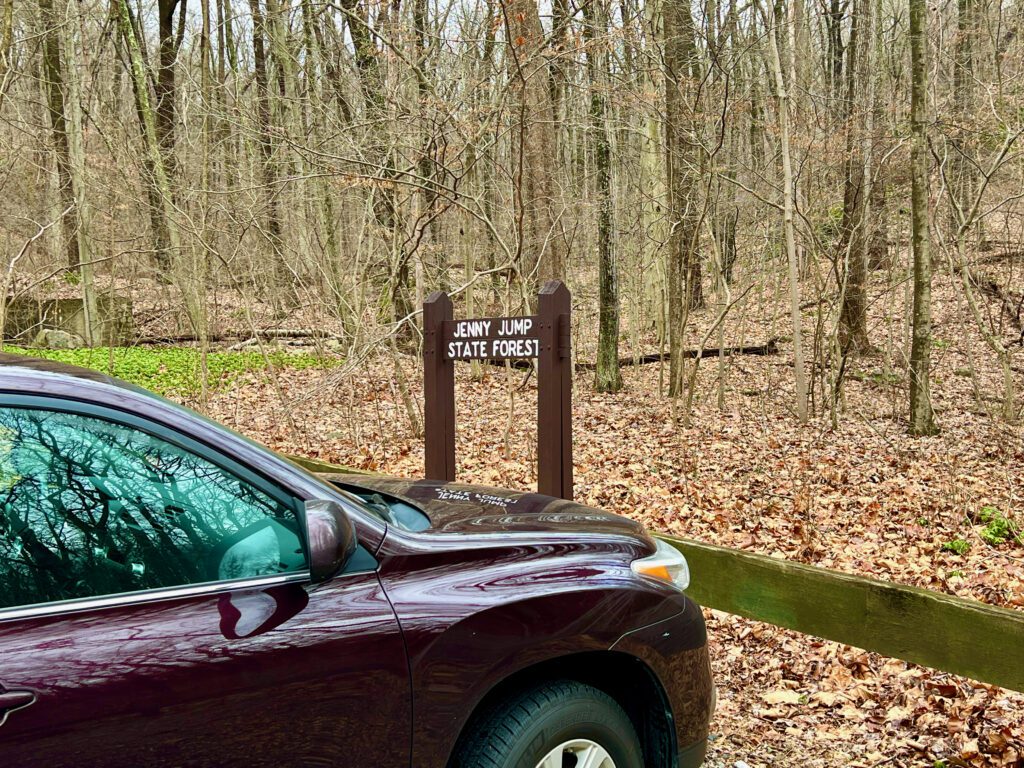 Jenny Jump State Forest Parking at the north end of Mountain Lake.
Jenny Jump by Mountain Lake Trail Rating
The Mountain Lake and Jenny Jump trails are rated as moderate due to some elevation gain and rocky sections. The uphill sections are very manageable with a break or two. Good hiking shoes and a hiking stick will help when leaves cover rocky sections.  Overall, this was a fun hike, and I had the trail all to myself in January.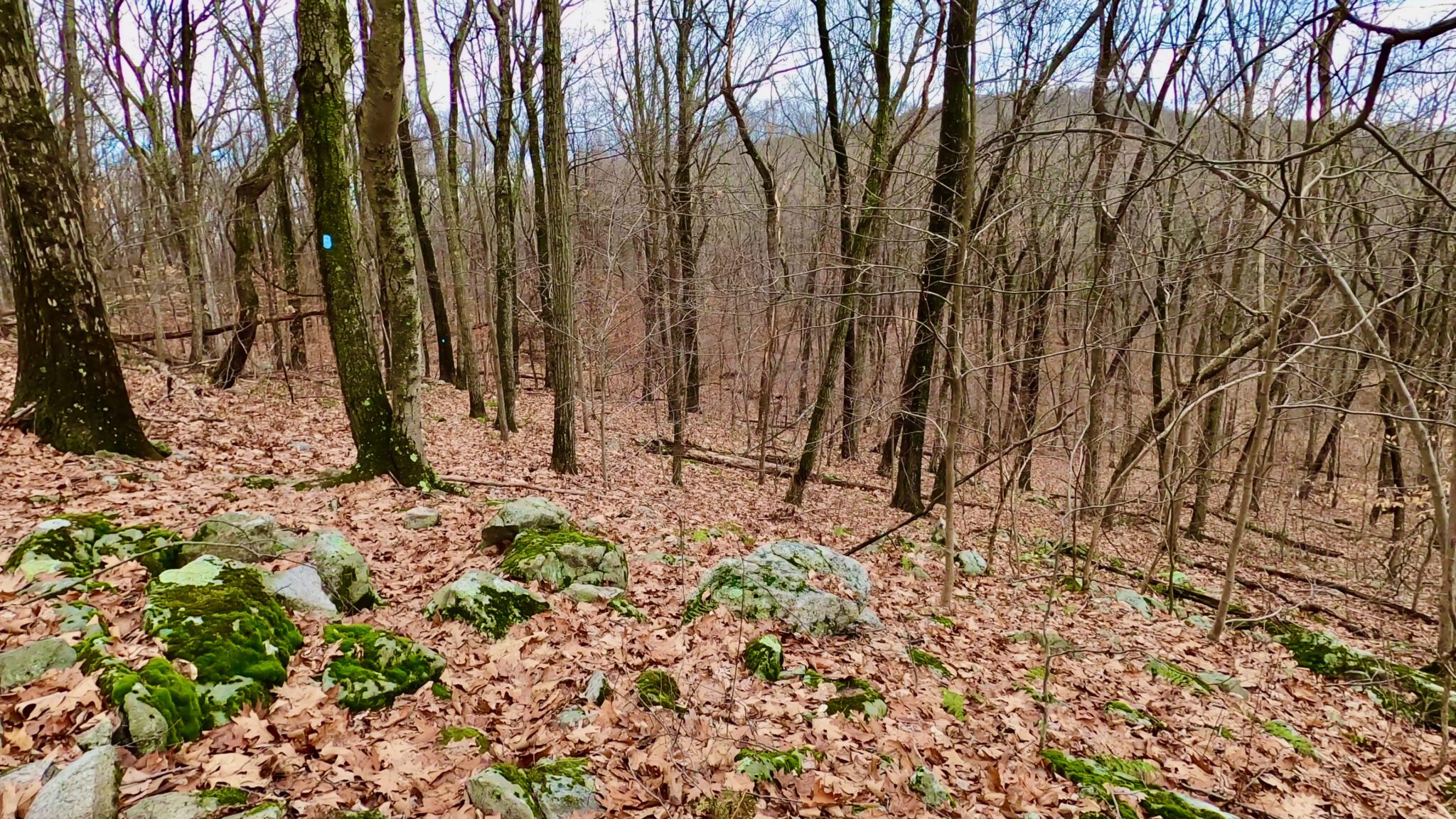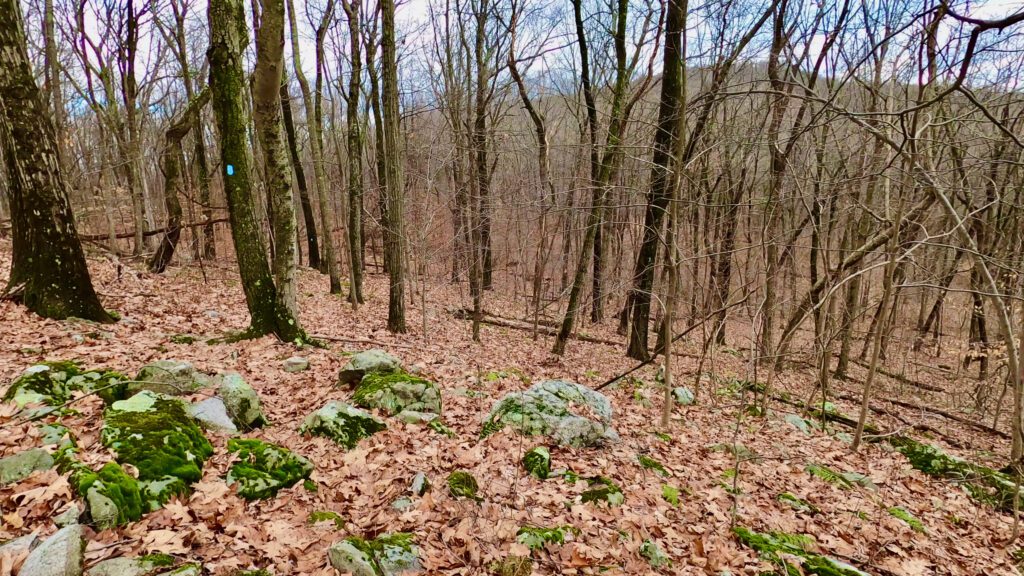 Notable Trail Sections – Jenny Jump by Mountain Lake Trails
Jenny Jump Brook
This hike begins on the Mountain Lake Trail, which is basically a short trail that is used to access the Jenny Jump Trail. While this trail is short, it does proceed alongside the Jenny Jump Brook. I imagine this brook would be very interesting when the temperatures get cold, and ice formations appear. In contrast, I hiked it on a mild January day when the water was free-flowing. Even so, this brook was still fun to see and hear.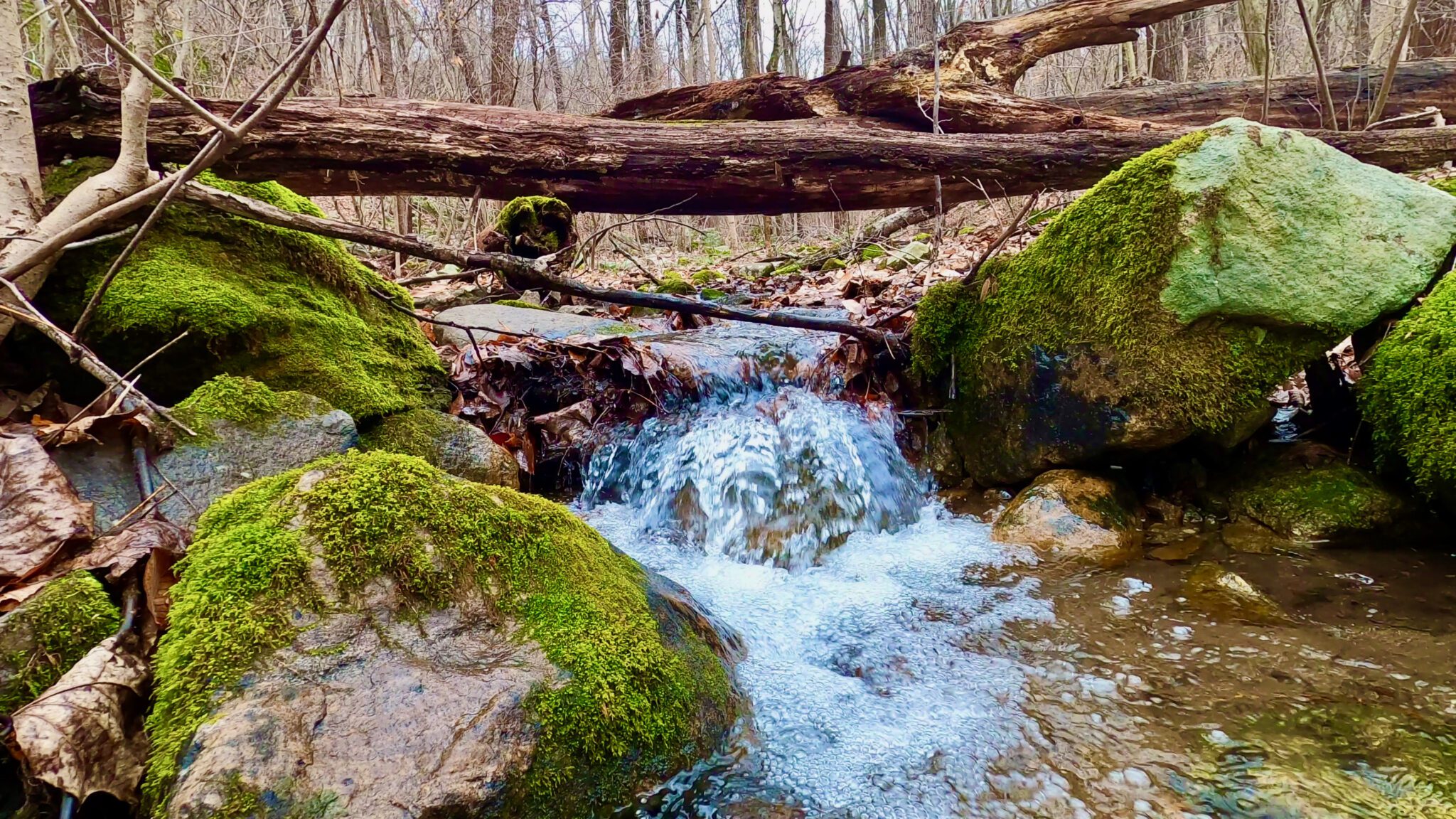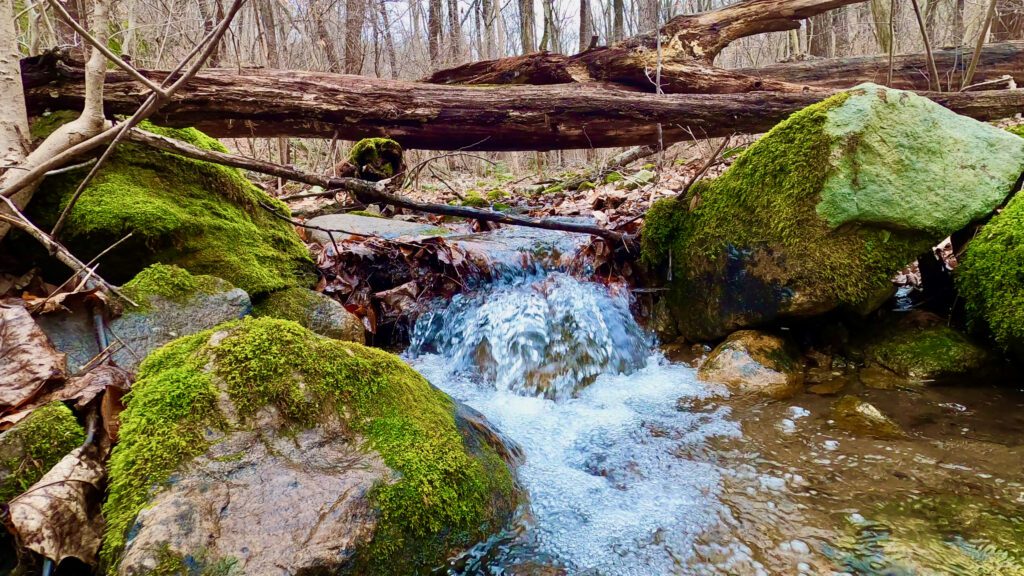 Seasonal Views of the Delaware Water Gap
One of the best things about hiking in winter (in addition to no bugs, poison ivy, overgrown trails, no crowds, etc.) is that hikers can see all kinds of things that remain hidden when the trees have all of their leaves. Cliffs, creeks, distant mountains, and, in this case, a National Recreation Area can all be seen in winter. The Delaware Water Gap National Recreation Area was in view through the trees soon after the trail reached the ridge.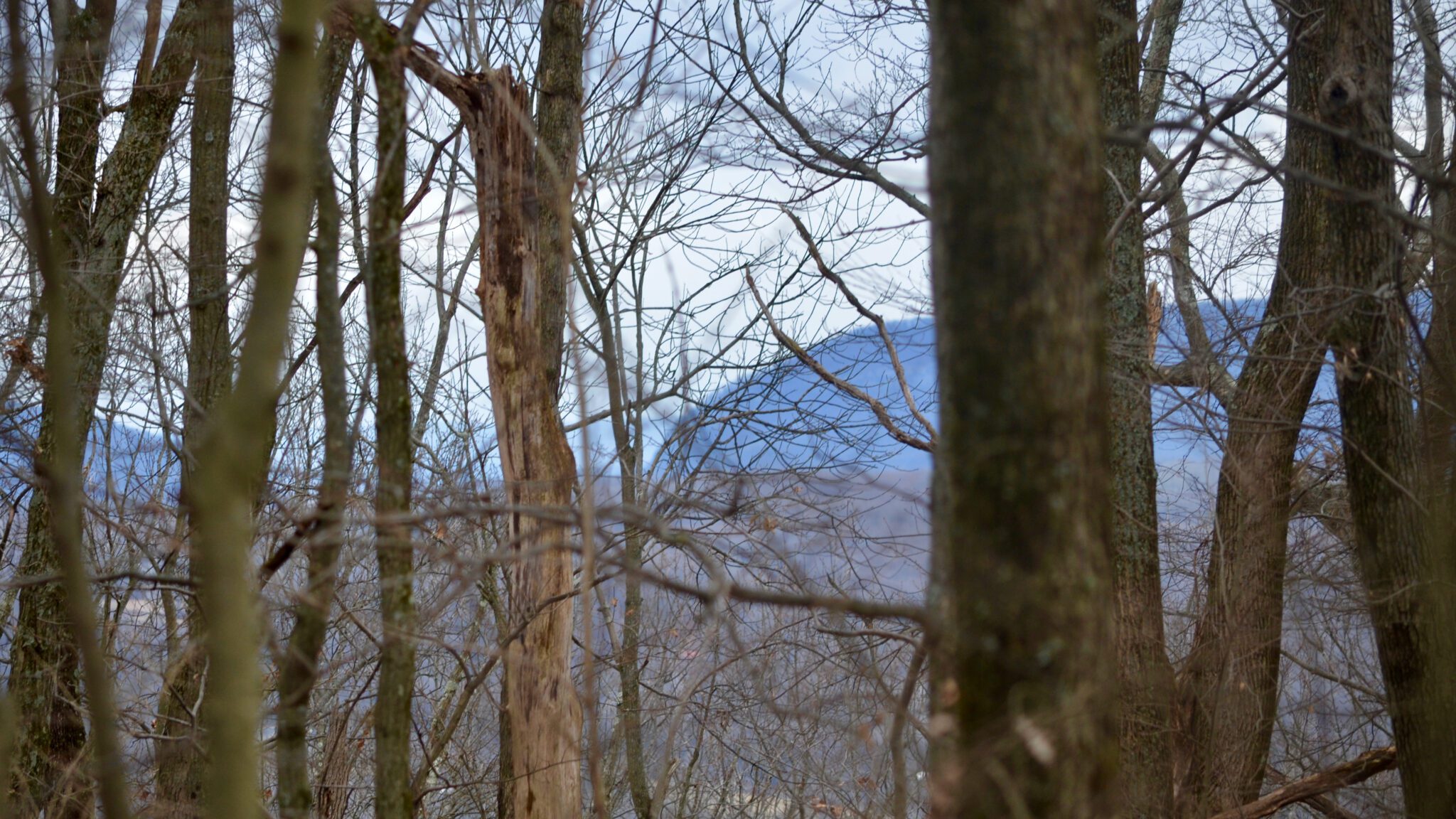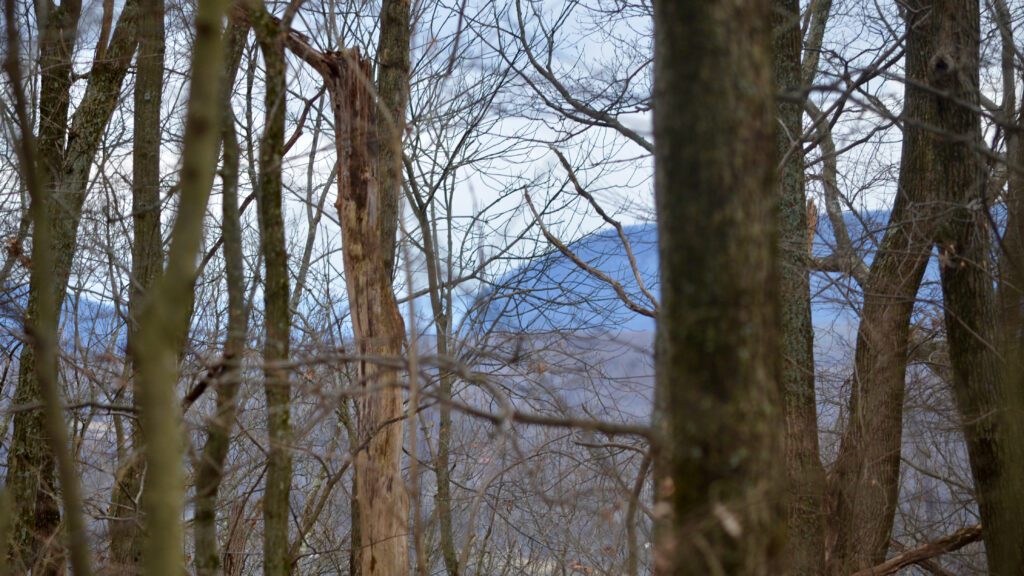 The ridge and descent to Mountain Lake Rd.
Walking along the ridge is fun as you will see distant views of mountains through the trees and rock cliffs a short distance off the trail. During my hike, the lack of leaves gave me a great view of 2 foxes that I unknowingly walked up on. I watched them run away, much too fast to allow me to get my lens cap off the camera and take a picture!
On the descent to Mountain Lake Rd., you will get distant views of Mountain Lake and pass over an unmarked stream. Based on the old pipes in and around the stream, it is likely that this was the former water source for the lake houses below the trail.
Jenny Jump by Mountain Lake Hiking Trail Map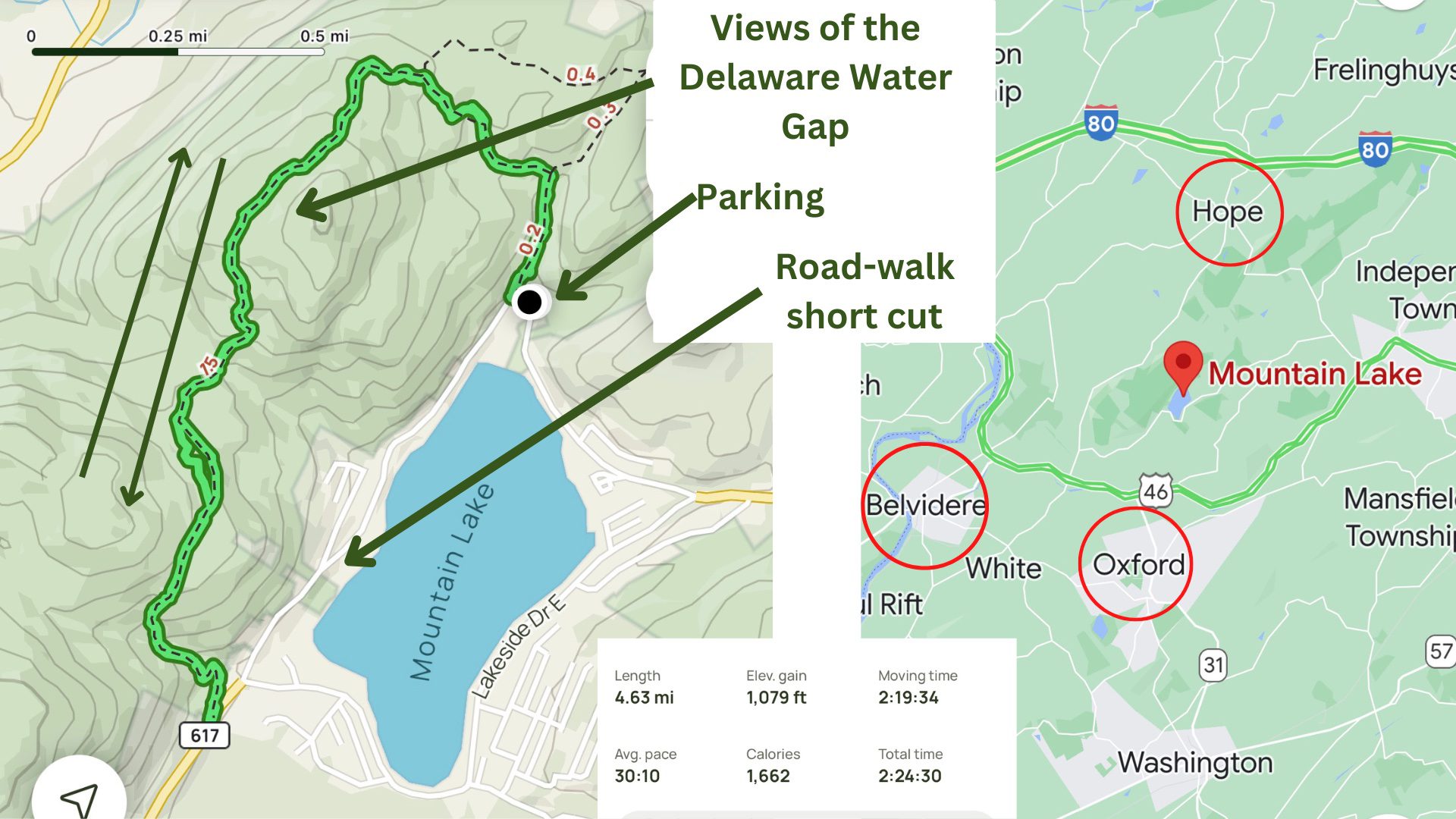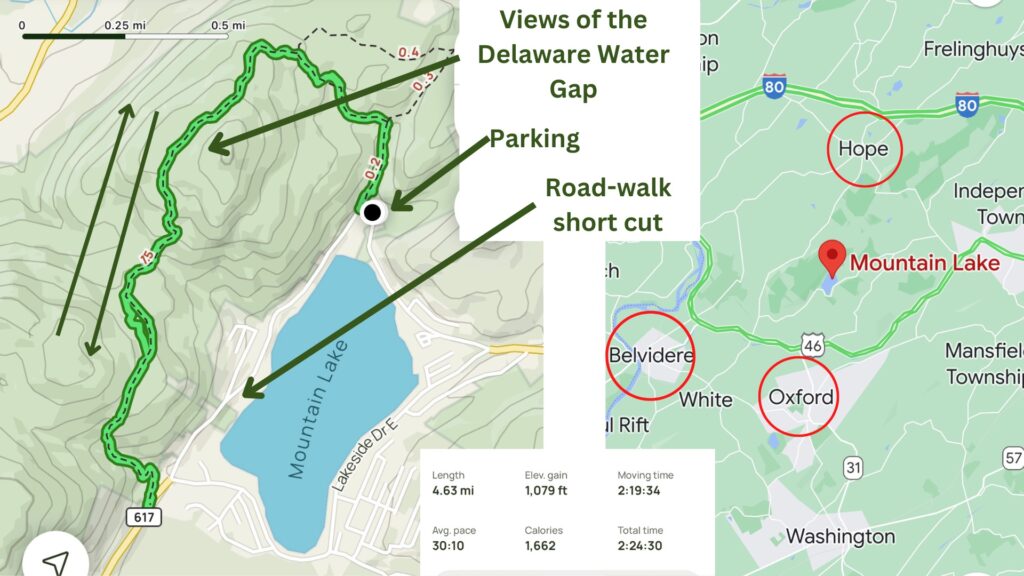 Family Friendly
This hike is very family-friendly. There are no dangerous drop-offs on or near the trail, and you can modify the distance by just turning around whenever you are ready to head back.
Trail Tips
Wear comfortable, waterproof hiking shoes, especially in Spring. There were a few areas that could get wet but almost all the trail was dry. This hike has some rocky sections, so hiking shoes with good soles are always better than sneakers.
If you want to shorten the hike by 3/4 of a mile or so (or don't prefer to backtrack), you can walk the road that goes around the lake, which brings you back to the parking area. If you have time and energy, I would backtrack as the same trail hiked in a different direction sometimes feels like a new hike!
After your hike, stop by Mountain Lake and take it all in. On my January hike, I stopped for a few minutes at a boat ramp and took pictures and videos of the lake (see below).
If you have the time and are hungry, stop by the Lodge at Mountain Lake. This lakefront restaurant (with large windows) was recently renovated. We enjoyed our meal, the service was excellent, and the views from our table were tremendous!
Mountain Lake
Mountain Lake is a glacial lake located in the New Jersey Highlands. While its shoreline is mainly developed, beyond the houses you will find protected land and mountains. The name Mountain Lake originated from the small mountains that surround the 120+ acre body of water.
Mountain Lake offers recreation opportunities. The lake has a boat ramp, making it easy to enjoy a day on the water for a small fee. Several hiking trails wind through the forests around Mountain Lake. Fishing is also popular, with bass, stocked trout, and muskies being some of the most common catches.
Visiting Mountain Lake in New Jersey is a great way to escape, recharge, and connect with nature.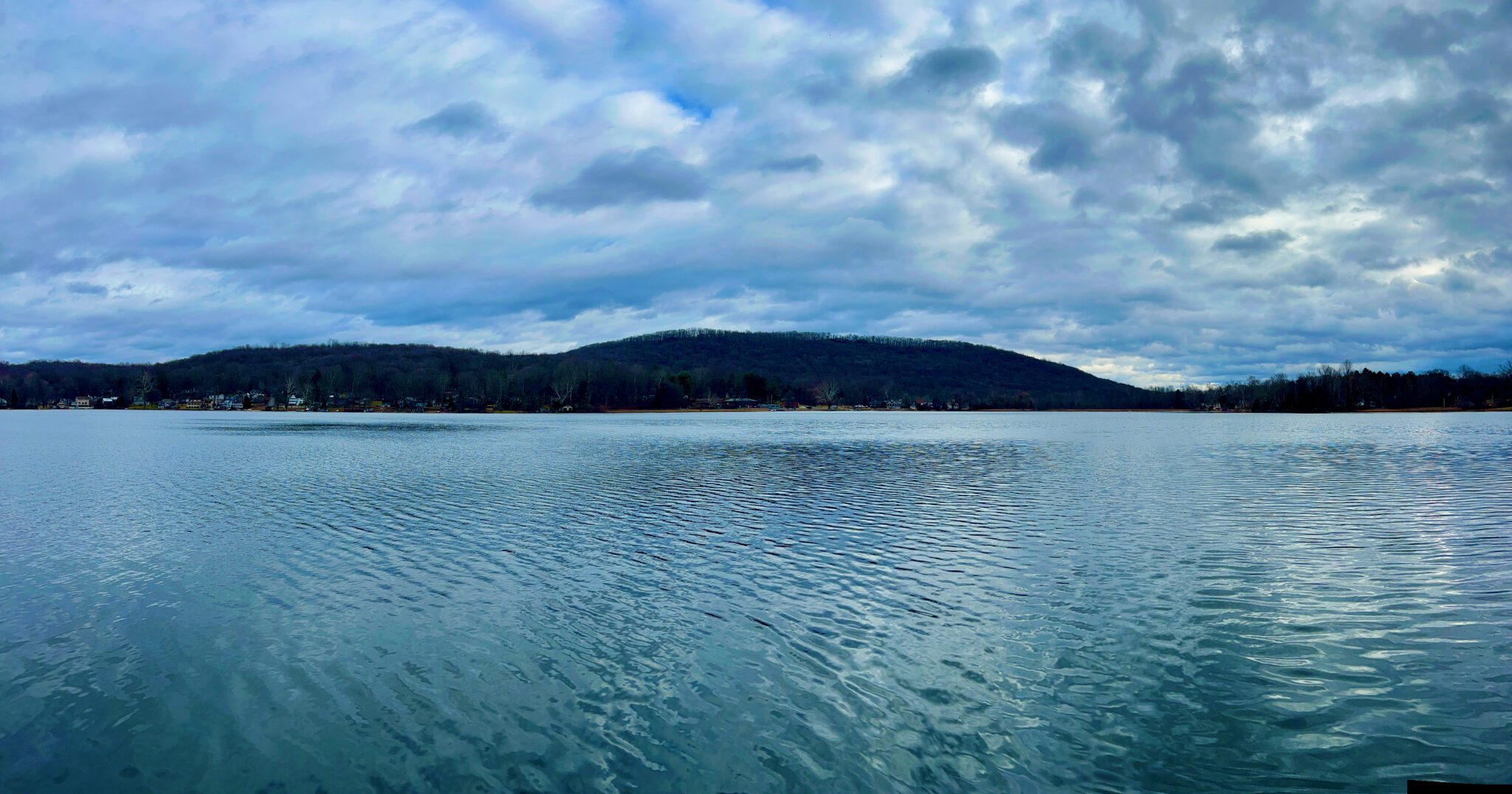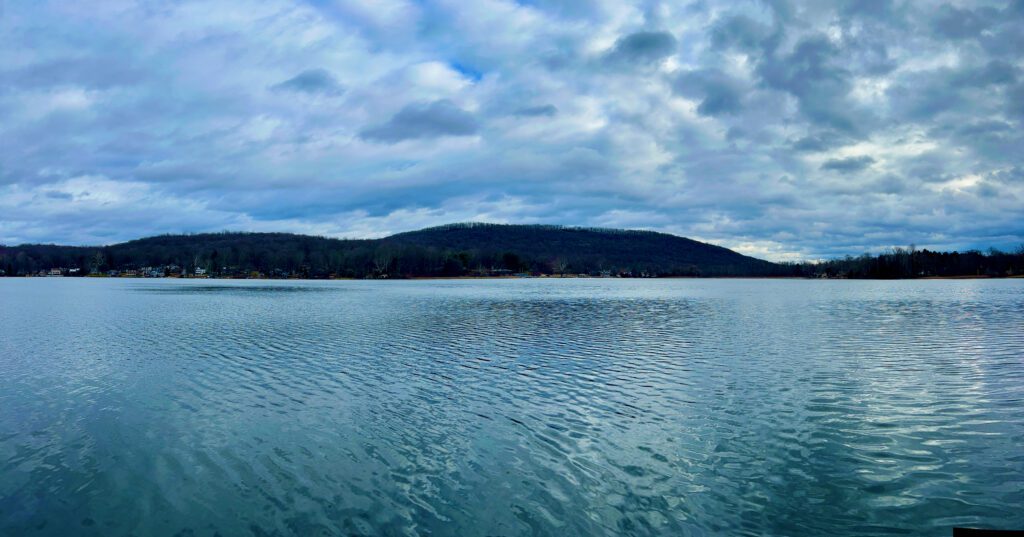 This was a fun hike, especially with seasonal views in most directions through the leafless trees. After completing this hike, I have put the 8+ mile point-to-point Jenny Jump Trail on my hiking bucket list!
---
A video of this hike (Jenny Jump by Mountain Lake)
This video summarizes the sights and terrain of the Moutain Lake Trail and the southern portion of the Jenny Jump Trail near Mountain Lake.
For additional information, please visit the New Jersey website for Parks and Forests.