Reading Time:
3
minutes
Are you into hiking? Do you think fossils are neat? If so, the Fossil Trail Hike at the Pocono Environmental Education Center (PEEC) in the Delaware Water Gap (PA) is for you. This fun hiking trail offers the added bonus of seeing actual fossils. Right off the hiking trail is a display of fossils found in the area. You can pick them up and see them up close. Be sure to take pictures but leave them for future hikers to see.
If you are lucky, you might find a new fossil yourself…we did!
Continue reading for details.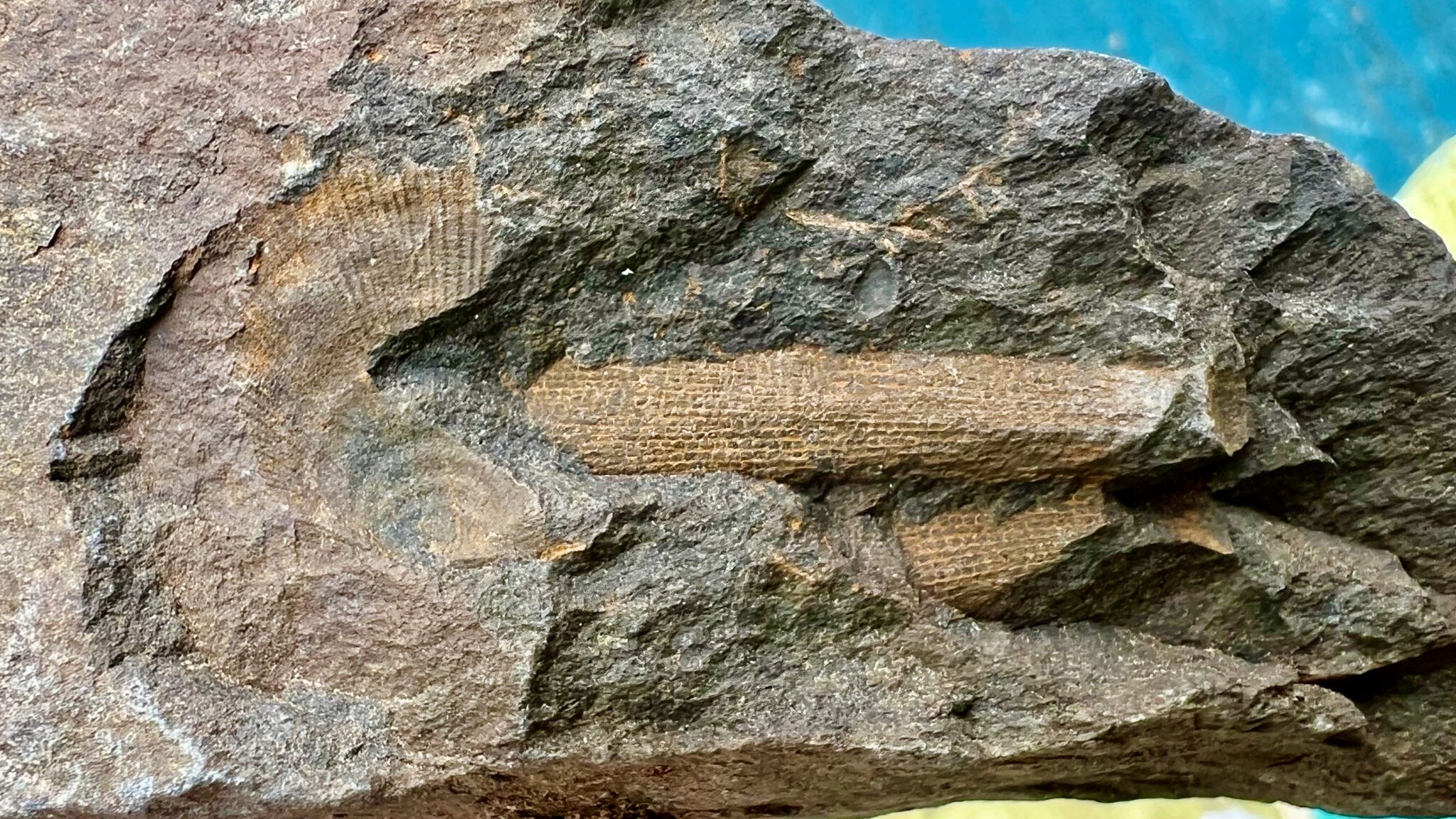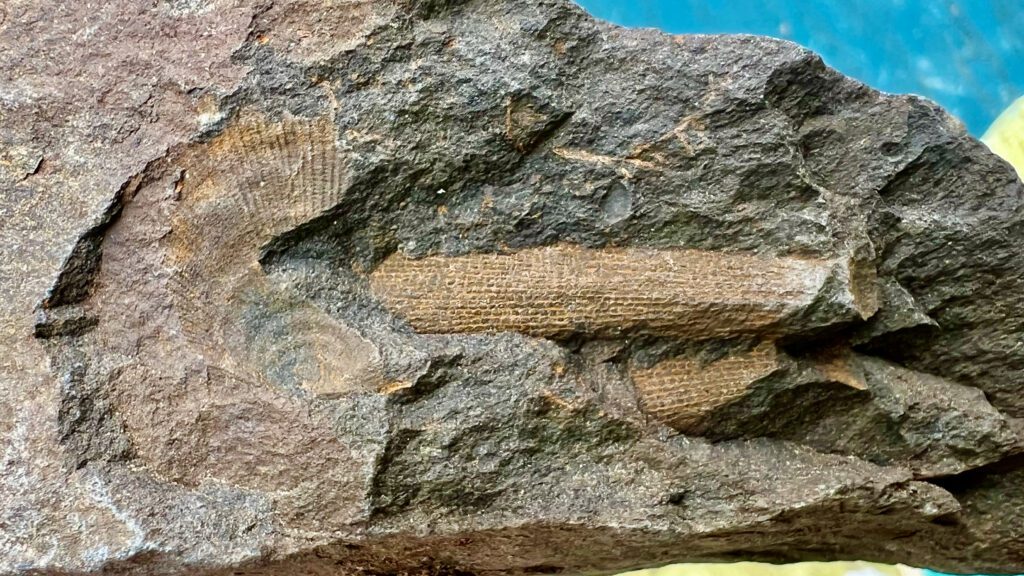 Key Facts: Fossil Trail – Pocono Environmental Education Center – Delaware Water Gap, PA
Mileage and time
The Fossil Trail is listed as only a 1.1-mile loop. We parked at the PEEC Visitor Center. Our hike, with a short road walk and some wandering on side trails, was 1.68 miles. We did the hike in just over an hour and took our time exploring.
Watch a short video of the hike and fossils at the end of this post.
Travel Logistics for the Fossil Trail
The Pocono Environmental Education Center (PEEC) is located within the Delaware Water Gap National Recreation Area near Dingmans Ferry, PA. The PEEC is at 538 Emery Rd., Dingmans Ferry, PA, 18328. The geographic coordinates are
N 41° 10' 16.33'' W 74° 54' 52.67''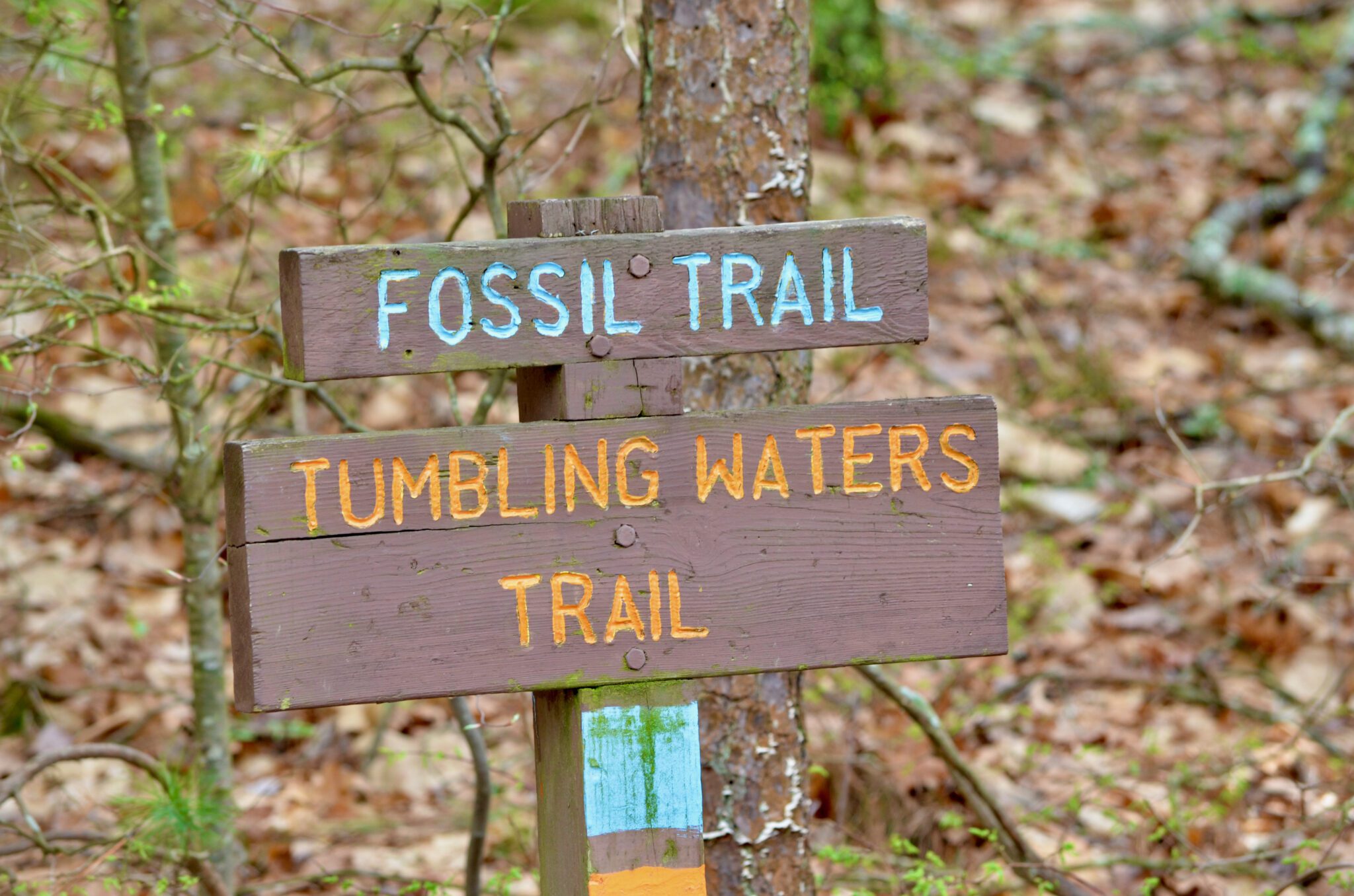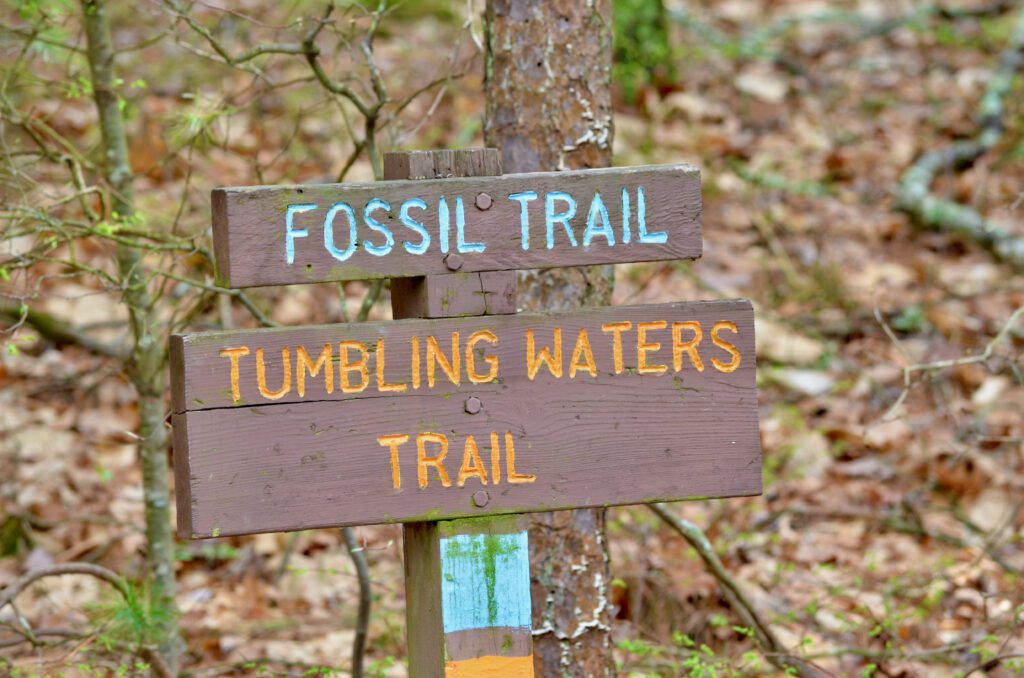 Trail Rating
This hiking trail is rated as moderately difficult. Most of the trail was easy except for a few rocky areas and a section near a creek with some elevation loss and gain.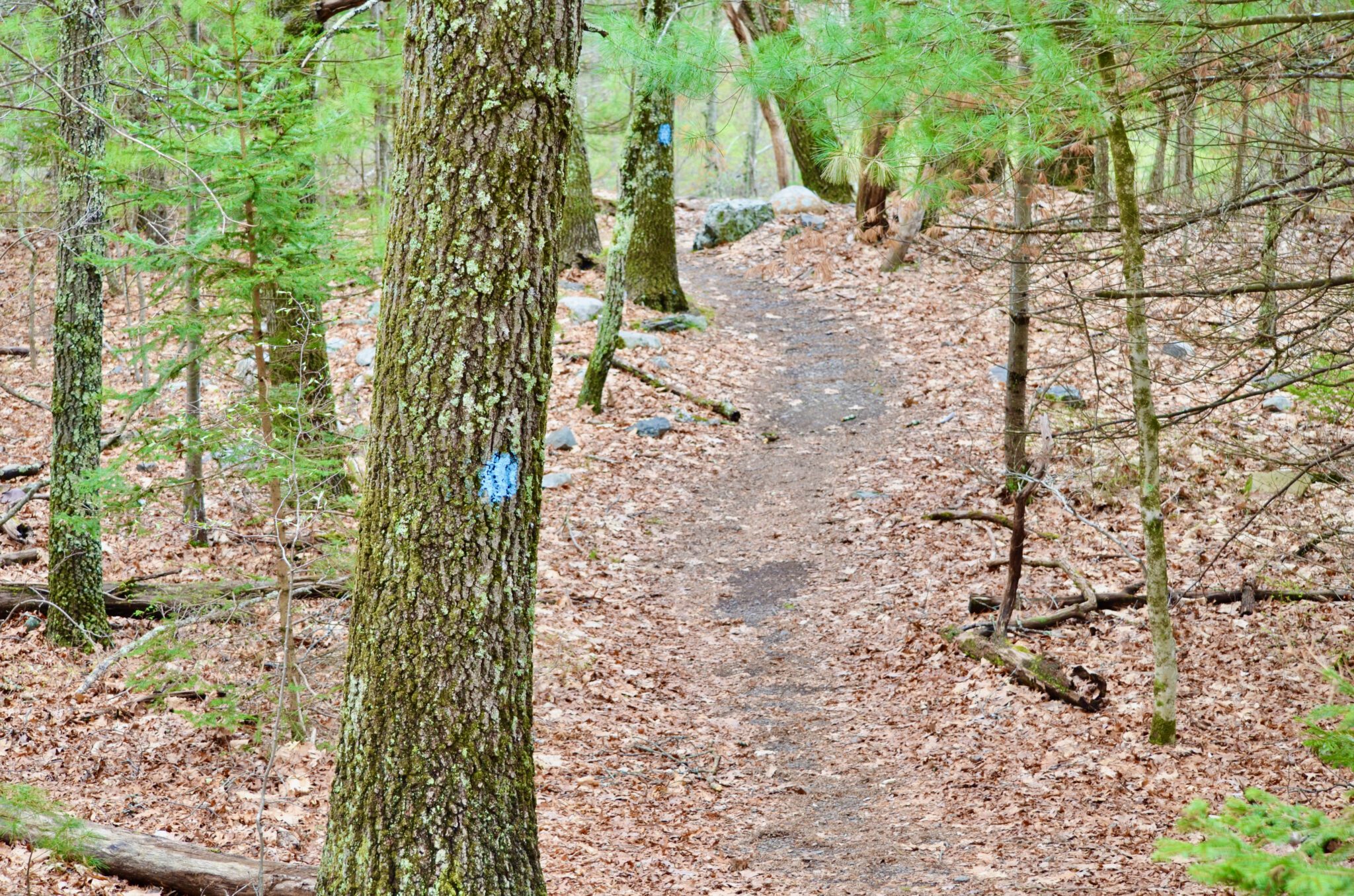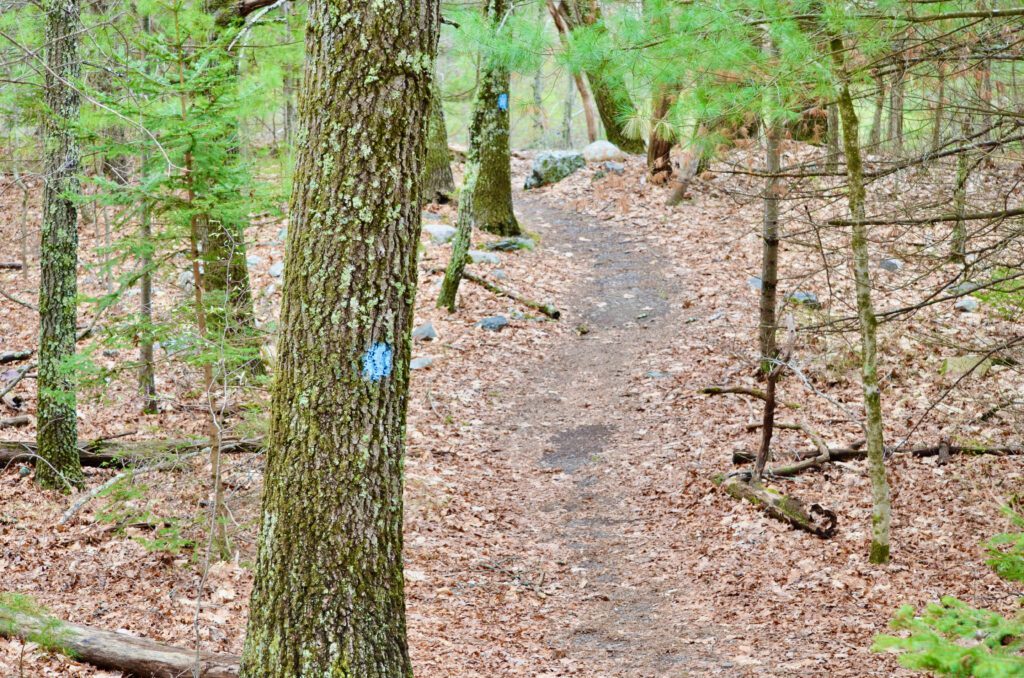 Notable trail sections
This hike contains a variety of settings, including a pine forest, seasonal wetlands, and a creek in a ravine. You will walk over pine needles, bedrock, gravel, and rocks. We enjoyed each section of the hike, but our favorite was after completing the marked trail and walking back to the visitor center. Some rocks looked interesting, and we found a fossil of a sea shell (see below) after a few minutes of exploring!
We brought the fossil we found to the Visitor Center staff, who confirmed our suspicion that it was a sea shell fossil.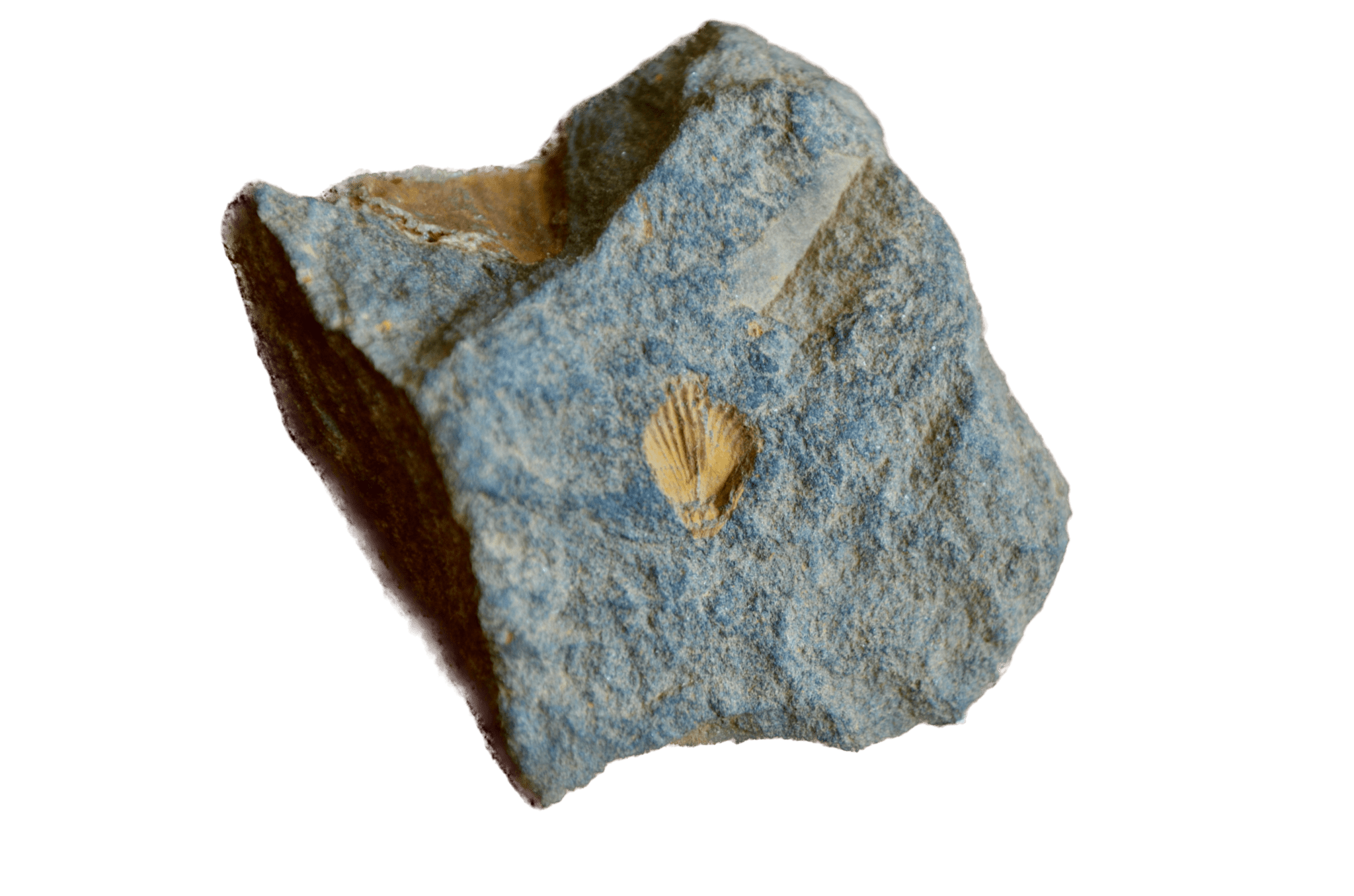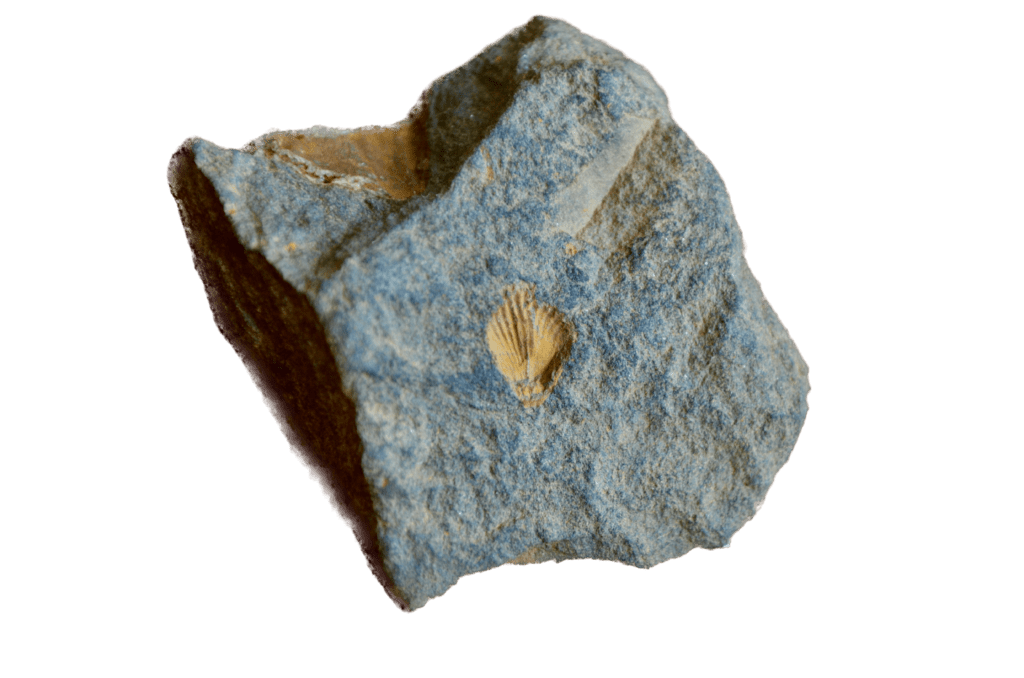 Fossil Trail – Hiking Trail Map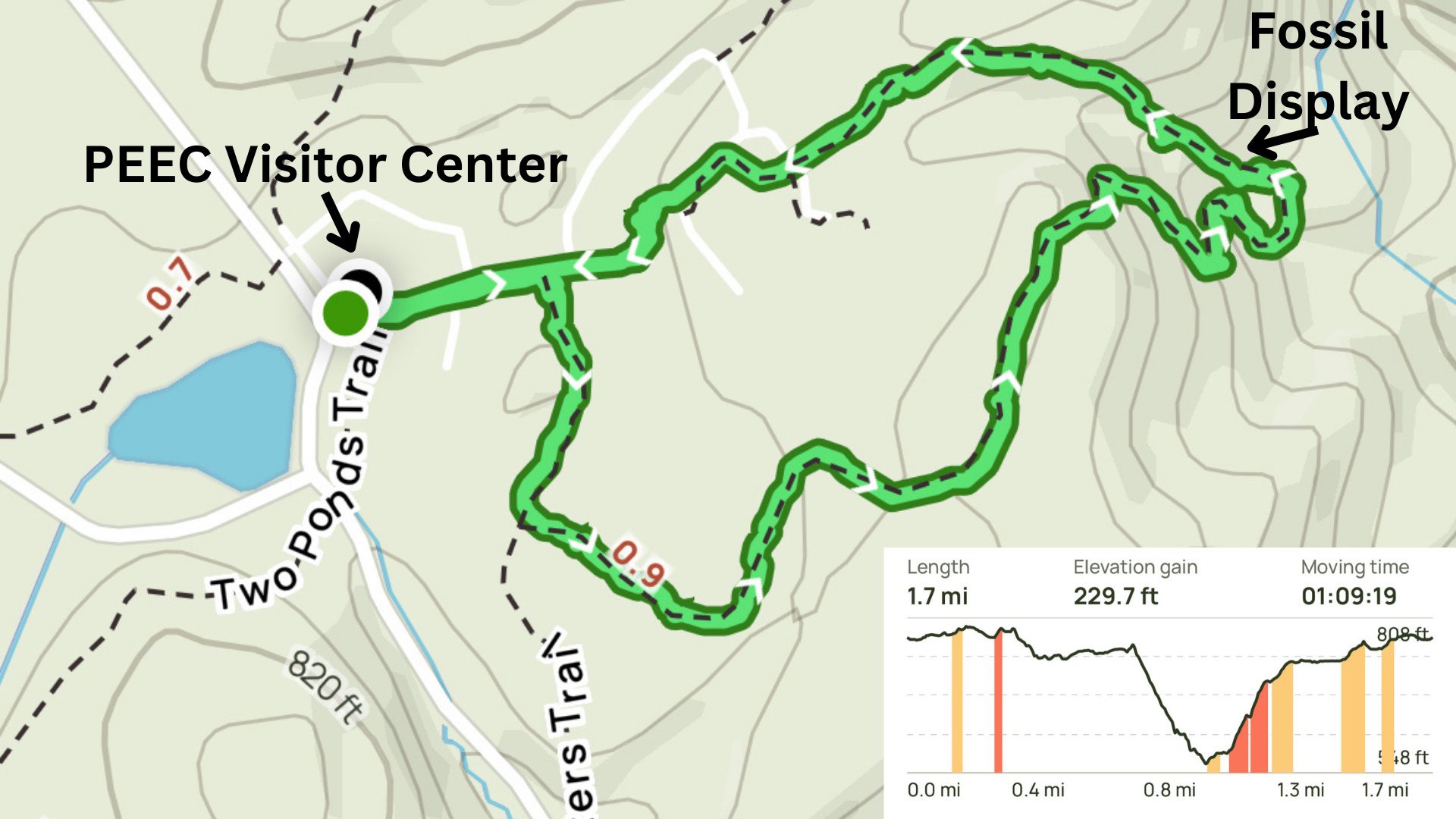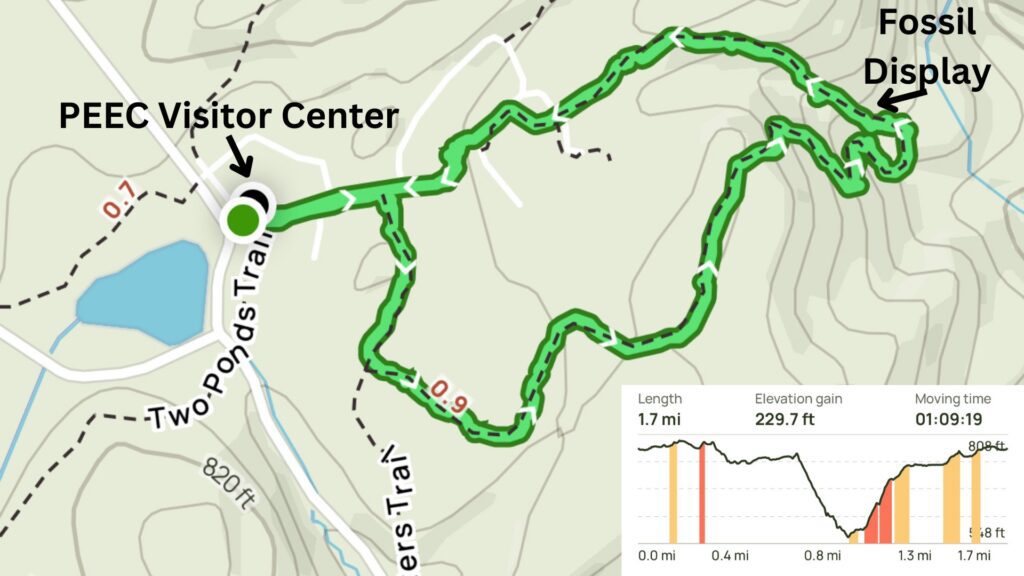 Family Friendly?
This hike is very family-friendly.  Young and old (we consider ourselves in the middle) will enjoy the relatively easy hiking. Hikers should take it a little slower on the one steeper downhill followed by one steeper uphill section. All in all, almost everyone can complete this hike if they go at their own pace.
Trail Parking
The best place to park for this hike is the Pocono Environmental Education Center. The benefit of parking at the Visitor Center is that you can go inside and see the PEEC displays and other information. You can access all PEEC trails from the Visitor Center. The Fossil Trail begins just a short distance from this parking area.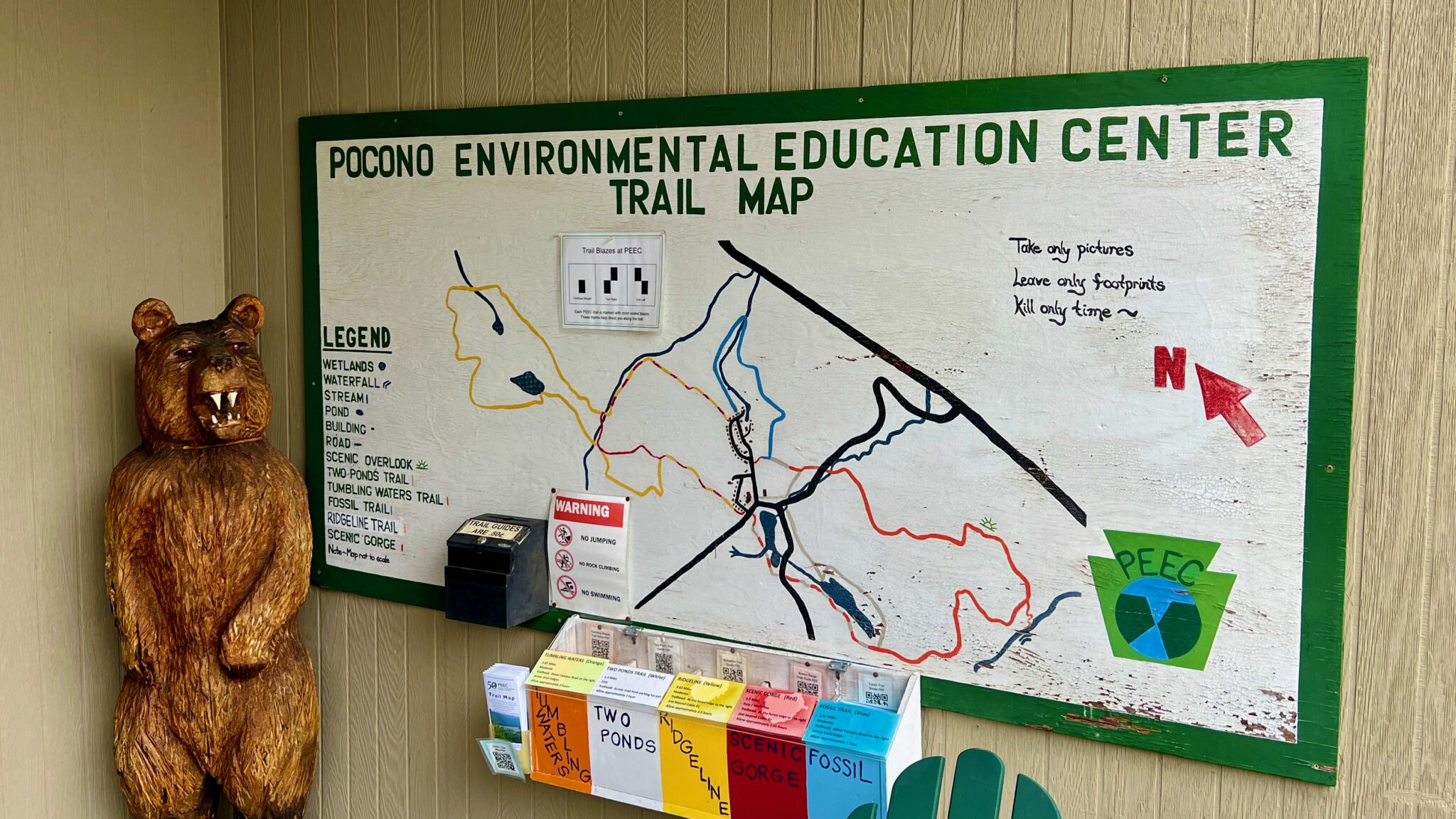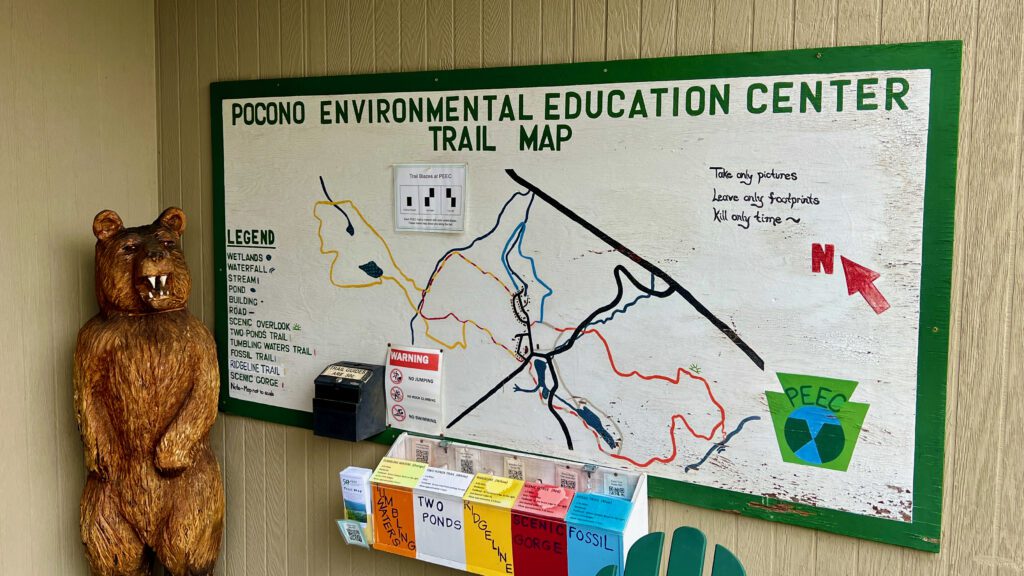 Fossil Trail Hiking Tips
Be sure to stop by the Visitor Center and pick up the information sheet about the trail. See the blue trail handout in the picture above. This explains the key features of the trail as you hike it counterclockwise.
Take preventative measures to guard against ticks. This is true of almost any hiking trail in the area but should be noted as Lyme Disease is common in this part of the country.
Waterproof hiking shoes aren't necessary, but they help with the rocky sections and the creek crossing.
The trails are open from dawn to dusk, and there are nice restrooms in the Visitor Center if you are there when open.
Take your time. Some of the fossils on display are small, so look at each rock and find some neat discoveries.
Top 5 Reasons to Hike the Fossil Trail:
You can see fossils on the fossil display!
You may find a fossil along the way. Digging, or anything destructive, is prohibited; but you can look at rocks along the trail.
This trail is located at the Pocono Environmental Education Center (PEEC). This center is worth exploring with its nice displays and other trail options.
The Fossil Trail is a hike that almost everyone can complete.
All this fun is located within the Delaware Water Gap National Recreation Area, which has many places worth visiting!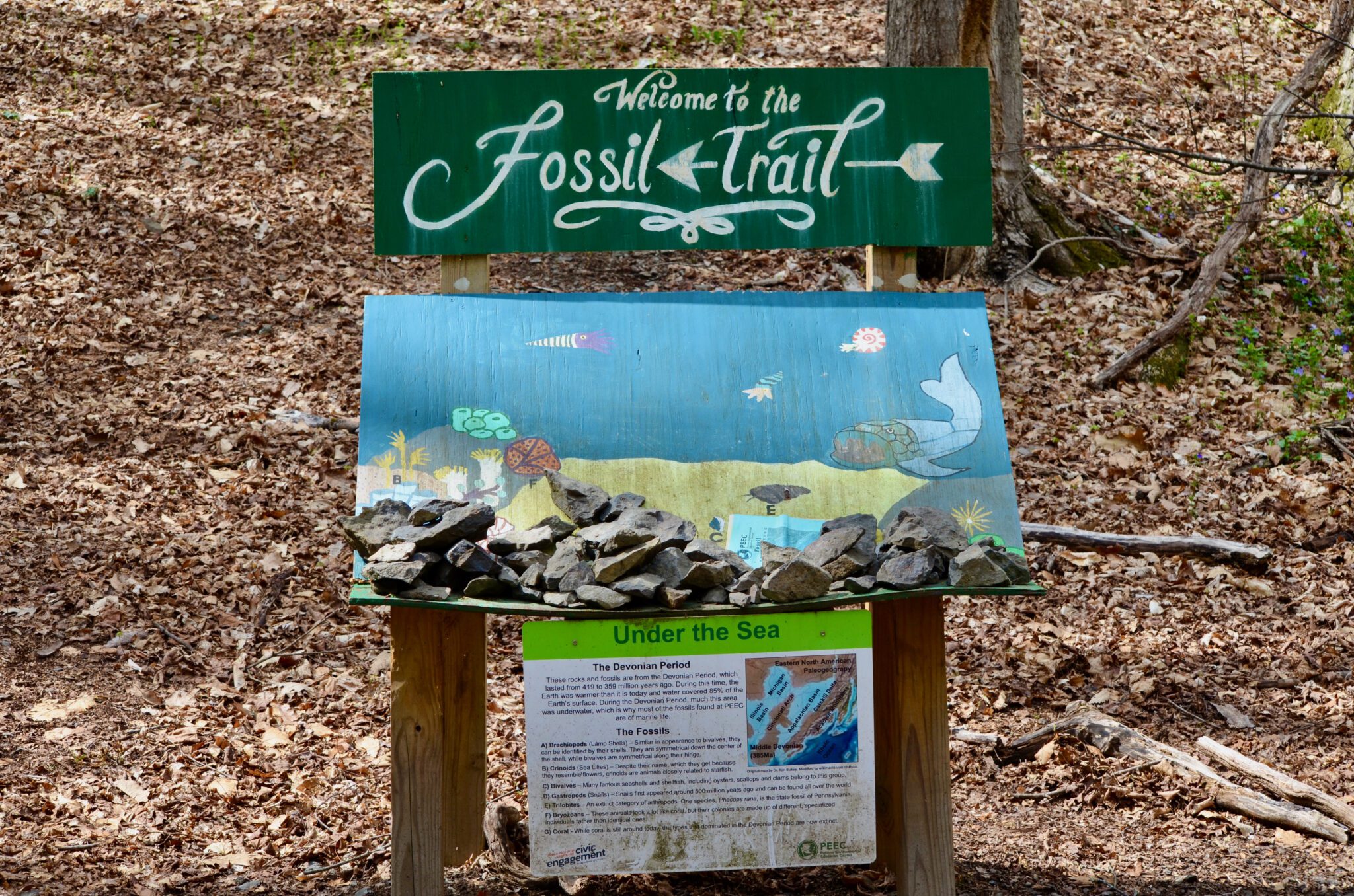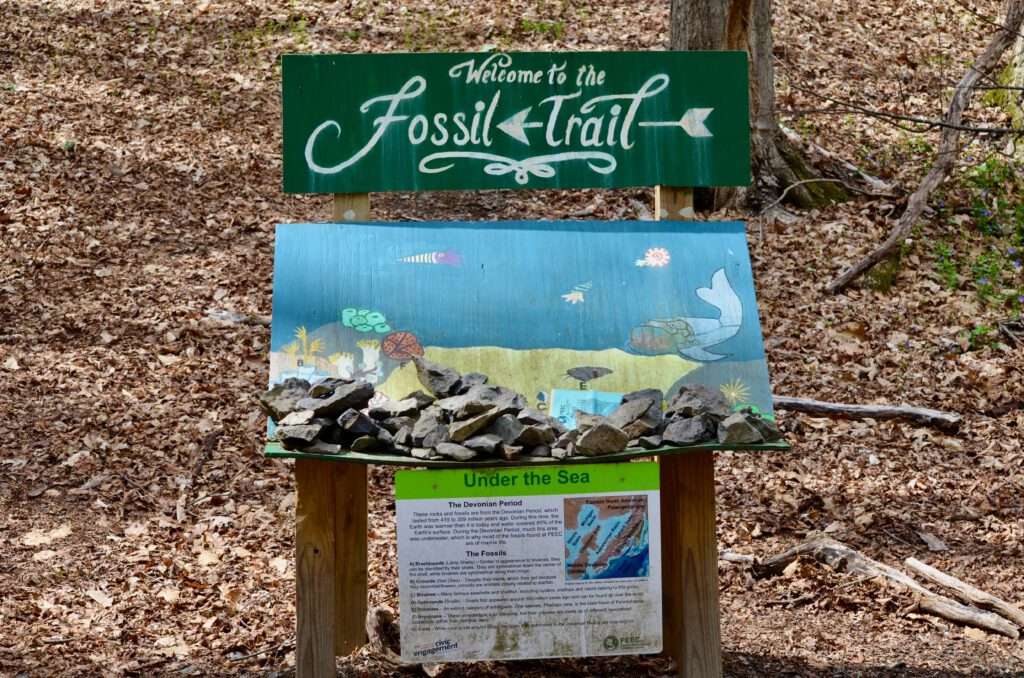 Can I see fossils on the Fossil Trail?
Yes…guaranteed. Even if you don't discover a new fossil on this hike, a display shelf is set up alongside the trail with a collection of rocks and fossils found in the area.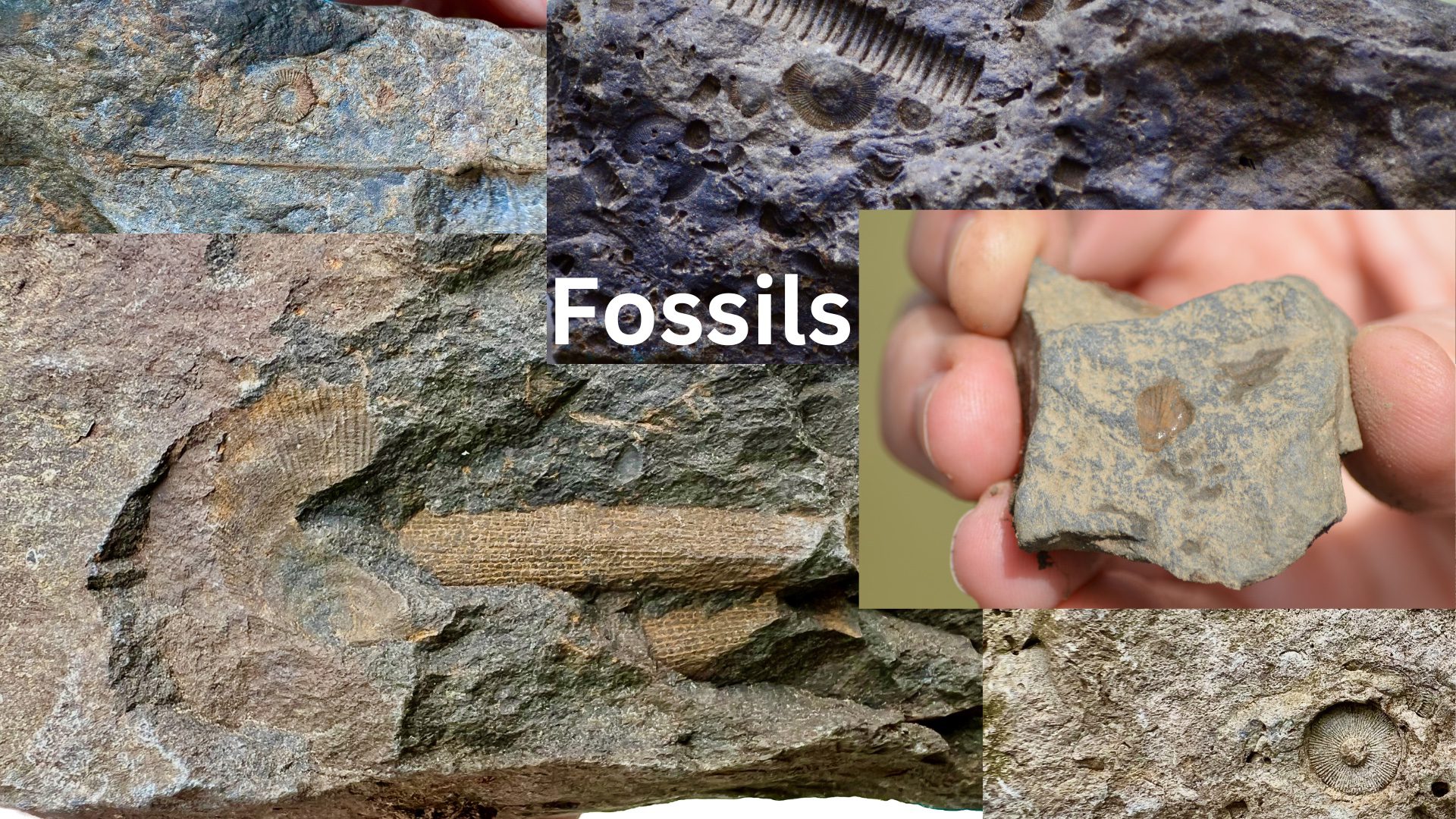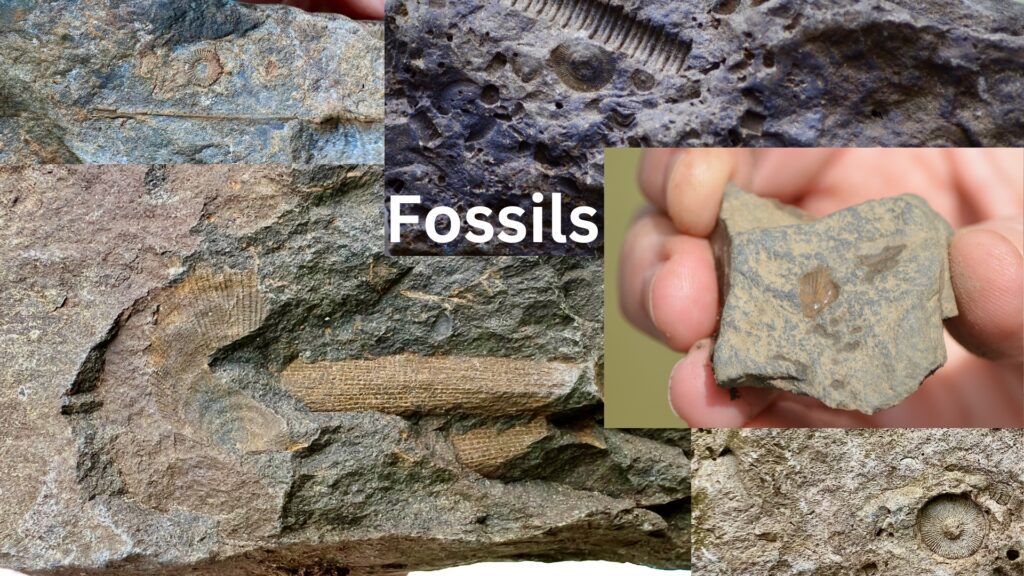 ---
A video of the Fossil Trail Hike
This short hiking video shows the Fossil Trail hike in spring. You will see a variety of trail types and fossils during the hike.
For additional information, please visit the National Park Service website.