Reading Time:
4
minutes
Big Brook Fossils: Are you fascinated by fossils and live in or near New Jersey? If so, then Big Brook Preserve is just the place for you!
Big Brook Fossils can be found by just about anyone. We visited the preserve and found many unique rocks (unsure if some are fossils) and a handful of Belemnite (Belemnitella Americana) fossils. Belemnites were ancient marine mammals that became extinct. These creatures were similar to modern squid (cephalopods) but had an internal skeleton, or guard, which became fossilized over time.
Continue reading for details, tips, pictures, and a short video at the end of this article.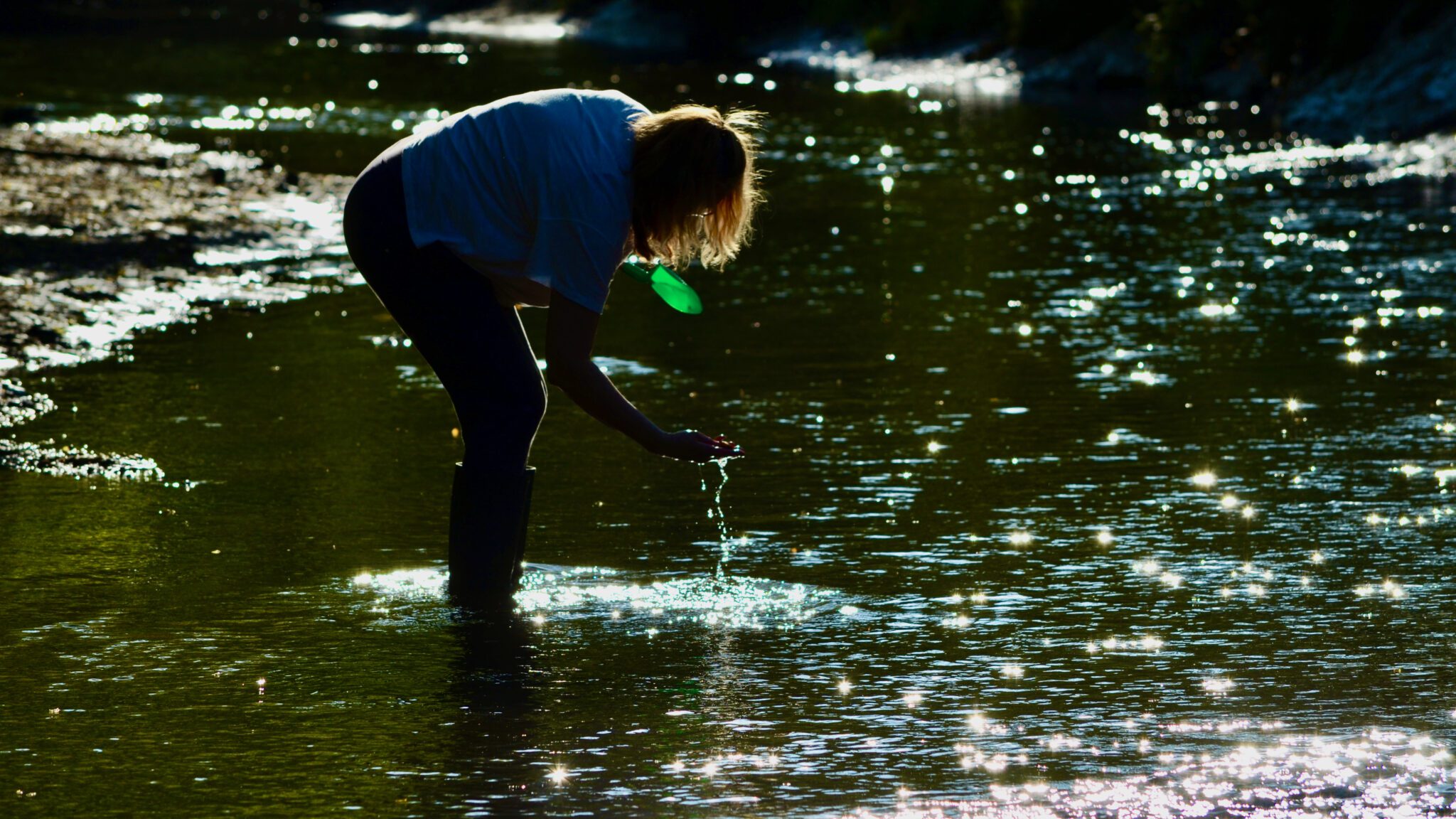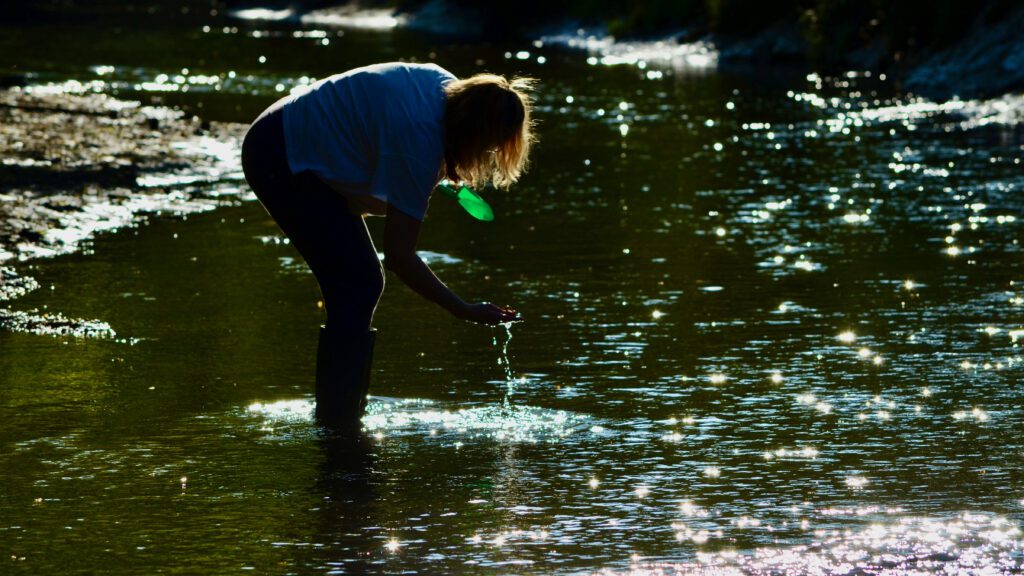 Key Facts: Big Brook Fossils
About Big Brook Preserve
Big Brook Preserve is one of New Jersey's natural treasures. The preserve is one of a few places where paleontologist wannabes (like us) can readily find fossils!
Big Brook Preserve is over one hundred and forty acres of unique environmental areas, and it's accessible by most folks. A short walk is all that's required to get to an access point to the brook. Ancient shark teeth are a big attraction, although we found none on this visit.
Preserve visitors can park their cars in the lot on Hillsdale Road or along Laurelwood Drive. This is a must-see place in New Jersey if you are into fossils.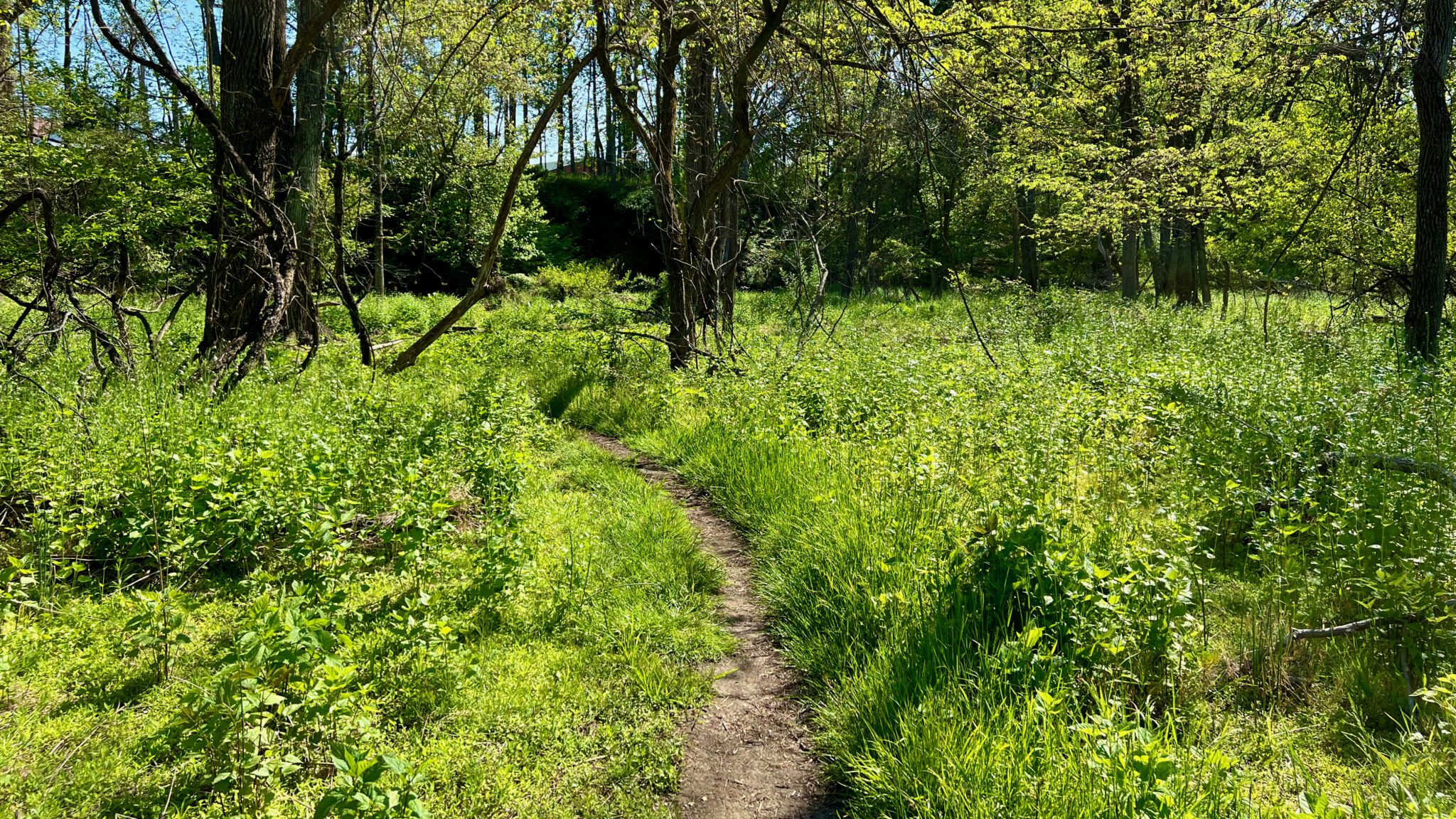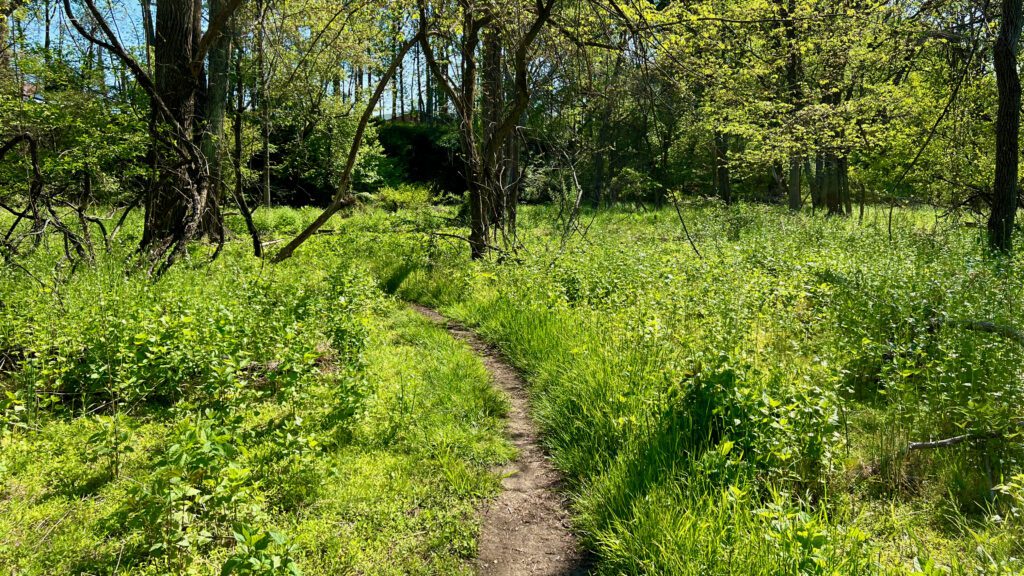 Big Brook Preserve Location
Big Brook Preserve is located in Colts Neck Township, NJ (Scroll down for area maps). The preserve is a short drive from the Parkway and very accessible. Despite easy access, we didn't see anyone in the creek, and we felt we were far more remote than is the case. We really enjoyed our time in the brook!
Big Brook Preserve Walking Trail
Big Brook Preserve offers a 1.25-mile walking trail that proceeds along the stream. Most visitors will use the trail to access the brook to search for fossils. After arriving, we slipped into our rubber boots, keeping our feet dry and warm as we waded in Big Brook hunting for fossils.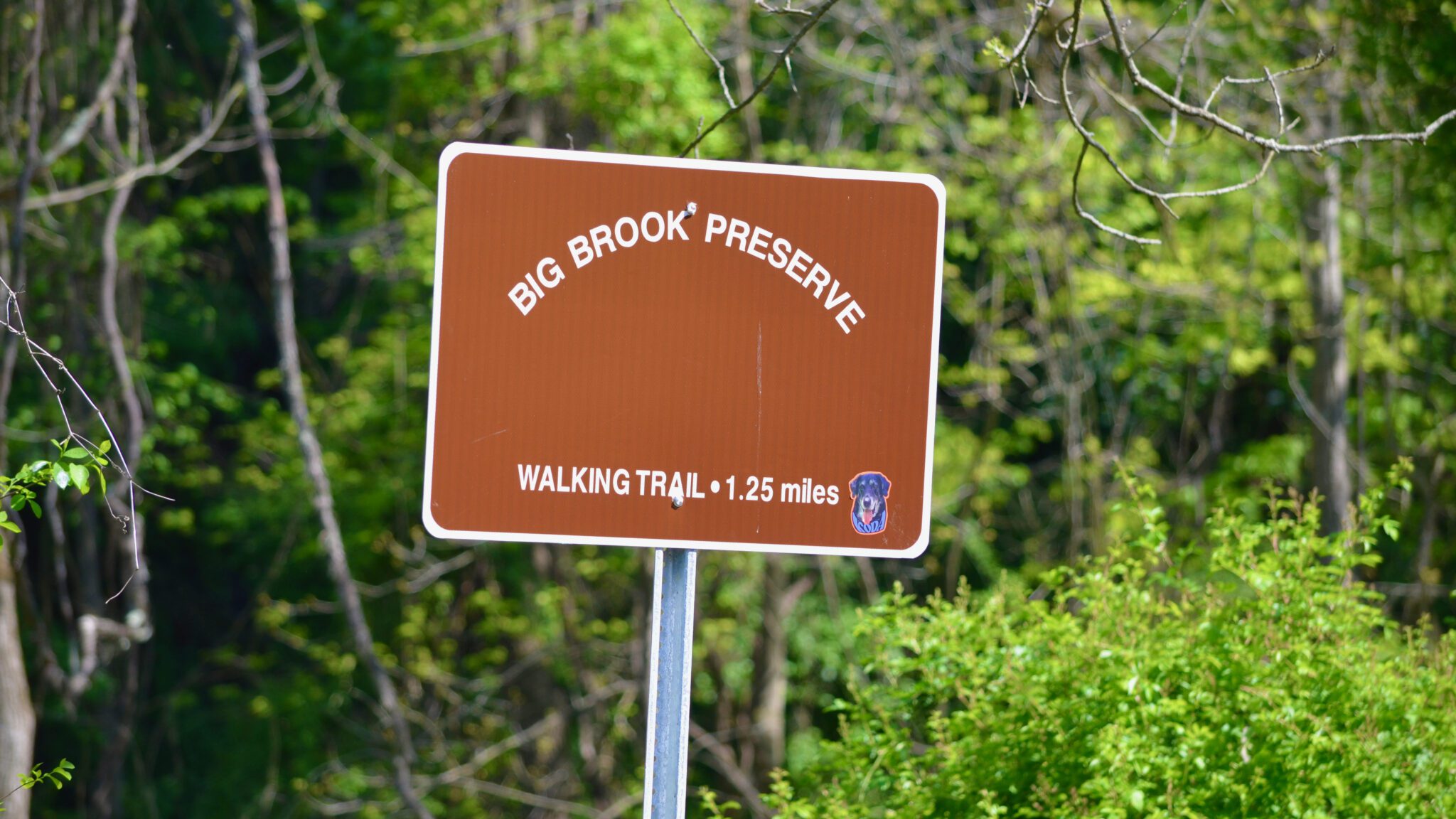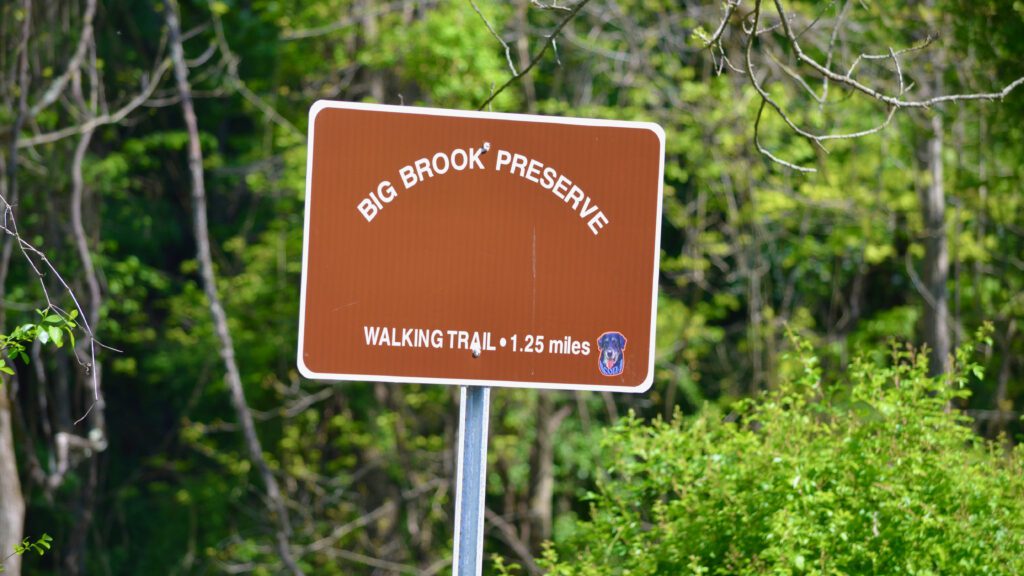 What fossils can be found at Big Brook Preserve?
A variety of fossils have been found at Big Brook. While researching this place, it seemed like we would have a high probability of finding a shark's tooth for certain (we didn't). Some fossils that we found at Big Brook are:
Belemnite Fossils:
We found plenty of Belemnite Fossils (see picture below) on our visit to Big Brook Preserve. We weren't sure what they were at first. We may have even wondered if the pointy ones were fossilized Saber-Tooth Tiger teeth. A few minutes of online research educated us about extinct Belemnites, and we were thrilled to find them!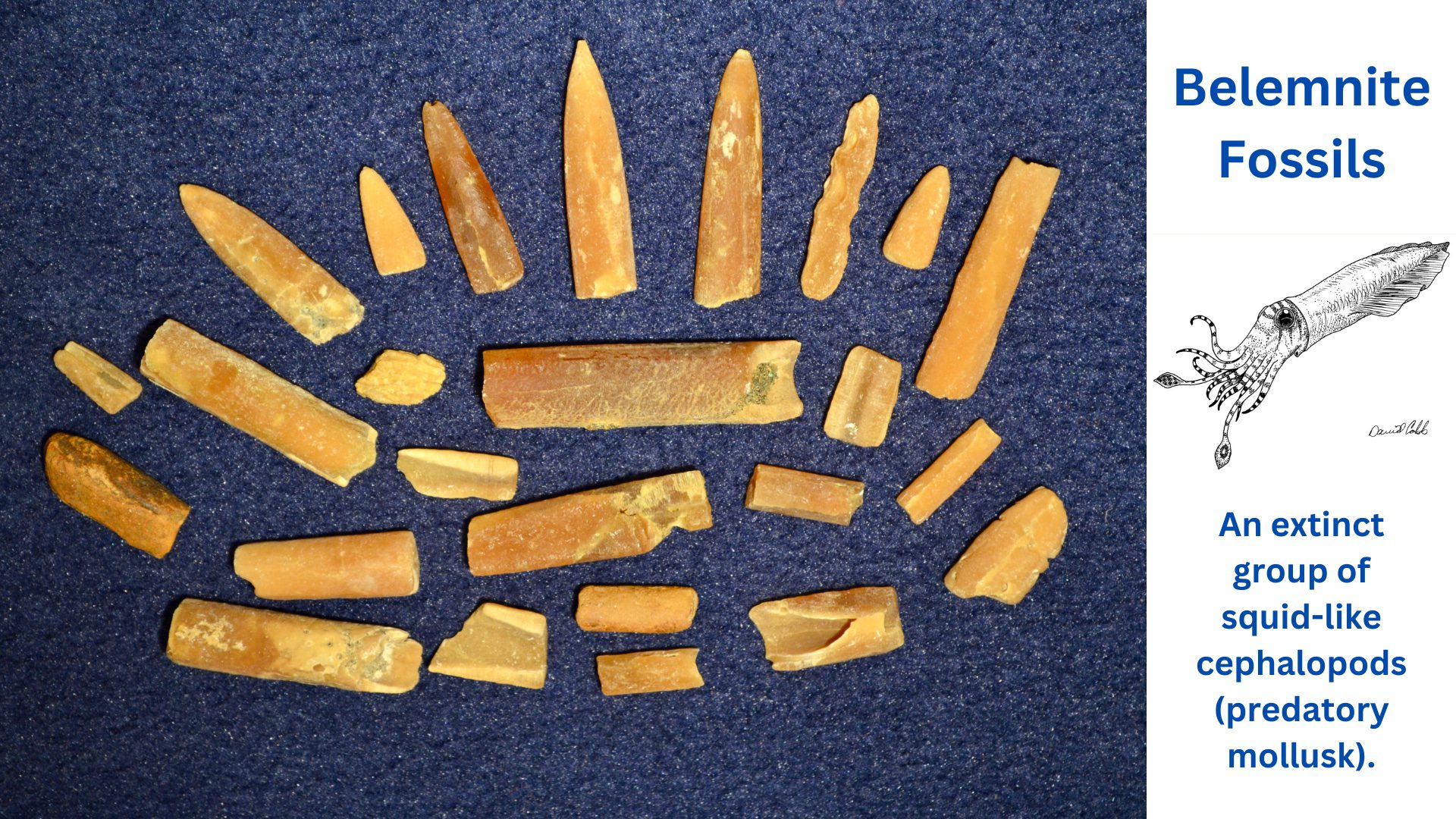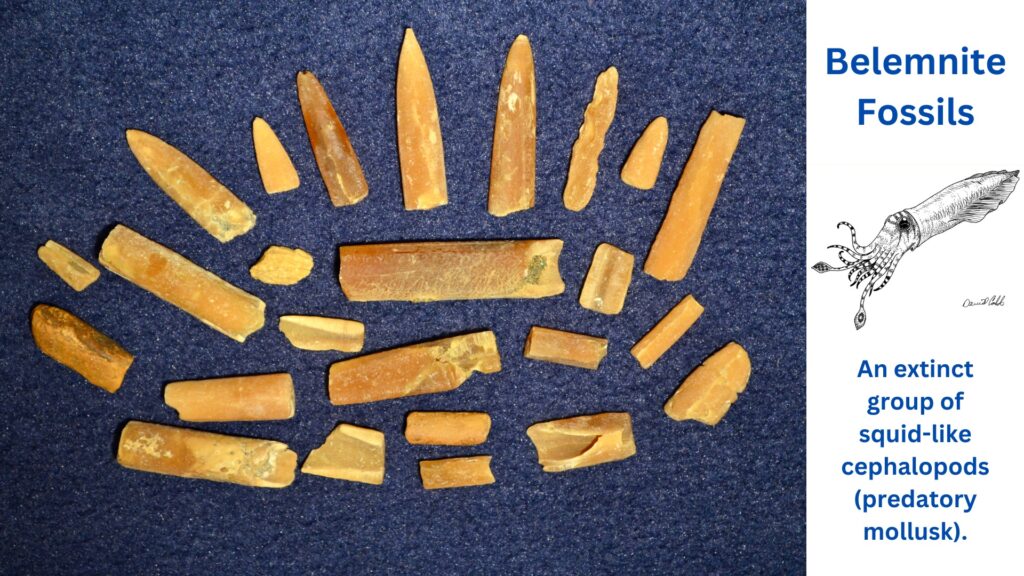 Fossils or Rocks?
We found many interesting items and will admit that, since we are novice fossil hunters, we might see fossils where none exist. Either way, we had fun discovering! We have a handful or two of potential fossils that we will research or seek advice about.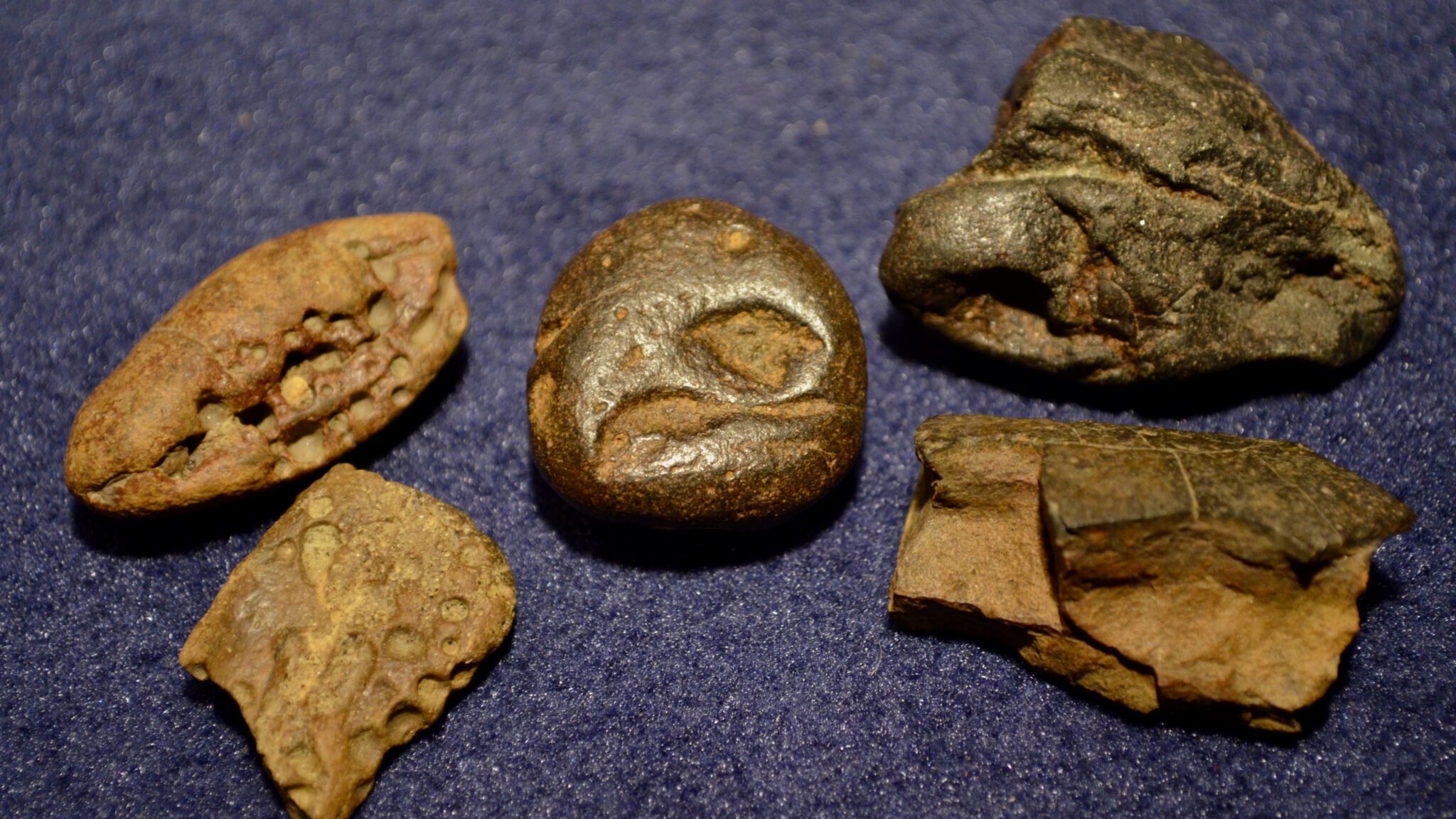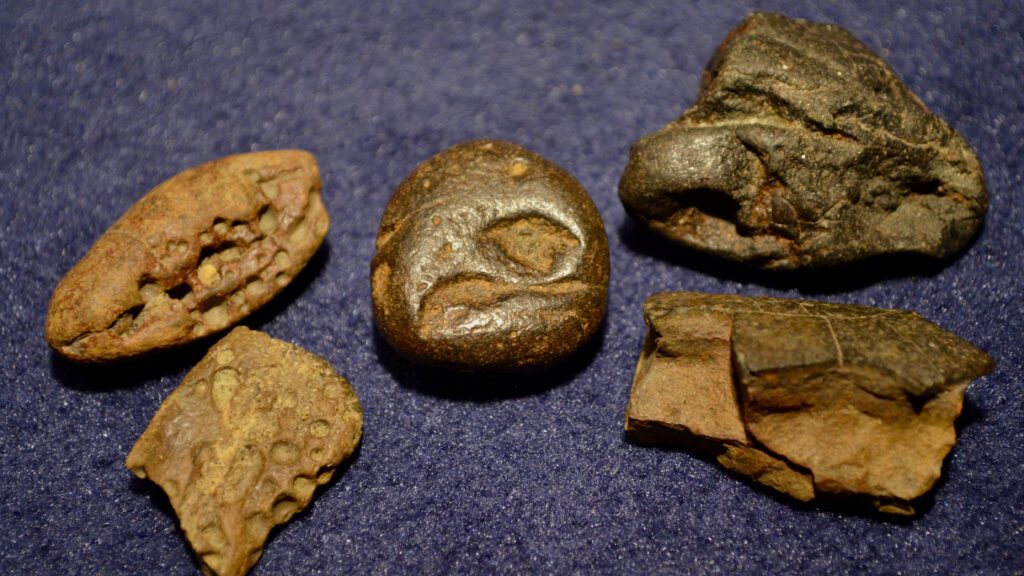 What to bring Fossil Hunting at Big Brook Preserve
You really don't have to bring much to enjoy Big Brook Preserve, although a few items from the list below can help make your visit even more enjoyable…and maybe more productive for finding fossils.
Rubber boots:

We picked up affordable boots at Walmart that worked great. As the water gets warmer in summer, you can forgo boots and wade in the water. We found occasional glass pieces, so I would avoid going barefoot.

Sifting Pan:

We purchased a sifting pan (see picture below) just for this trip. While more expensive than other options, this performed best for sifting and then spreading out finds on the screen to evaluate. We brought less expensive items that we purchased at the local dollar store, including a small spaghetti strainer and a cat litter scoop with holes in it. Both worked well, but the sifting pan was the best.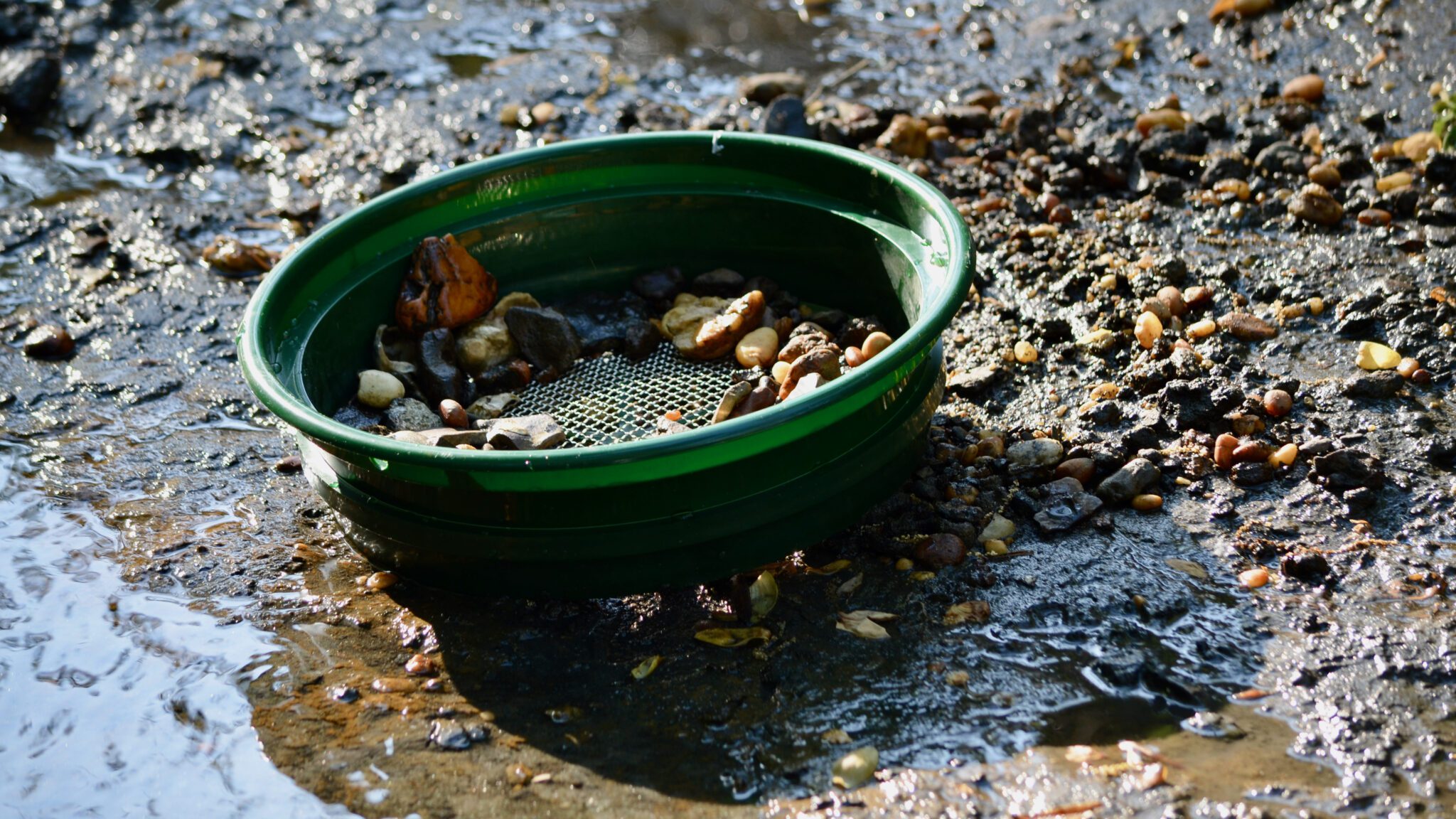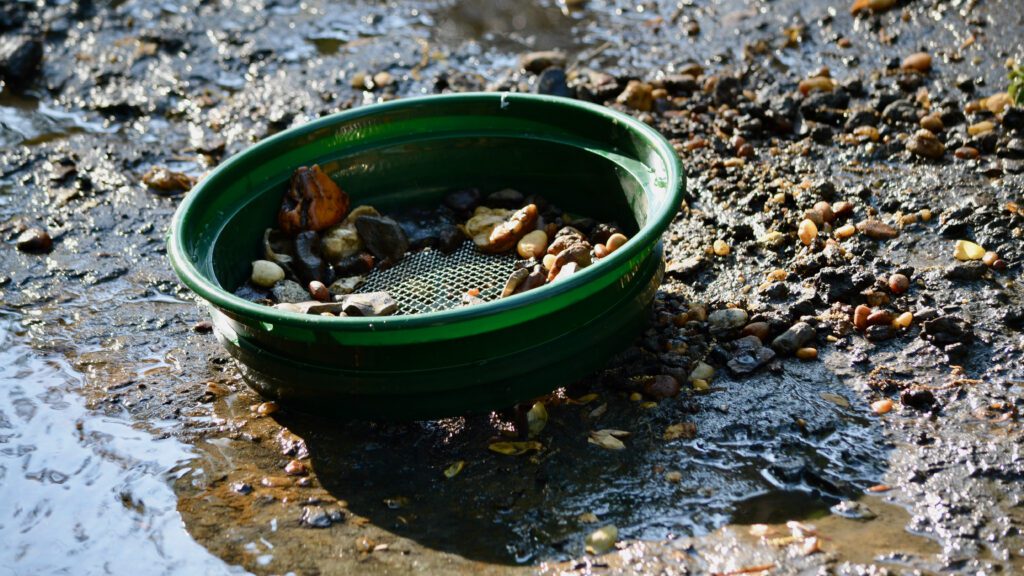 Garden Trowel:

Shovels aren't allowed, which makes sense. Fossil hunting with minimal impact preserves the area's beauty and ensures fossil finds for future generations. We used a garden trowel from our garage and purchased a kiddie beach shovel (really the size of a trowel) just for fun.

Containers or zip-lock bags:

You will want to have something to keep any interesting finds in. We used our pockets and periodically transferred items to cheap, plastic containers purchased at the dollar store.

Water and snacks:

We were too busy having fun to eat snacks, and since no restrooms were onsite, we didn't drink anything. Once the higher temperatures arrive, be sure to hydrate!

Camera:

We enjoyed the area's beauty and had fun wading in the creek. If, like most, your camera is your smartphone, then you can Google items as you find them to uncover detailed information about each. We took pictures with our phones, a nicer DSLR camera, and video footage with a GoPro. We would have enjoyed Big Brook even without finding any fossils…but we are happy we did.
Big Brook Preserve Fossils – Map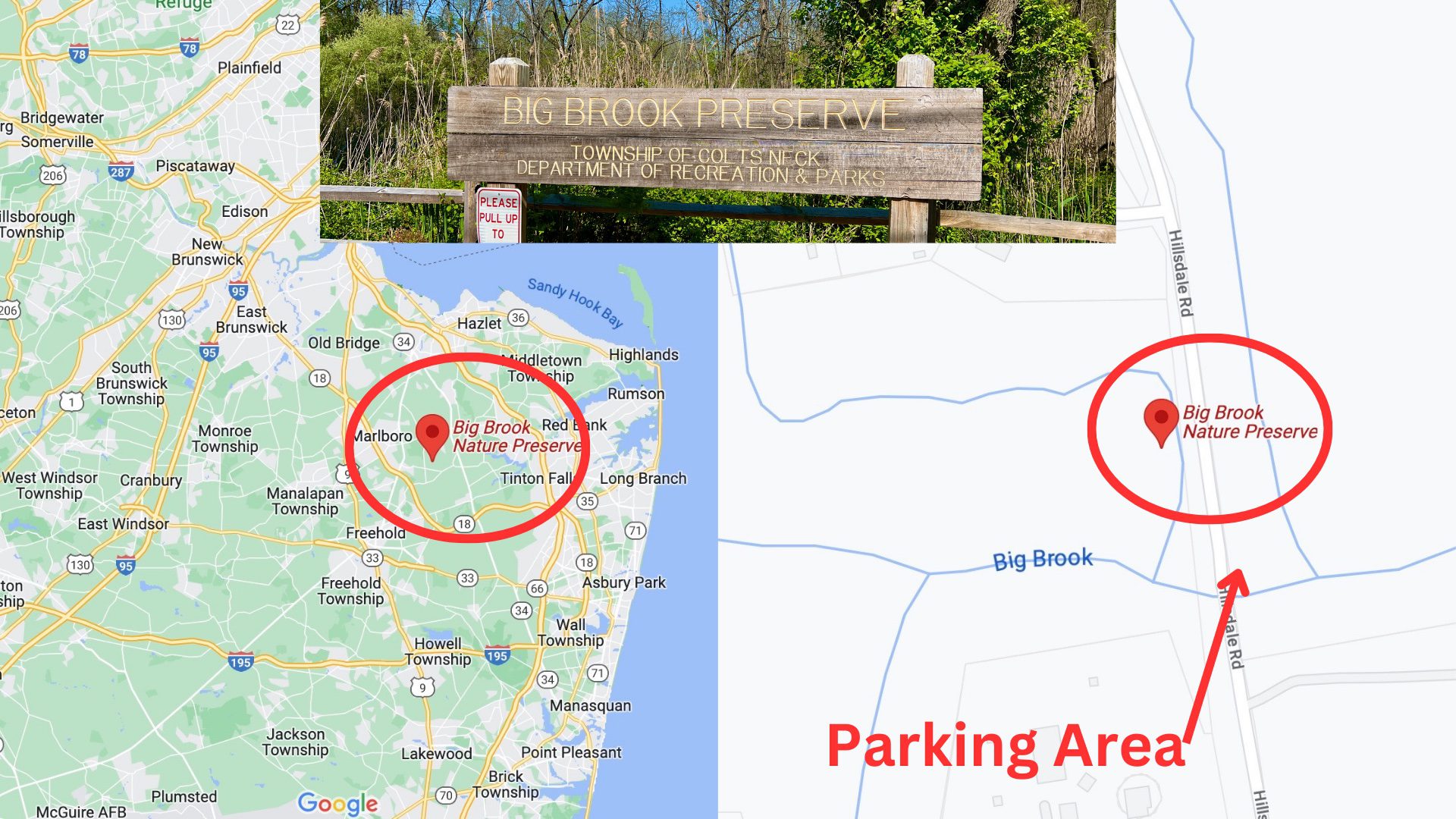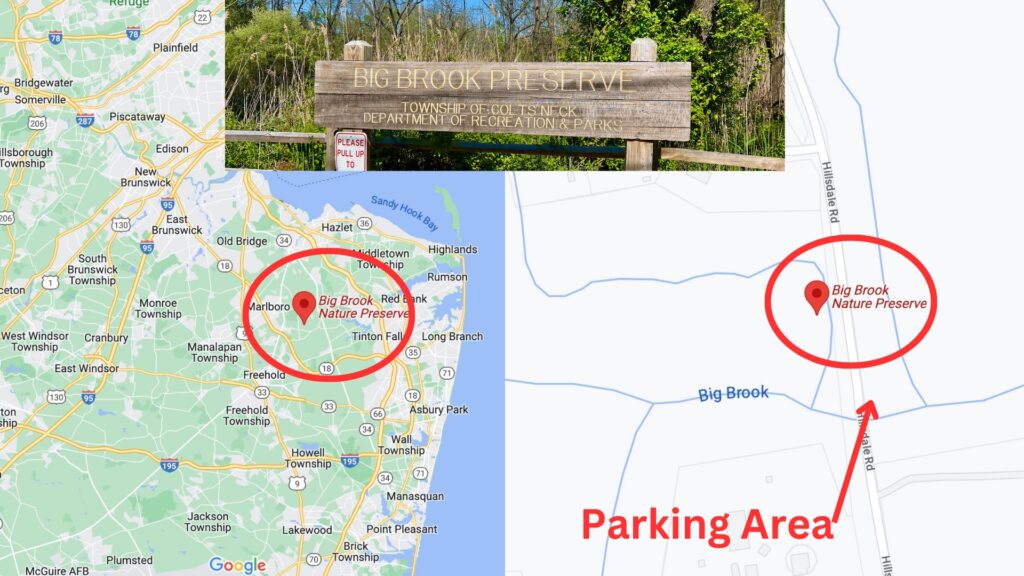 Family Friendly?
Big Brook Preserve is very family-friendly. Access to the brook is from either side of the road, so be careful with younger childer. Also, while the brook is mostly shallow, there were some deeper spots for kids. We think kids would love wading in the brook, sifting rocks, and maybe even finding a fossil to display at home. Our children are grown, and we thought fossil hunting at Big Brook was a blast!
Tips for visiting Big Brook Preserve
Do a little research and watch a few YouTube videos (see below) to understand the area and how to find fossils.
Take your time and have fun even if you don't find any fossils. You likely will, but enjoy the search.
Visit after a good rain. Rains will wash up more fossils and increase your odds of finding them.
We found that a flatter, sifting screen is best for spreading out items and makes it easier to evaluate your finds. Spaghetti strainers work, but their bowl shape gathers all the rocks in the middle instead of spreading them out evenly.
Follow the reasonable Big Brook Preserve Rules (see below).
Big Brook Preserve Rules:
Park in designated areas.
No digging/excavating in the stream banks. Stick to the stream bed so as not to cause erosion.
Use hand tools, and don't dig deeper than six inches.
You are allowed to keep your fossil finds. Each person can fill a sandwich-sized ziplock bag with your finds.
Click here for a complete list of rules.
---
A short video of Big Brook Preserve Fossils
This shows the area's natural beauty and how we found fossils at Big Brook Preserve.