Reading Time:
9
minutes
NJ Highlands Trail – Hike 5 began at the former rail station in Califon, NJ, and ended at Harrington Park, just northwest of Long Valley, NJ. Much of the hike is easy walking on the Columbia Trail, but it takes a wild walk in the woods after passing Long Valley.
The Highlands Trail begins at the Delaware River between Pennsylvania and New Jersey. The trail ends at the Hudson River in NY.  The Highlands Trail is about 170 miles long and has over 120 miles in the state of New Jersey. Below you will find key facts, details, and a map of this section of the Highlands Trail in New Jersey.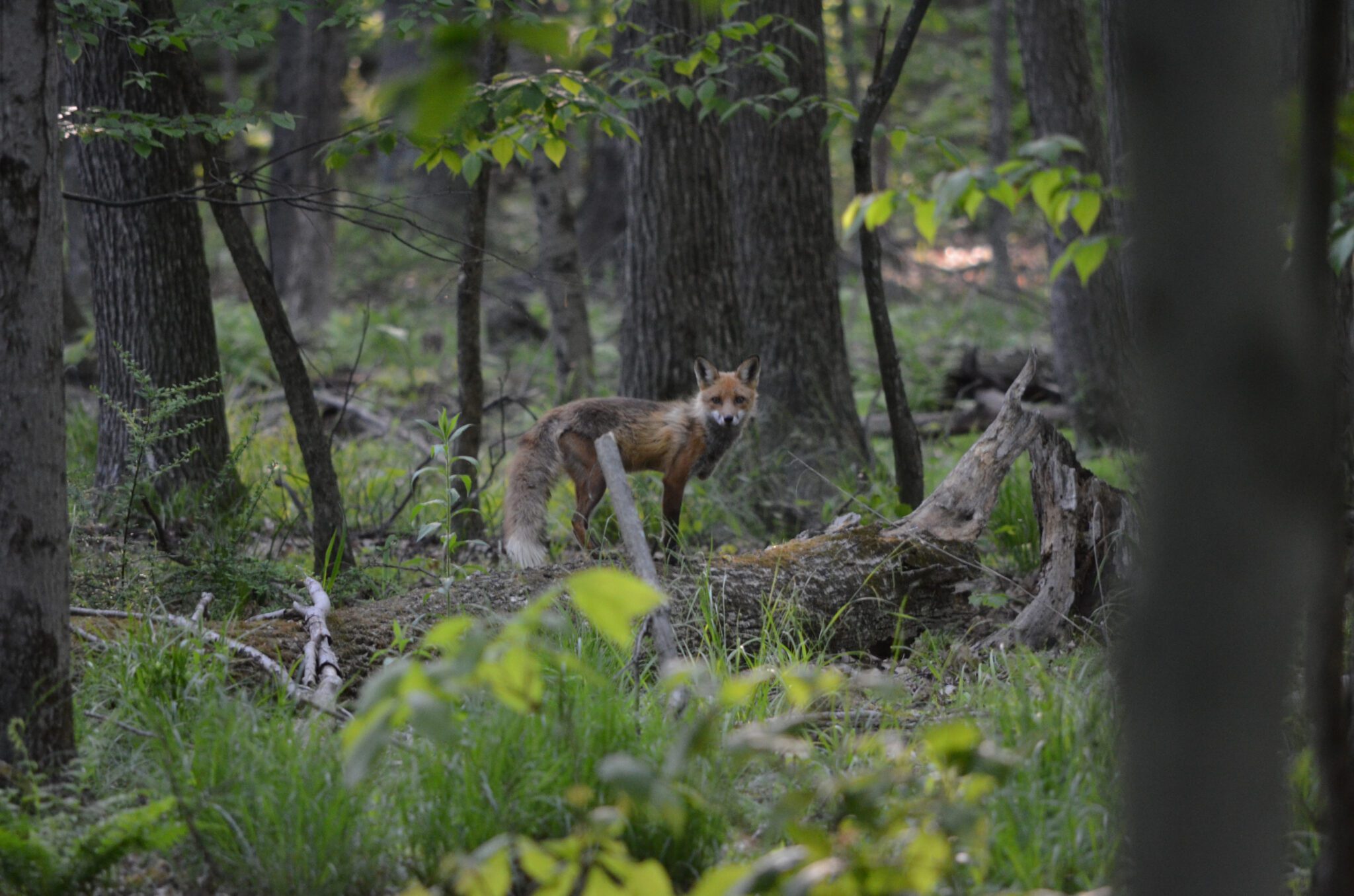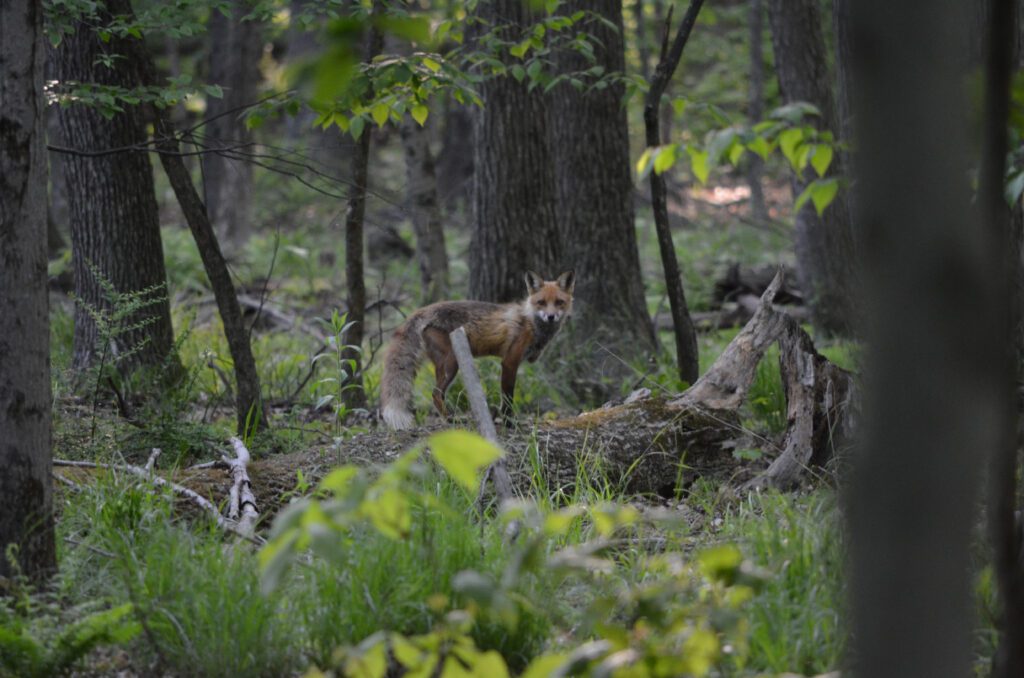 Key Facts: NJ Highlands Trail – Hike 5
Mileage and time
This hike covered 10.25 Highlands Trail miles from Califon, NJ (former rail station) to Harrington Park, just northwest of Long Valley, NJ. With side trails and diversions, my hike totaled 11.78 miles. The hike lasted 4 hours and 15 minutes, including a few breaks (21:37 pace per mile).
Travel Logistics for this hike
I parked my car at Harrington Park and used a taxi service to drive me to the starting point in Califon. I was met by Juan of Top One Limo, LLC at the park near Long Valley. Visit their website or call them at 973-668-0858 if you need a taxi or car service. Juan was on time, charged a reasonable rate, played 1980s music during the drive, and is a super-nice guy. I will use them again when I need a ride.
Rating
This was easy hiking on the section that follows the C0lumbia Trail as it is a rails-to-trails path and is very flat. Things changed at Schooley's Mountain Park where the trail became moderately difficult. There was a section that was steep and rocky as you near the overlook, but most of the trail was manageable.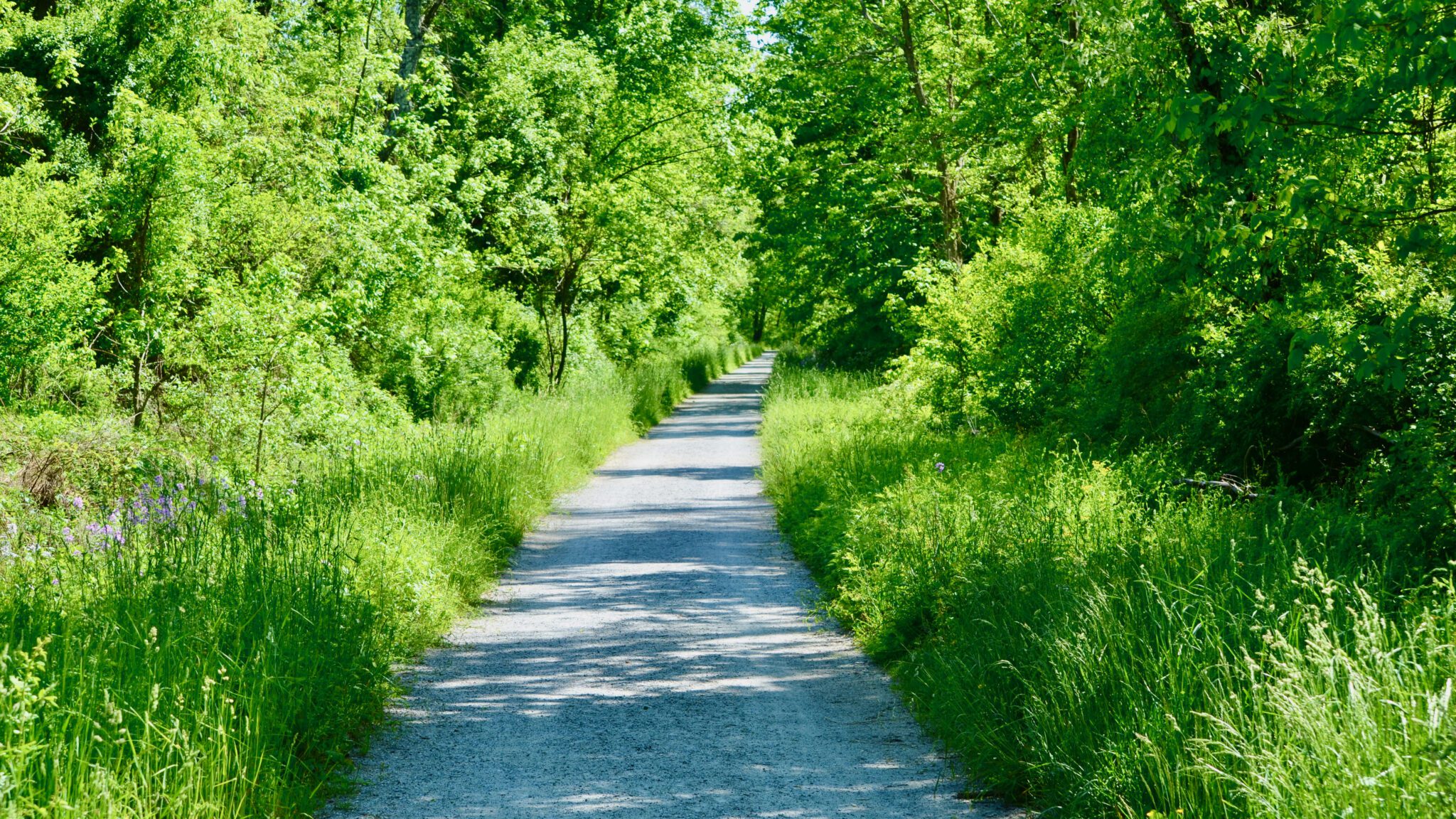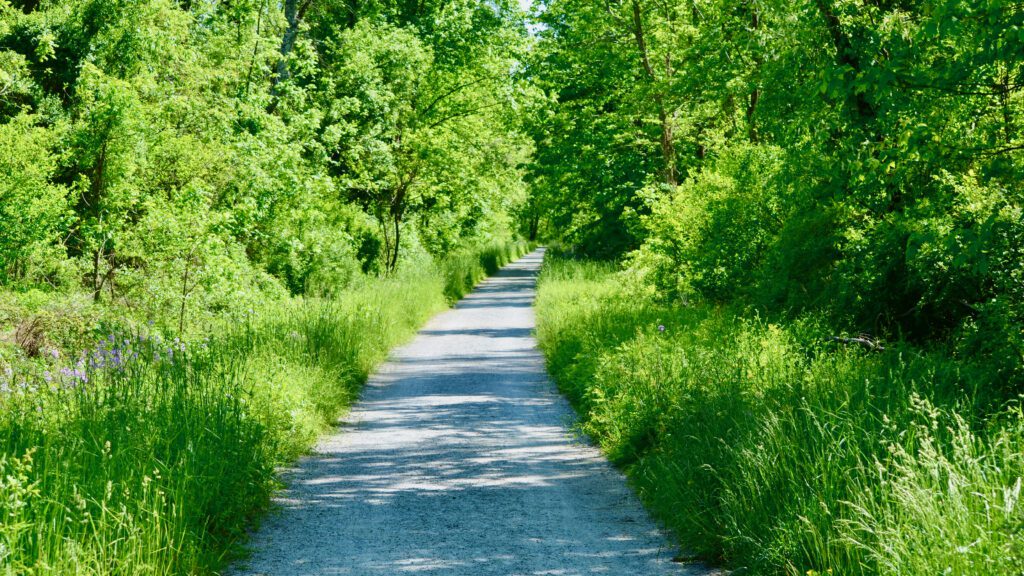 Notable trail sections
Some people find rails-to-trail hiking less interesting, but the Highlands Trail/Columbia Trail section had many neat things to see. Wildflowers, river access, short walks through towns, and some wildlife sightings were part of this trek. My favorite section of this hike, however, was the Schooley's Mountain Park at the end. Not counting sections near trailhead parking areas, I only saw one other hiker in this park, and the trail was a lot of fun.
Some other notable sections on this hike:
There was a property just off the Highlands/Columbia Trail with old cars, many of which were Ford Mustangs from the 1960s and 1970s…so I guess I saw Mustangs on this hike too!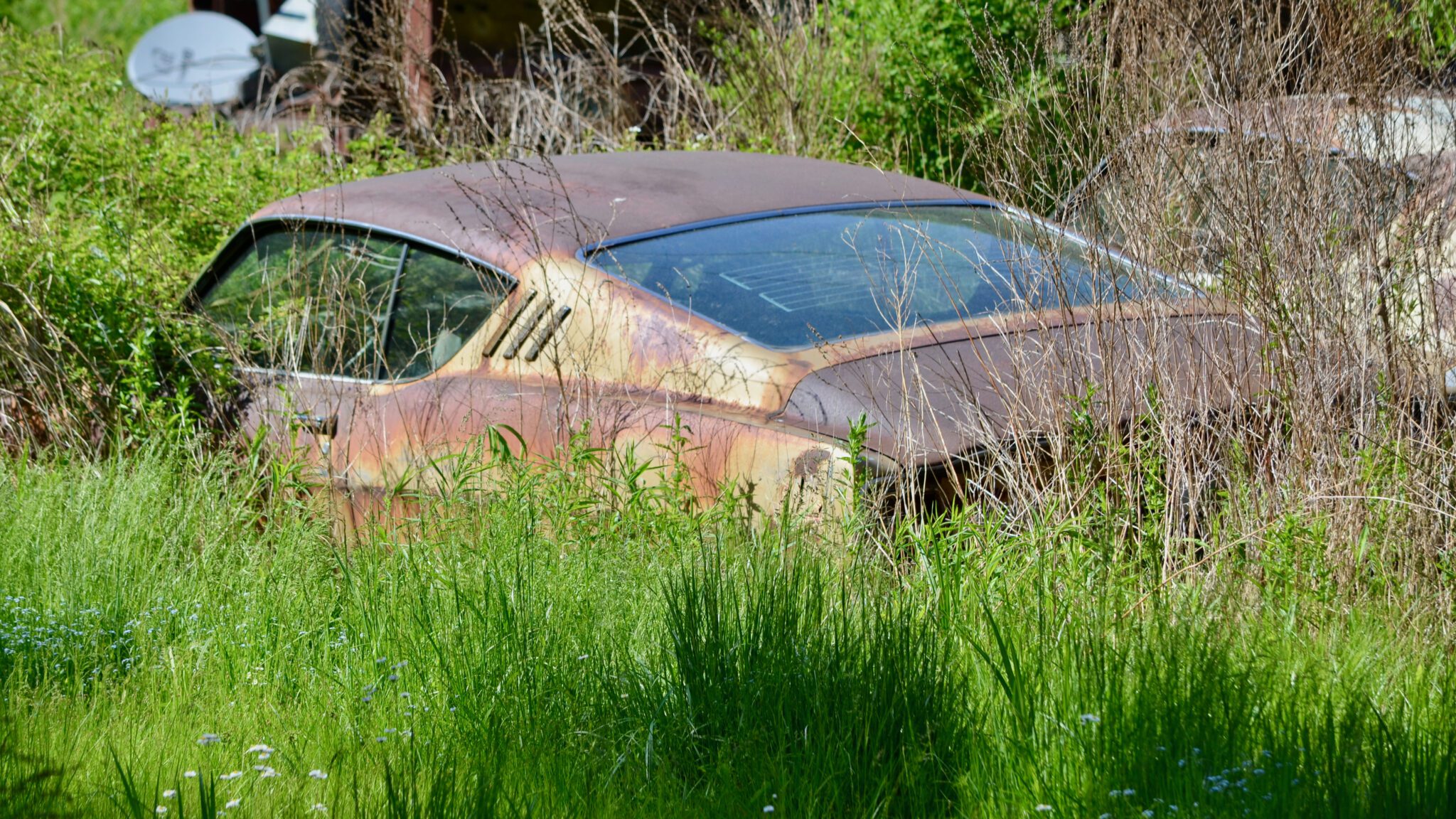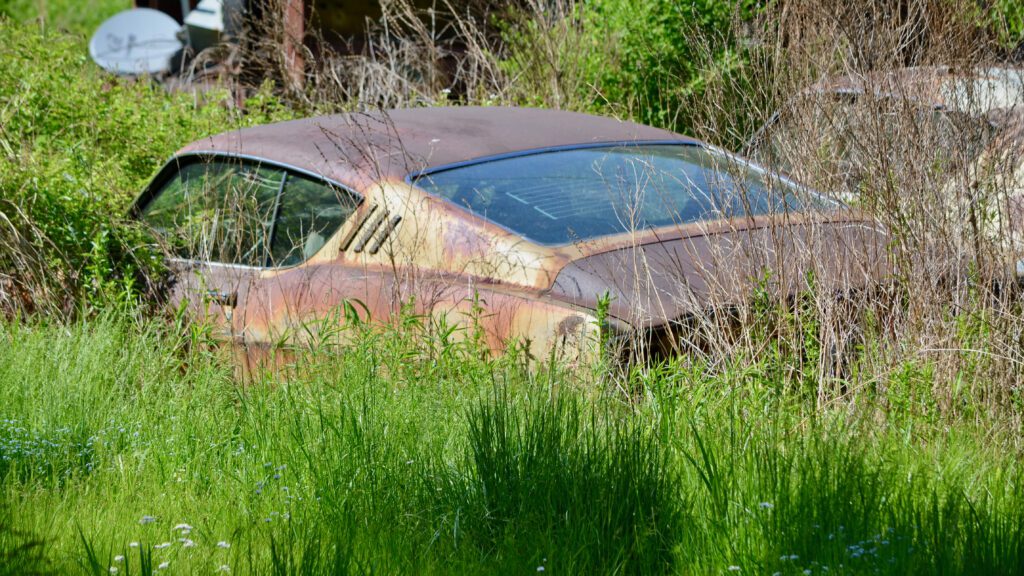 There were several water features on the Columbia trail that were interesting to look at, including ponds, streams, and marsh areas.
Since the trail borders people's yards near Califon, there were many flowers near the trail. I saw Iris', Rhododendrons, and wildflowers.
A few farms are near the trail, with horses in a field on one and a person riding at an equestrian center at another.
Road walking
There wasn't much road-walking on this section of the Highlands Trail. There were a few road intersections and short walks in Califon and Long Valley. The final quarter of a mile is on the road that enters Harrington Park.
NJ Highlands Trail – Hike 5 Trail Map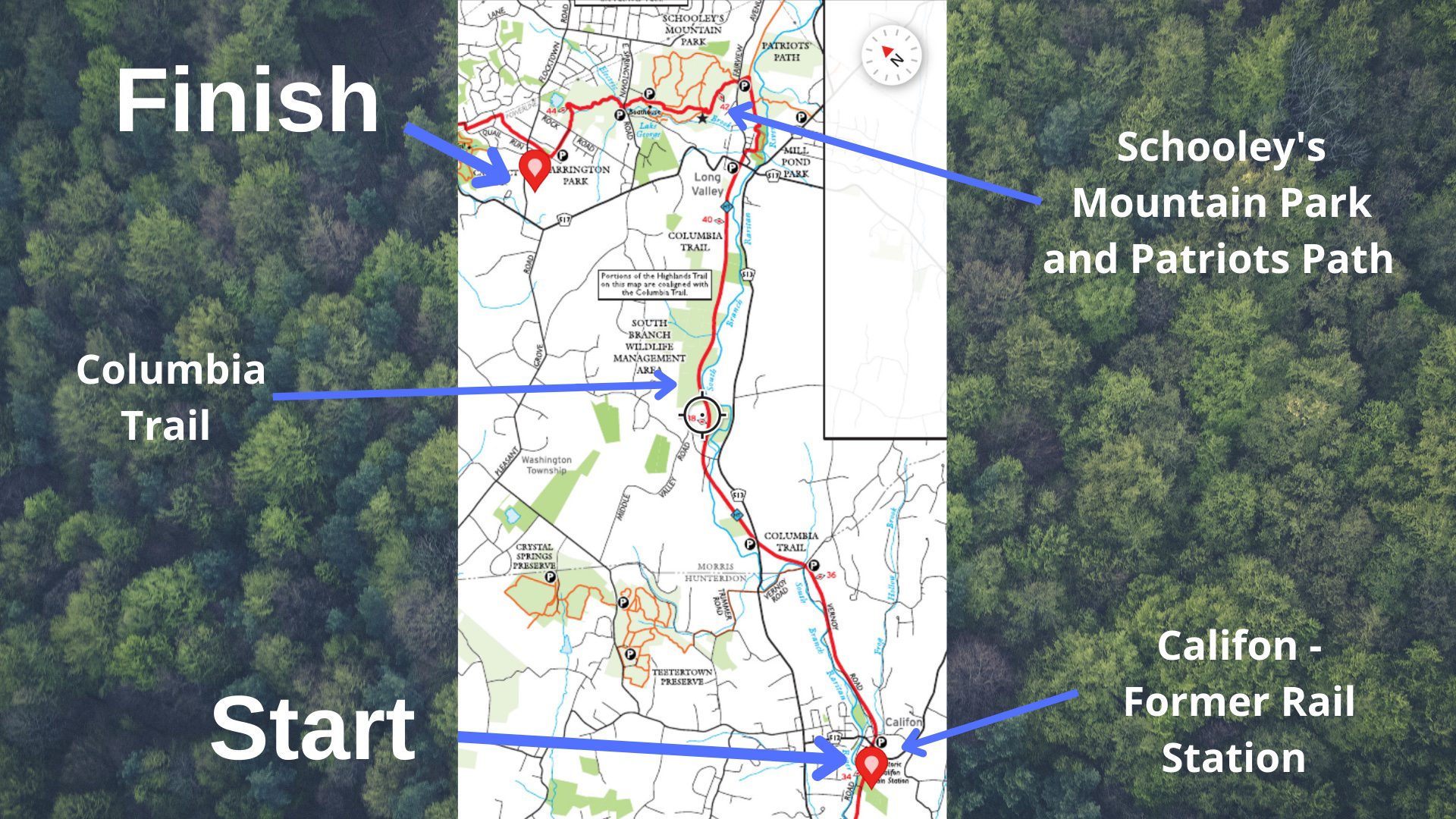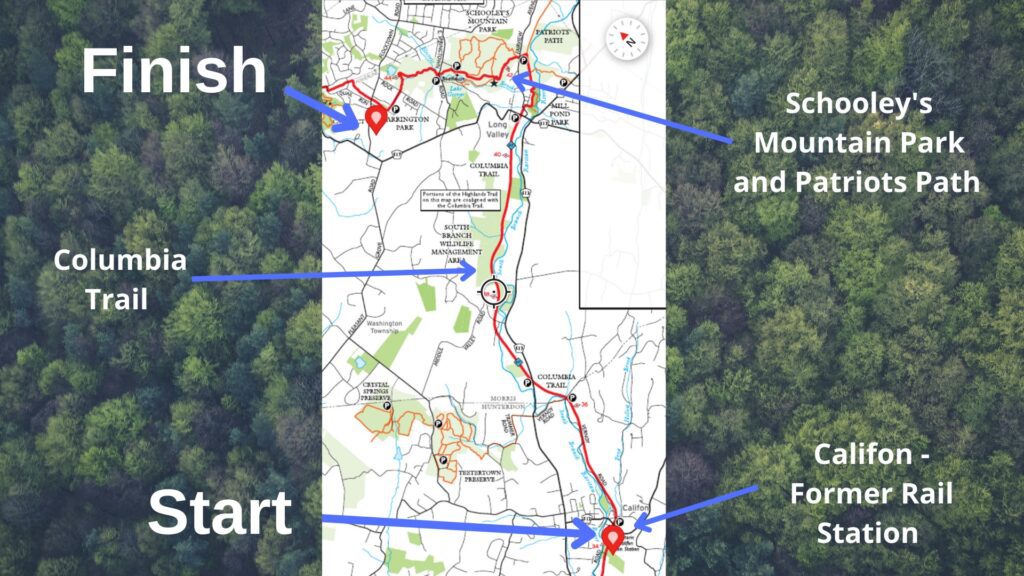 Family Friendly
This hike is very family-friendly. The parts on the Columbia Trail can be done by almost anyone. Schooley's Mountain Park is a more difficult hike but should be possible for able-footed children. There was plenty to keep kids interested. I saw deer, chipmunks, squirrels, birds, horses, and three foxes. Although, I am quieter hiking alone now compared to years ago when our kids were little. Hiking quietly leads to more wildlife sightings, but wouldn't it be nice to go back to when the kids were exploring for their first time!
Trail Parking
I parked my car at the end of the hike, located at Harrington Park. There is plenty of parking at this park. I was dropped off at the old trail station in Califon, so I didn't need parking at the beginning of the hike. If needed, there is a parking lot just north of the rail station in Califon.
Additional parking areas exist north of Califon by River Road, by Vernoy Rd., where the trail crosses Rt. 513, in Long Valley off Rt. 517, off Fairview Ave. to the east of Schooley's Mountain Park, and at Schooley's Mountain Park off of E. Springtown Rd.  These parking options give hikers plenty of opportunity for shorter hikes if they desire.
Trail Tips
Wear comfortable, waterproof hiking shoes, especially in Spring. There are a few creek crossings and wet areas, but the water wasn't much of an issue on this section of the trail.
Crossing Rt. 513 can be fun, although I walked over it with almost no cars in sight.
The first section of this hike (near Califon) is close to the South Branch Raritan River. I walked to the river several times to check it out. I saw a Blue Heron through the woods, but every time I approached it, it flew away.
You can hike shorter sections with out-and-back hikes and park at multiple places along the trail.
If leaving a car at Harrington Park for the end of your hike, park in the closest parking spaces near where the trail leaves the park. I wasn't aware of the exact trail location and parked in the back. It wasn't a big deal but added a little extra walking as it is a very large parking area.
Begin in Califon for NJ Highlands Trail – Hike 5
NJ Highlands Trail, Hike 5 begins at the former rail station in Califon, NJ. This is the location where I took shelter from a rainstorm and concluded the prior section hike (Hike 4) of the Highlands Trail. Califon is a beautiful, rural town to walk through. With an interesting "downtown" area, local trails, and a river running through it, Califon is worth visiting on its own. Visit Califon's website for more details.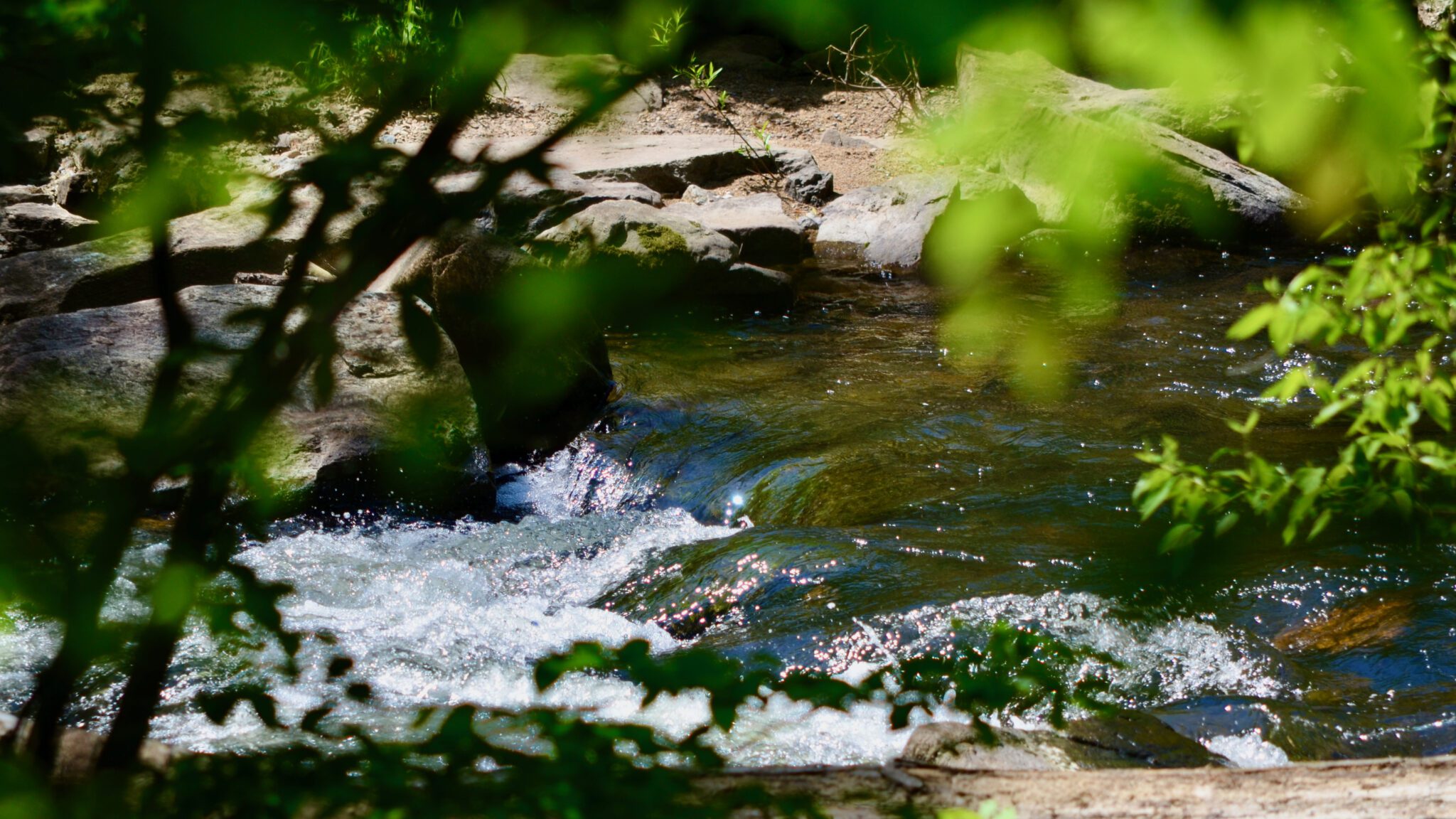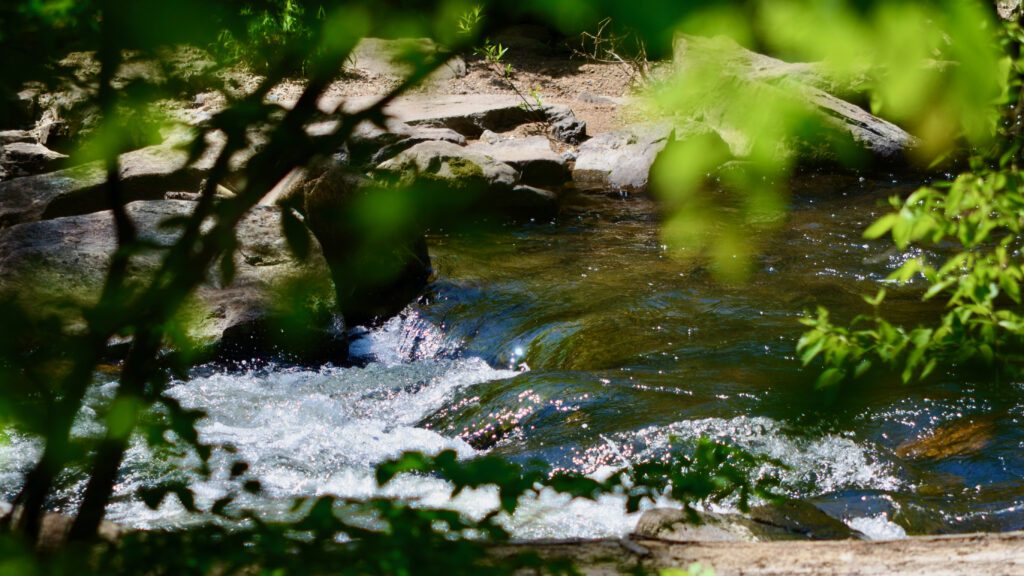 The Highlands Trail follows the Columbia Trail leading into and out of Califon. You will walk through a short portion of the town, cross over a creek, and then it's time to take in the scenery and enjoy the level, rails-to-trails hiking path.
NJ Highlands Trail – Hike 5: The Columbia Trail
The Highland Trail joins the Columbia Trail in the Ken Lockwood Gorge (just south of Califon) until it turns left into Schooley's Mountain Park where it leaves the Columbia Trail and follows the Patriots Path for a while.
The Columbia Trail is a 15-mile-long rails-to-trail path that stretches from High Bridge, NJ, in Hunterdon County, to the border of Mt. Olive and Washington townships in Morris County. The Columbia Trail is a multi-use trail for walkers/hikers, runners, bikers, and cross-country skiers. I am unsure if horses are allowed, but I saw the evidence that some use the trail.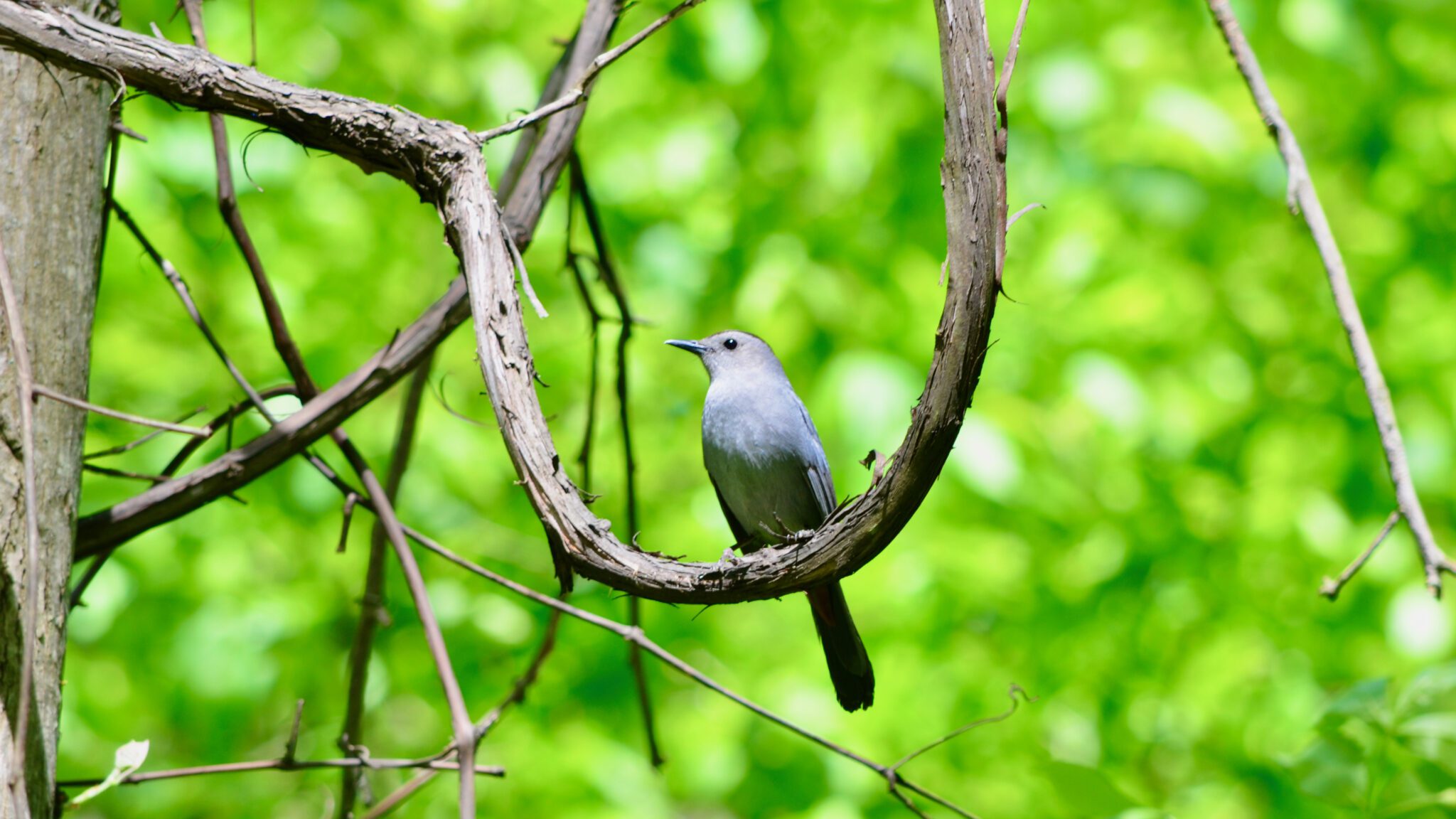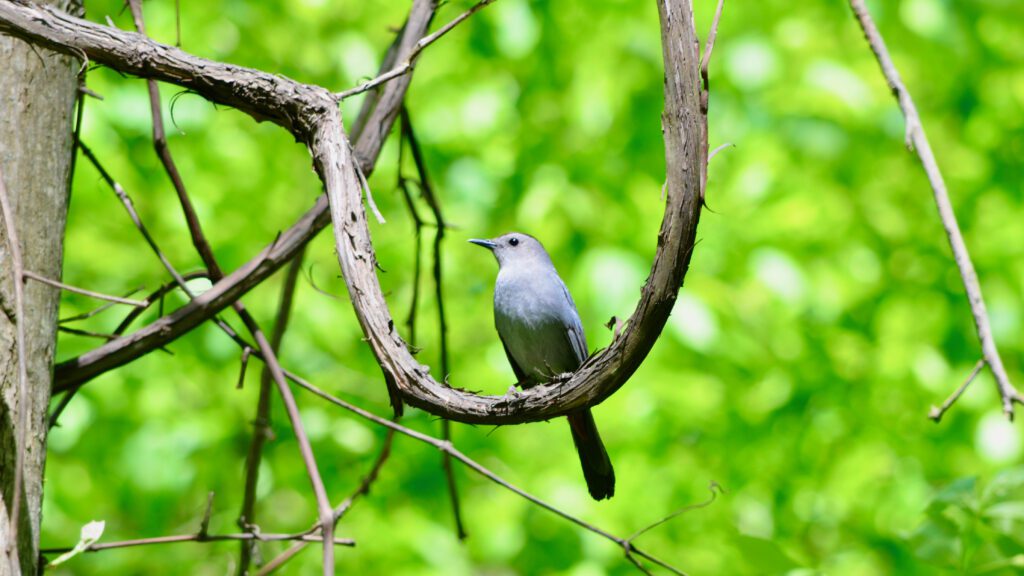 This section of the Highlands/Columbia Trail is often near the South Branch Raritan River, which provides interesting viewpoints and wildlife. I saw a blue heron through trees several times but could never get a clear picture of the bird.
South Branch Wildlife Management Area
Next, the Highlands/Columbia Trail goes through a section of the South Branch Wildlife Management Area. This means that you will be surrounded by forests and away from any residential areas. The section offered continuous shade, birds singing, and occasional views of the river below.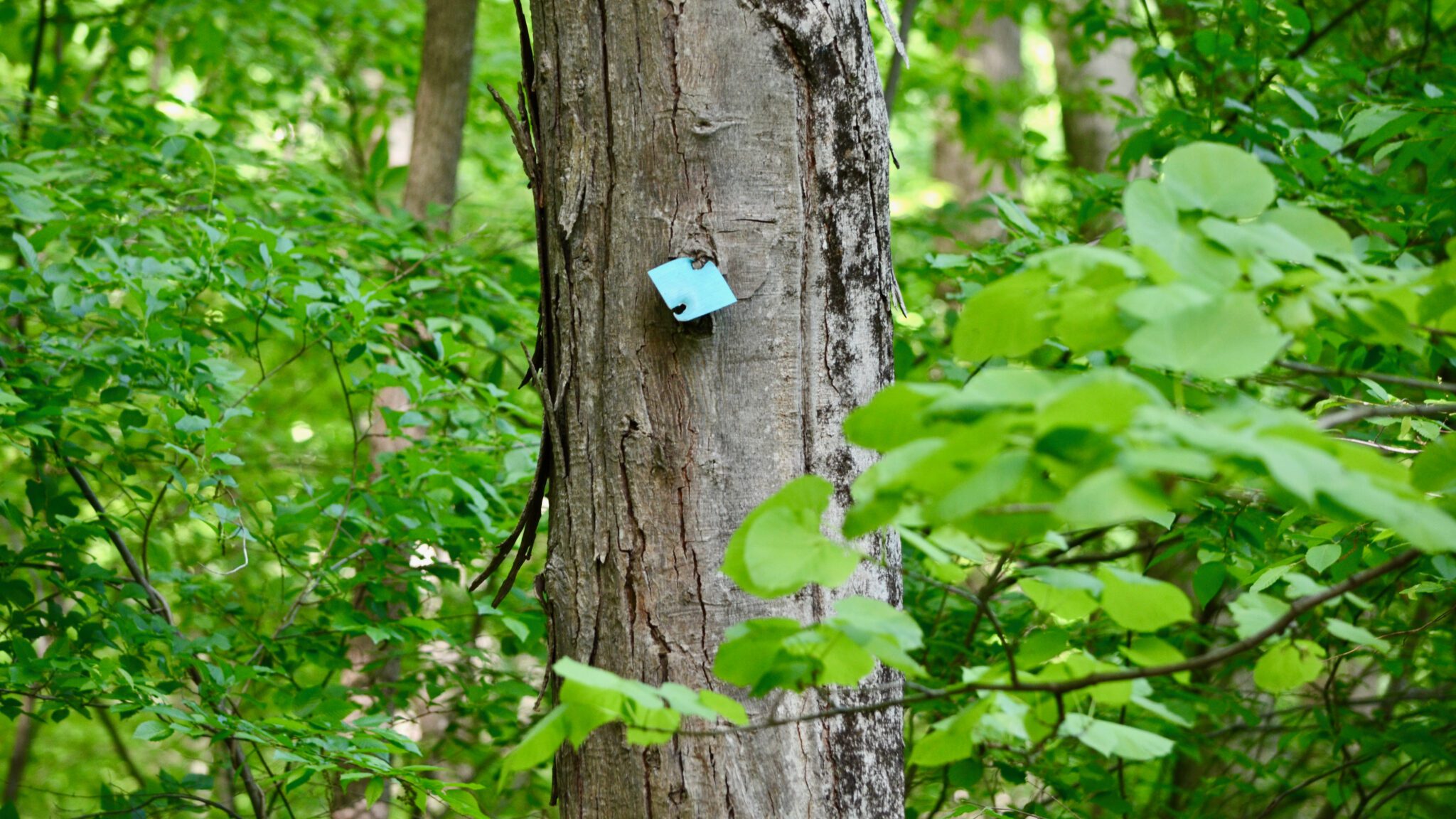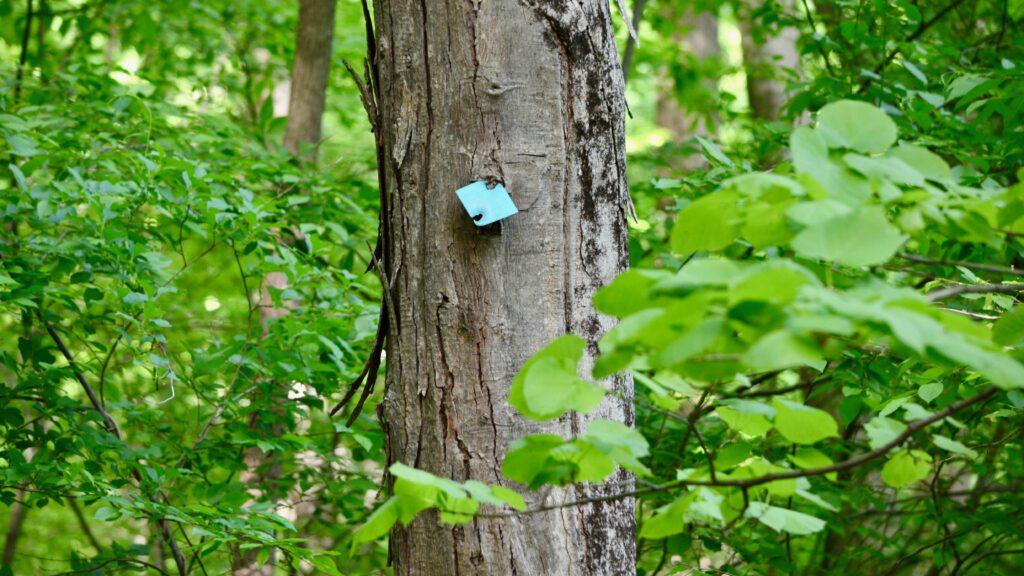 Long Valley and Mill Pond Park
NJ Highlands Trail – Hike 5 continues on the Columbia Trail and enters Long Valley, NJ, at Rt. 517. When I arrived, there was a lot of traffic, yet all of the drivers seemed to know that the trail crossing existed and stopped and let me cross the street. After crossing Rt. 517, you will walk past the Coffee Potter (coffee shop) with Adirondack chairs outside along the trail. I almost stopped for a coffee, but I had some miles to go and wanted to arrive at my car before sunset. It would be a nice place to hang out if you have time.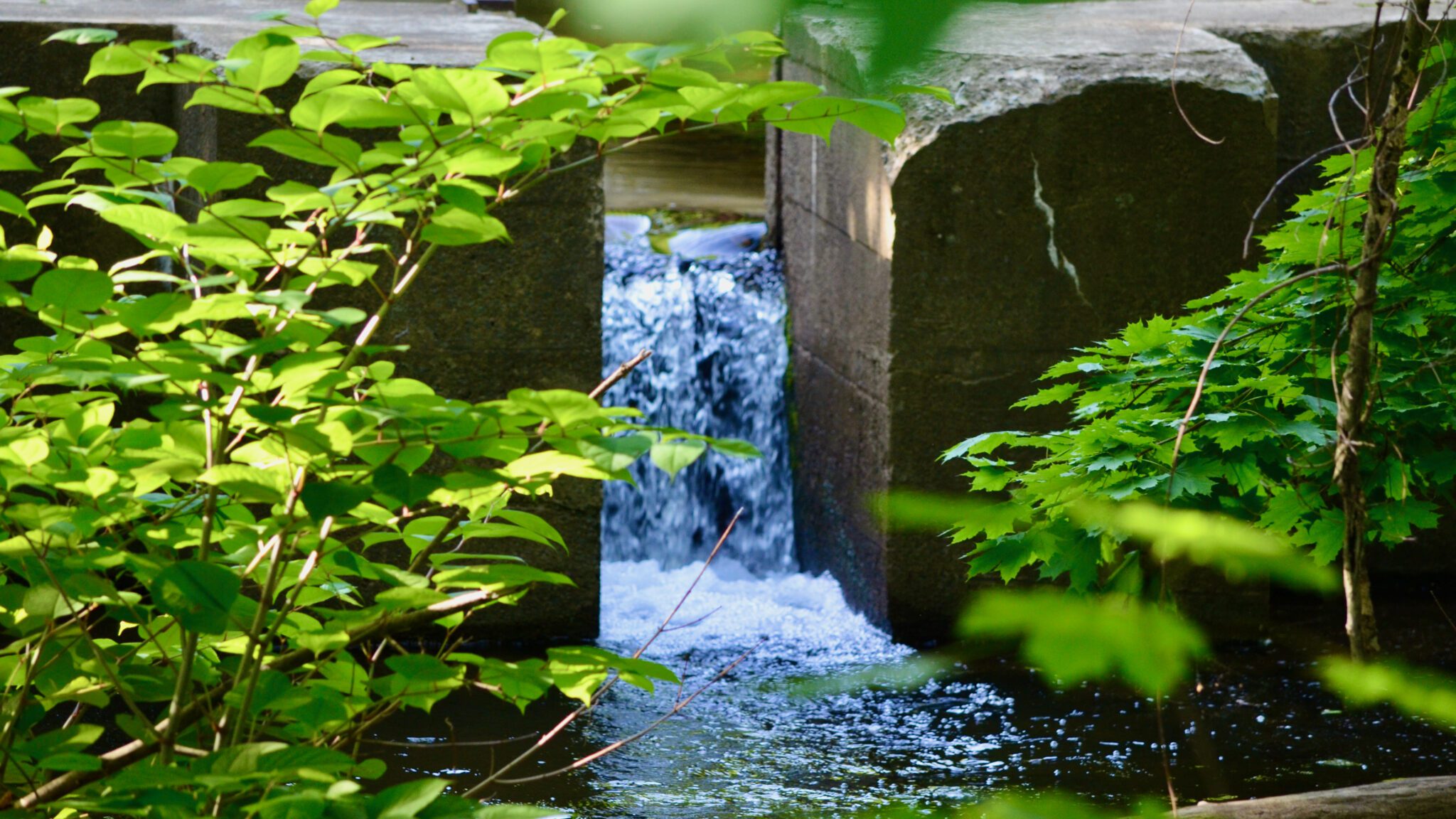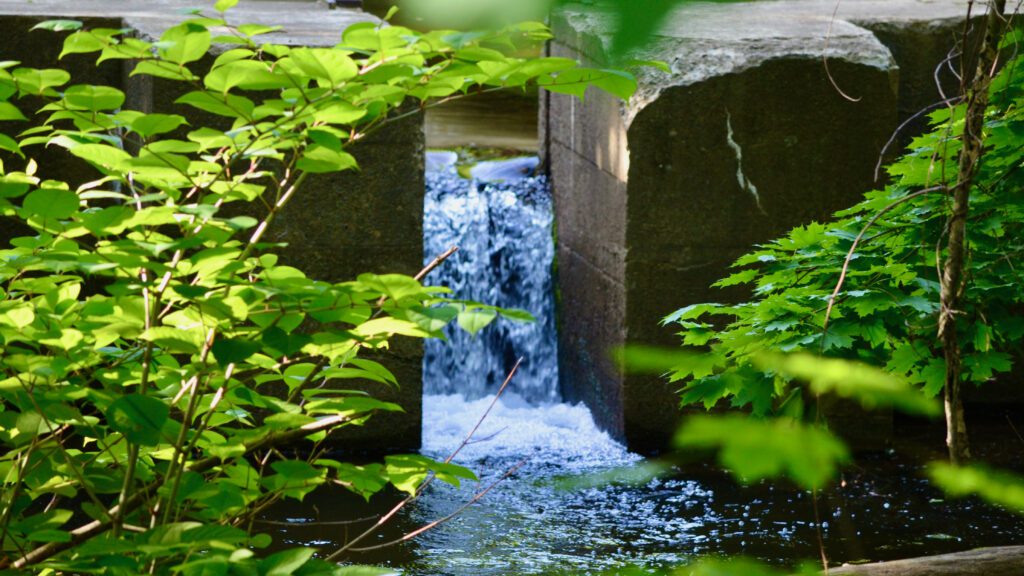 After passing the coffee shop, you will cross another stream. The trail winds behind a residential development of nice homes with Mill Pond Park on your right. Mill Pond Park has a few side trails that continue through wildflowers and pass by the South Branch Raritan River. I walked some side trails, but the grass was closing in, and time ran short, so I headed back and continued on the Highlands Trail towards my car.
In this area, there is a section that comes out of the woods into what seems like an industrial area. For a minute, I thought that I might have taken a wrong turn, but then I noticed a trail sign on a fence. The trail winds around what may be a lumber yard or factory. A group of about 6 or 8 workers was outside for a break, so I waved and kept moving.
Just a little more walking on the rails-to-trails section, and then the hike took a turn to the wild side!
Patriots Path Trail
The Highlands Trail transitions from following the Columbia Trail to the Patriots Path. The Patriots Path is a white-blazed trail often shown as the Patriots Path logo (see the picture below). This trail is a 55-mile long trail that is almost entirely in Morris County, NJ. The trail starts at the Essex County Environment Center, immediately crosses into Morris County, where it stays, and ends in Allamuchy State Park, near Hackettstown, NJ.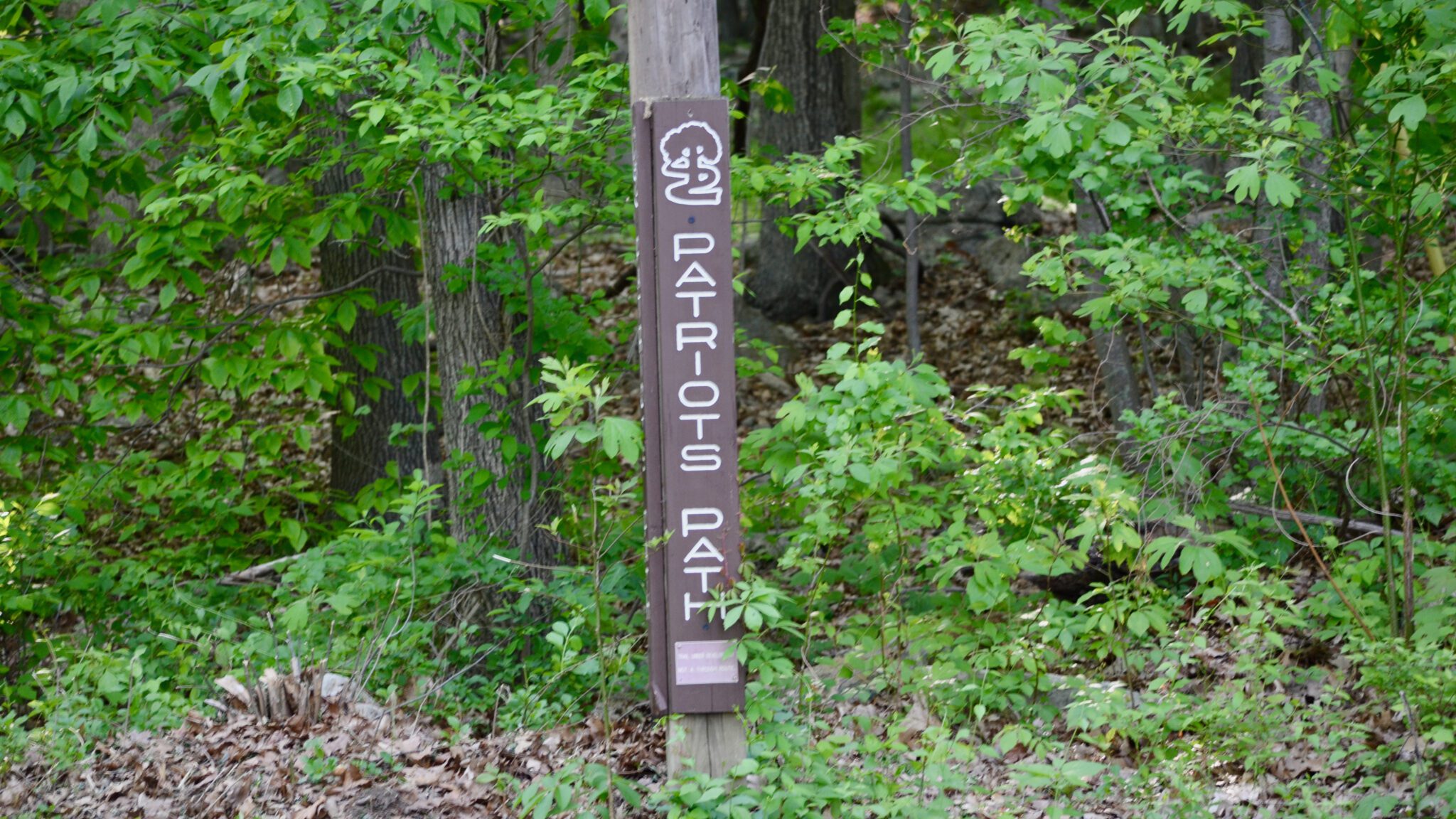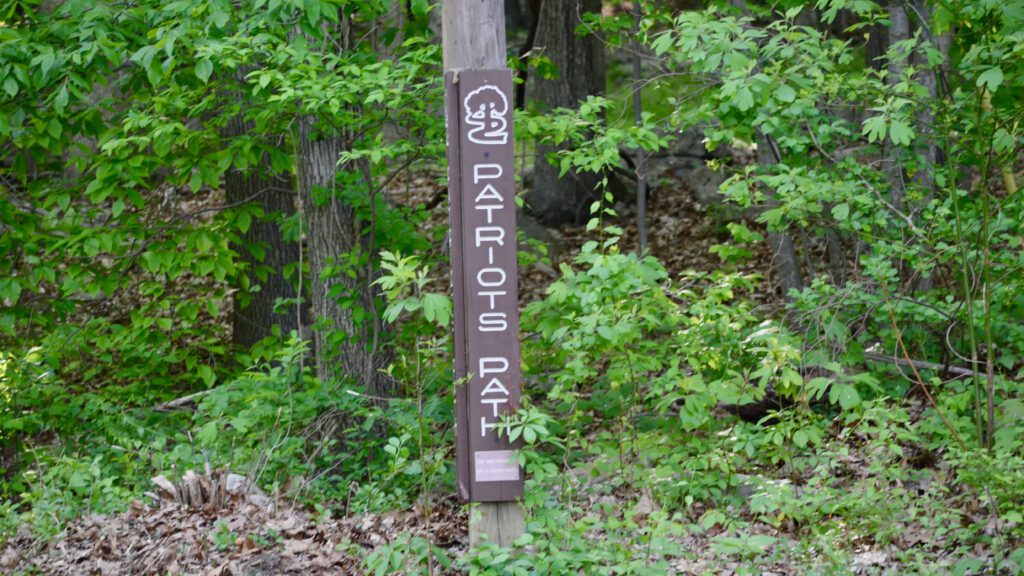 NJ Highlands Trail Hike 5 – Schooley's Mountain Park
After joining the Patriots Path, the Highlands Trail enters Schooley's Mountain Park. Just like that, sharing an easy trail with other people turned into a solitary hike on a rocky trail. This was my favorite part of this section hike!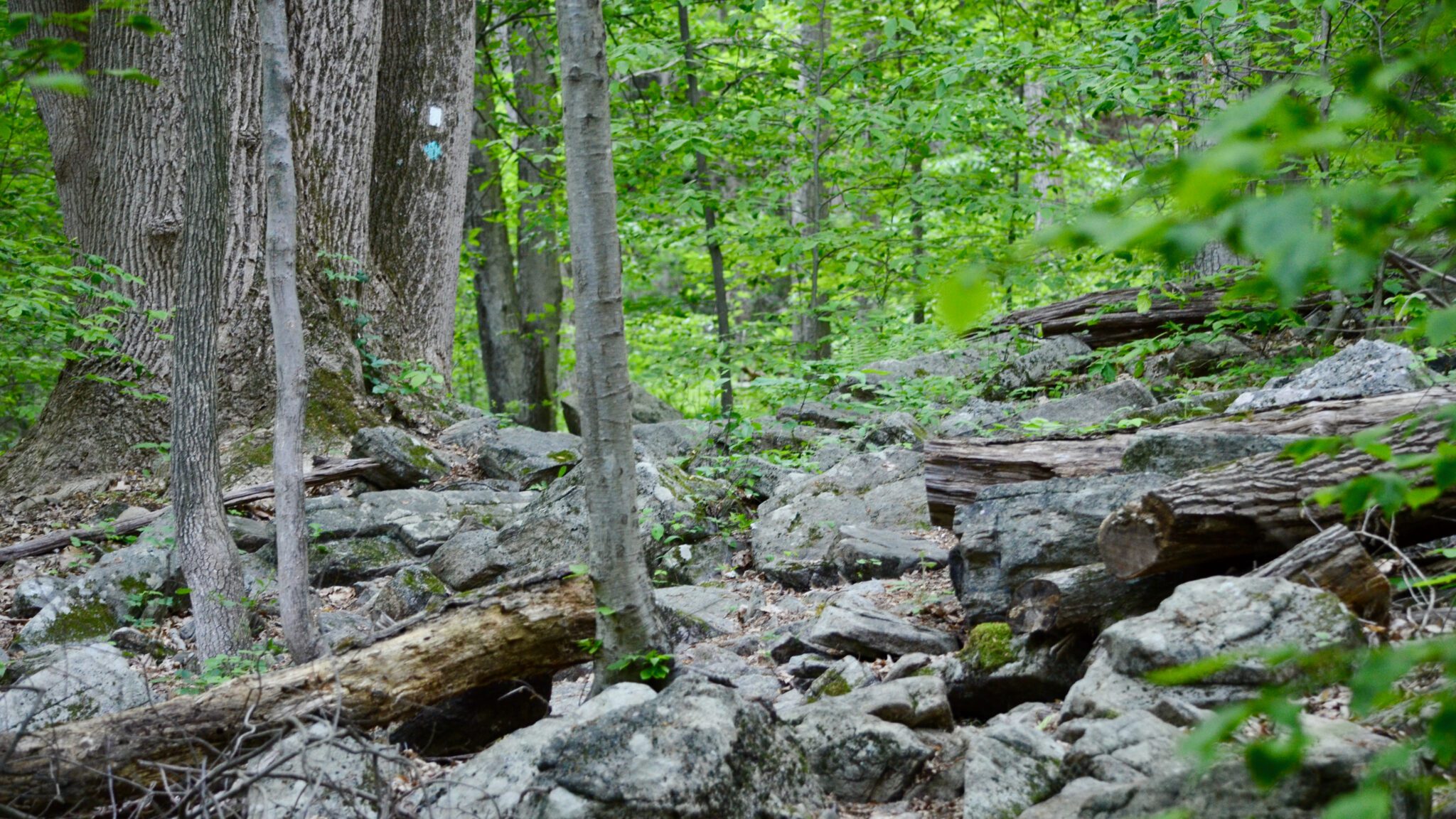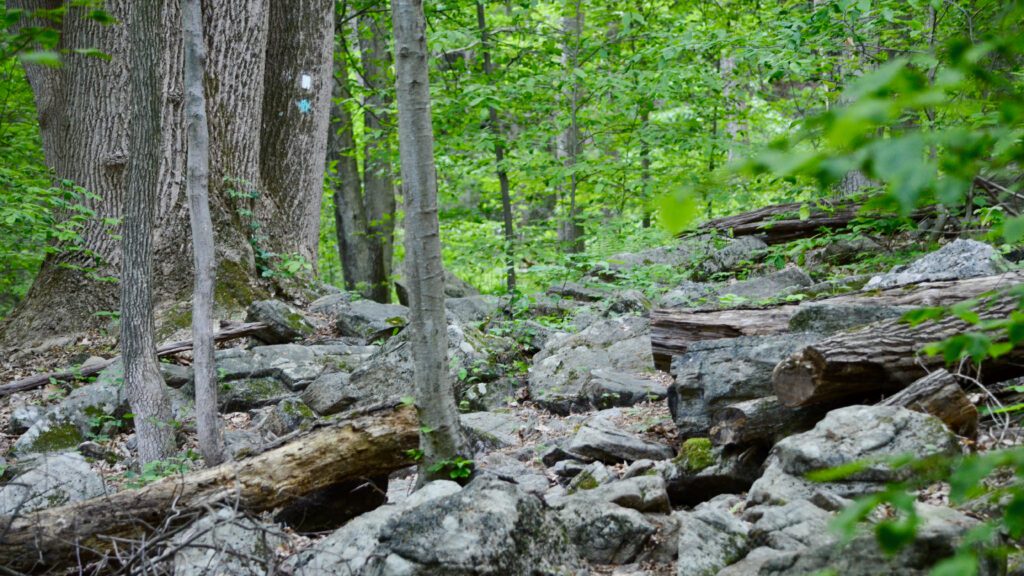 The trail enters a thick forest and starts to go uphill. Moving along at a decent pace and very quietly, I thought I would see a bear at each turn. A fox was near but ran quickly out of sight. I unintentionally snuck up on a few deer, and one seemed to look at me like I was intruding on its trail. This deer posed for several pictures and then moved deeper into the woods.
The trail begins to get steeper, and the boulders get bigger. You begin to sense that the Schooley's Mountain Overlook, announced on an earlier sign to the trail, is getting closer. One last switchback and the trail arrived at a beautiful area with a sweeping valley view. It was hard to believe I was the only one at this spot, but it was a weekday afternoon. It's a safe bet that weekends with nice weather will result in more people hiking to the overlook.
Schooley's Mountain Overlook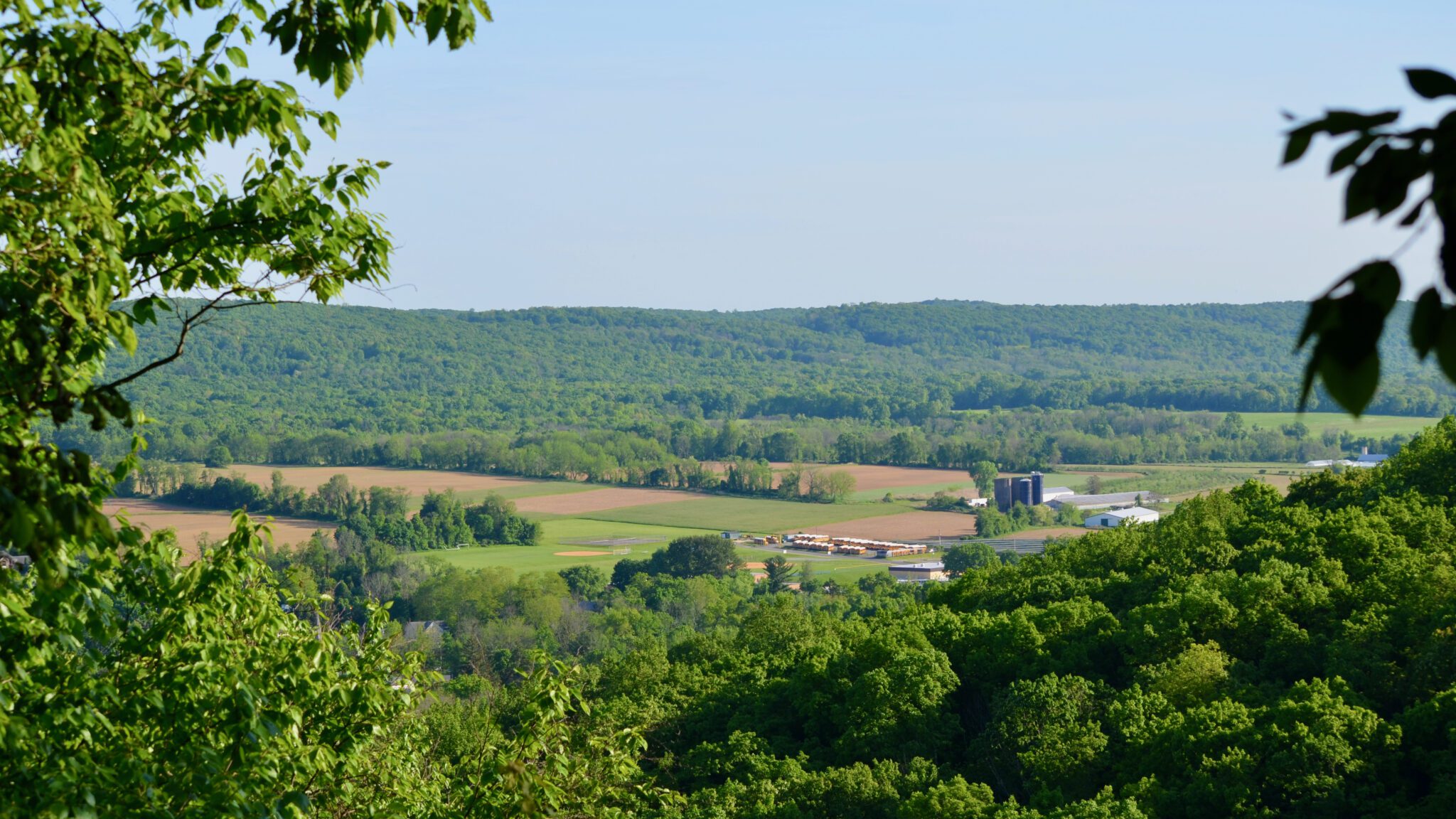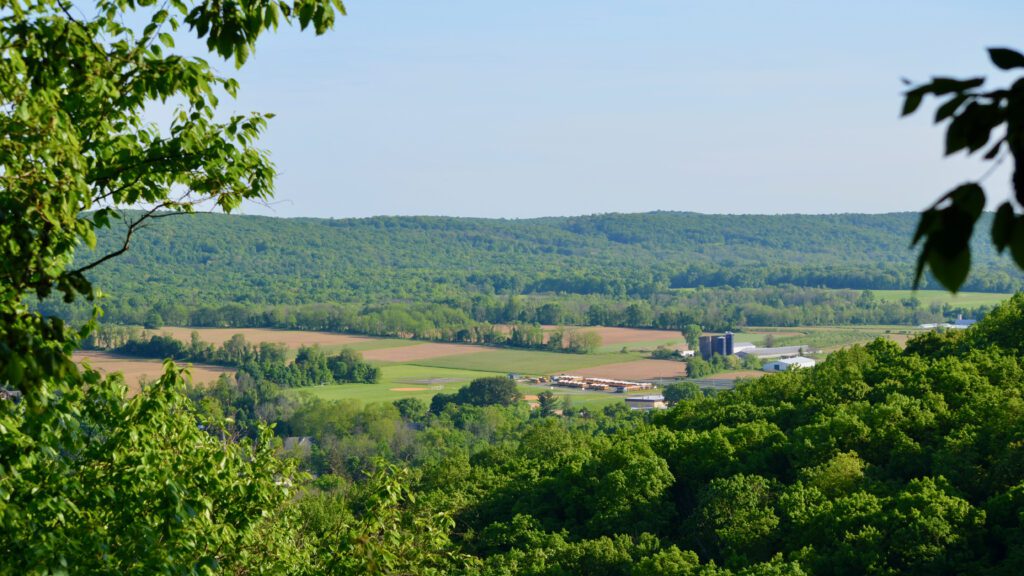 After reaching the overlook, the trail heads downhill through the woods and into the actual park (e.g., gazebo, parking lot, fields, etc.). You will walk on the edge of the open area for a while, and then the trail will turn back into the woods. Next came the most surprising part of this section of the Highlands Trail for me.
For me, I was in "wind-down" mode and thought that the end of the hike was near. A recent trail sign showed that Rock Rd., near where I parked my car,  was 1.0 miles away. I misread the sign and thought it said .1 mile, which caused me to re-check my AllTrails App twice on this last mile as I kept thinking I was way over .1 mile down the trail. GPS assured me that I was on the right track.
The Final Section in Schooley's Mountain Park
The nice surprise was that this section of trail was easy walking through the forest and near a stream. There were planks to walk over, bridges to crosses, and neat views of a small creek throughout the 1 mile to Rock Rd. The setting sun periodically peeked through the heavy leaf coverage as I quietly passed by. What I thought would be a .1 mile uneventful walk turned out to be a memorable section for me.
At one point, I noticed another fox who must have noticed me first and started to move away from the trail. To my surprise, the fox jumped on a log and stared at me. I stood mostly still as I snapped several pictures with a 3oomm zoom lense. It was a fun experience to see the fox look around, yawn, and stare at me from afar.
Harrington Park
Harrington Park, just outside Long Valley, NJ, is a great place to start or end a Highlands Trail section hike. The park is easy to find, has plenty of parking spaces, and the trail runs right through it.
After traversing the final section of this hike through the woods, I arrived at Rock Rd. At this point, you just cross the street, follow the park driveway, and find your car.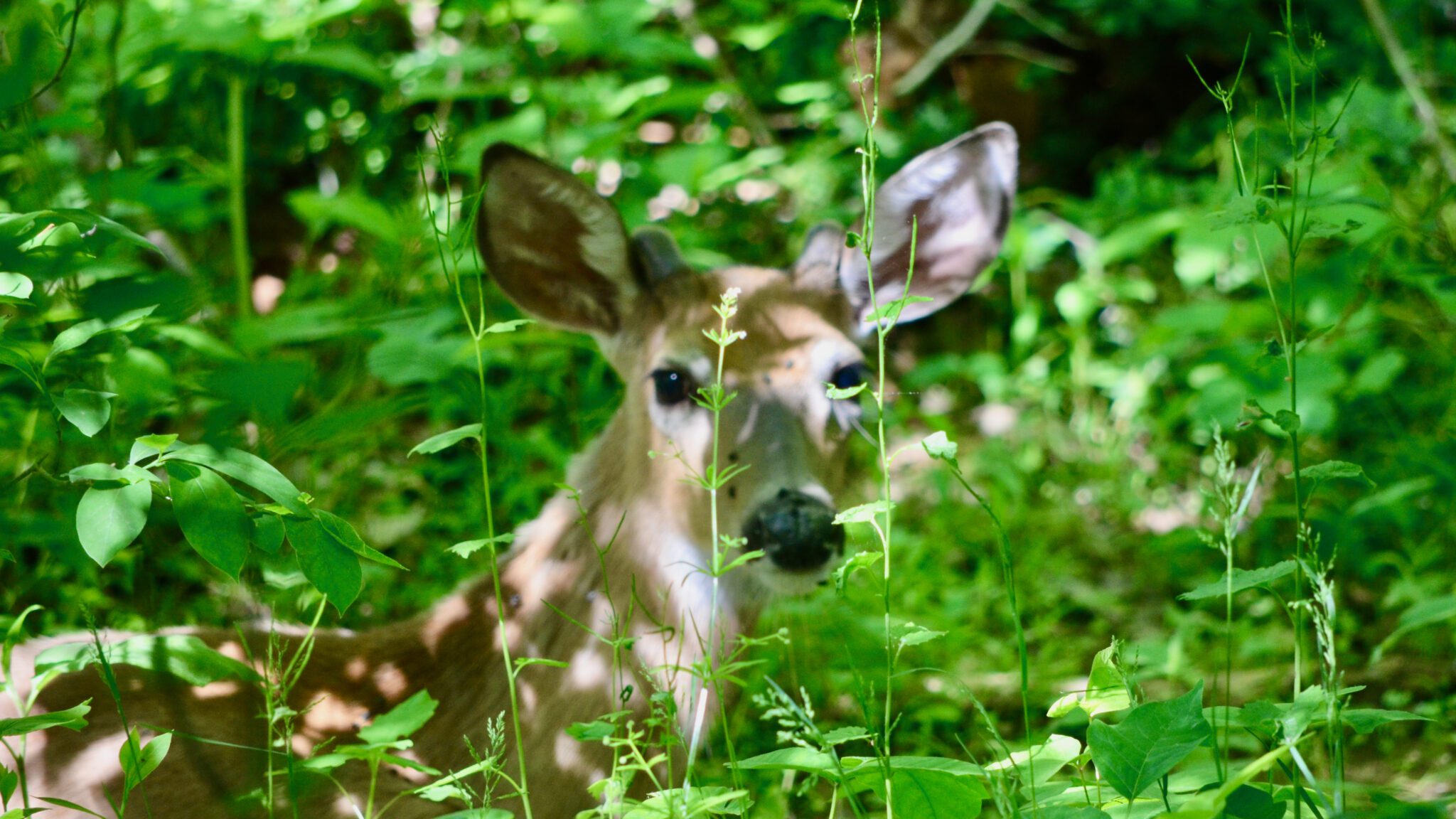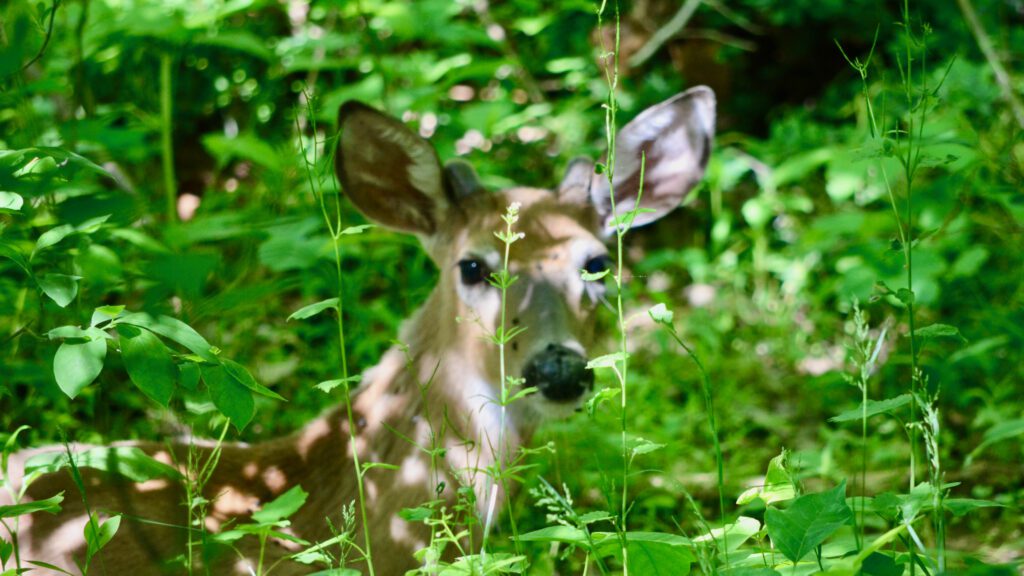 There was so much to see on this Highlands Trail section hike. Small towns, wildflowers, easy waking, rocky trails, forests, a scenic overlook, and wildlife defined this day on the Highlands Trail in NJ.
---
A video of this hike (NJ Highlands Trail – Hike 5)
This video summarizes the sights and terrain of NJ Highlands Trail – Hike 5 and includes footage of the Columbia Trail, Patriots Path, Schooley's Mountain Park, and wildlife.
Click here to see Highlands Trail NJ – Hike 6: Hopefully, COMING SOON!
Click here to see Highlands Trail NJ – Hike 4: the previous section hike on the Highlands Trail.
For additional information, please visit the NY/NJ Trail Conference Website.
---
Highlands Trail NJ End-to-End Hike(s) Progress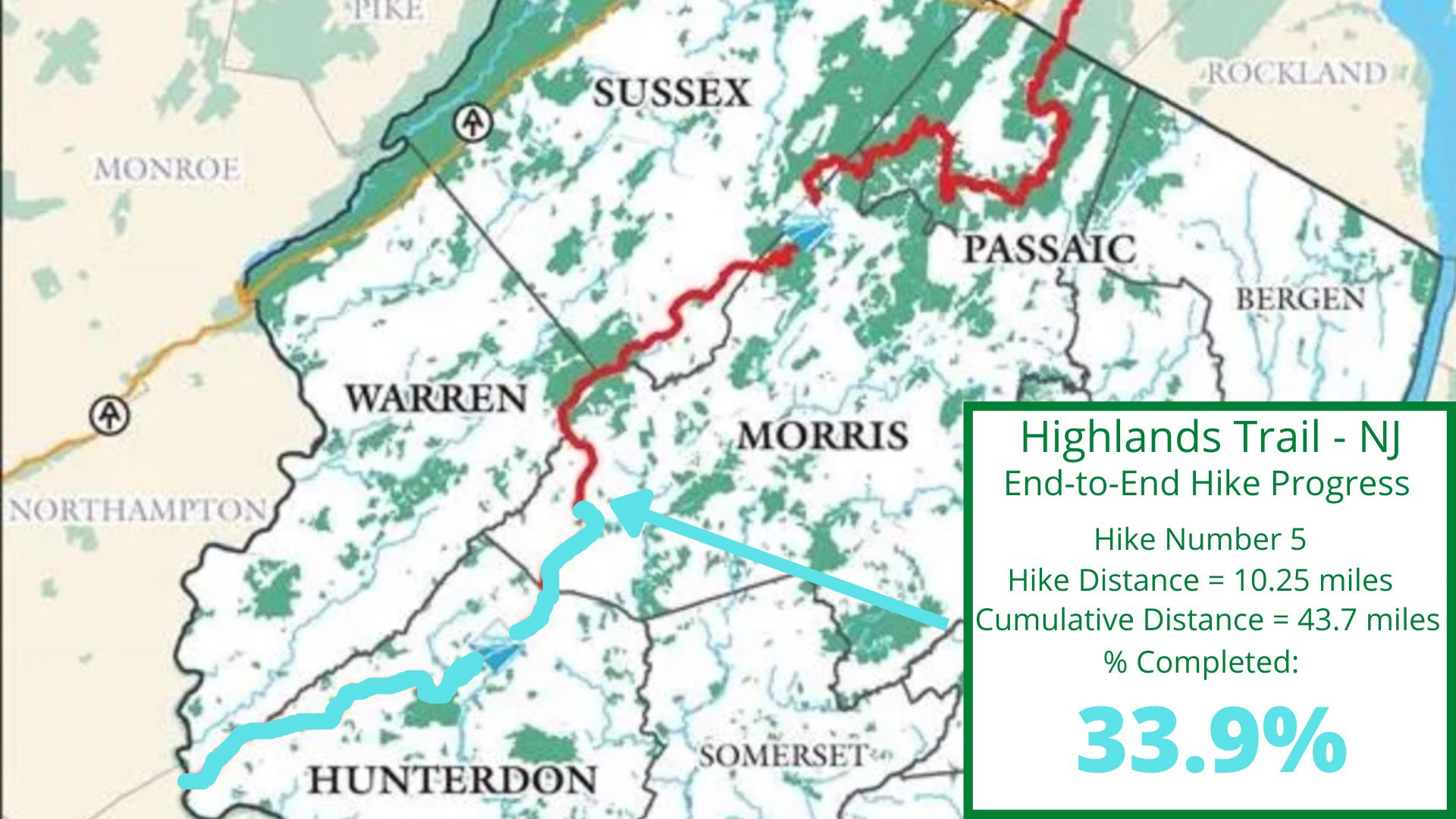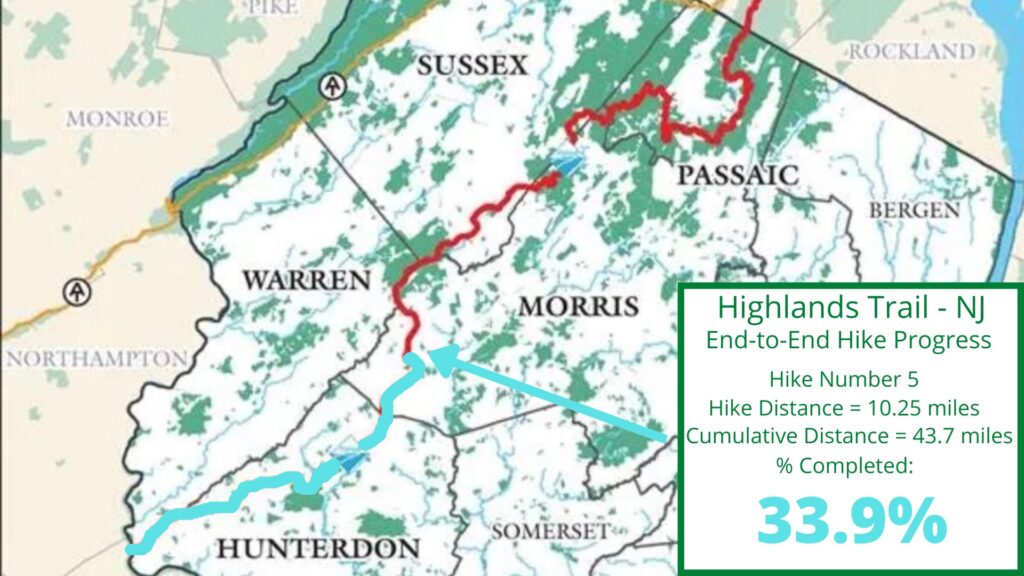 ---