Reading Time:
3
minutes
After enjoying a relaxing Saturday breakfast and my second cup of coffee, I asked my wife what she wanted to do with our day. She started listing places we could explore. I had no idea the day would end with new friends and William Shakespeare. We eventually decided to visit Ken Lockwood Gorge in High Bridge, NJ. The gorge is a trout conservation area, which means only catch and release fly fishing is permitted. Steep banks rise up on either side of the river creating the gorge. We expected to view the changing autumn colors and also the rising waters of the South Branch of the Raritan River, due to heavy rains from the previous night.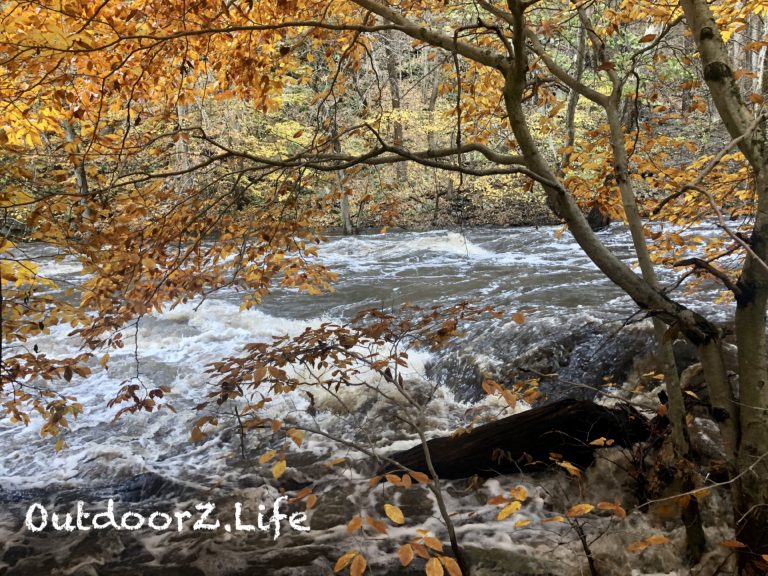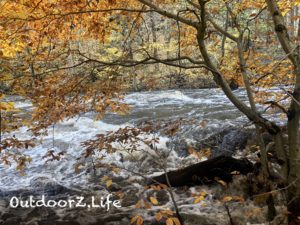 Our hike did not disappoint. Rays of sunshine lit the bright, vibrant foliage along the trail and the surging river water crested just as we arrived, spilling over some of its banks. Usually, the river is moving through large boulders in a manner that reminds us of the Adirondacks; this gem of a location can be found less than 60 miles from New York City. On this day, raging water covered the mid-stream boulders. It was a sight to behold, photograph and video as we hiked down the gravel path on one side of the river.
On the trail we met fly fishermen, walkers, hikers, bikers, runners, and photographers. Early on, we greeted a hiker and noted that he was wearing a flannel, plaid patterned shirt which I also happen to own. We passed a cheerful photographer who focused in on capturing a small waterfall trickling from a tributary stream. We joked with a hiking group about how to navigate an area of the path that the rising river had overtaken. We met a couple who was following a snake as it moved towards the water. We offered our photography services to a young couple who were hiking with their two dogs. The river and colorful leaves served as a stunning backdrop to the couple and their dogs perched atop a large boulder. Everyone we shared the trail with that day was enjoying their outdoorz activity; everyone greeted us with a smile.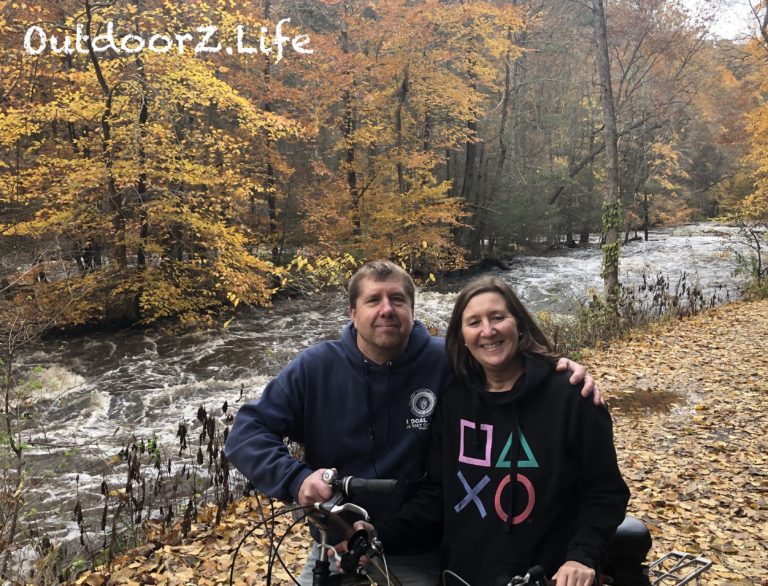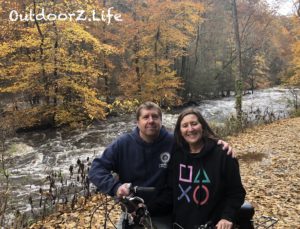 As we were nearing our turn-around point, we met a couple surveying the rapids as they paused from their bike ride. After each of us smiled and said "hello," I said something like, "Are you thinking about kayaking today?" I was joking, as the water was extremely high for our kayaking skill level. John, who we later learned is a trained whitewater rafting guide, said that he was indeed thinking about heading home to get his kayak. They were assessing the water level and checking for strainers. How cool is that?
Needless to say, we began a conversation that deepened our interest in one another's adventures as we stood on the trail and discussed a growing number of common outdoor activities. We shared similar hiking experiences and kayaking locations. Beth mentioned a place to kayak in Pennsylvania and we added it to our list of places to explore. We talked about Yellowstone, the White Mountains of New Hampshire, the Grand Canyon and a variety of local lakes and hiking trails. Then we began discussing outdoor YouTube videos. John asked, "Did you see the video of a guy trying to eat cereal during hurricane-force winds on top of Mt. Washington?" I chimed in, "You have to check out the video of a mother grizzly bear chasing a black bear up a tall tree. After the momma bear went up and down the tree three times, there were no branches left except for the very top of the tree where the black bear remained. That black bear clearly regretted his hiking location that day."
Before we said goodbye, we exchanged phone numbers and they invited us to their home for pizza and an outdoorz YouTube video night. We also discussed getting in a late season kayak together. How does a meeting like this happen? How do perfect strangers invite others over for dinner? William Shakespeare said, "One touch of nature makes the whole world kin." That seems accurate. We are thankful for the beautiful day, our exploration along the river in a gorge, happy people, and our new friends. Go plan some time outdoorz; you may happen upon people who share your interest and might just be your outdoorz kin.
See where this story/article ranks in popularity:  Top 10 List
Click here for 12 second video of the river this day.
Click here to see a short story: A NJ Hike Impresses Folks From The Rockies