Reading Time:
3
minutes
Hiking packs for dogs come in all shapes and sizes. Whether you're going for a short hike or you're venturing out on an overnight backpacking trip with your dog, you should consider getting your dog a hiking backpack.
With a comfortable, well-fitted pack, your pup can carry their own essentials without a problem! Of course, you shouldn't load them up like a pack horse, but most dogs are perfectly capable of carrying their own lightweight items.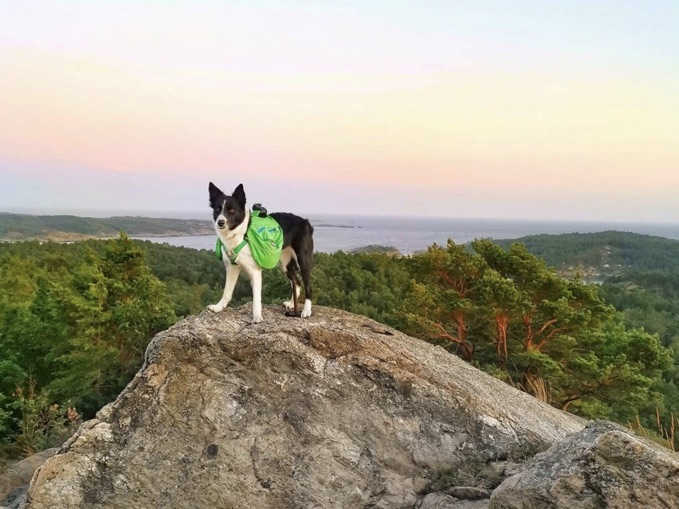 How a hiking pack for dogs is useful
While you'll probably be carrying the bulk of your items in your own backpack, it can be very convenient for your dog to carry some of their own items. Here are some of the things your dog may be able to carry in their backpack:
Treats or food
Collapsible bowls
Poop bags (be sure to pack out the used ones, too!)
First aid kit
Water bottle
Paw balm or booties
Extra leash
When your dog carries these things on their own, you don't have to dig to the bottom of your backpack to get out a treat or a waste bag!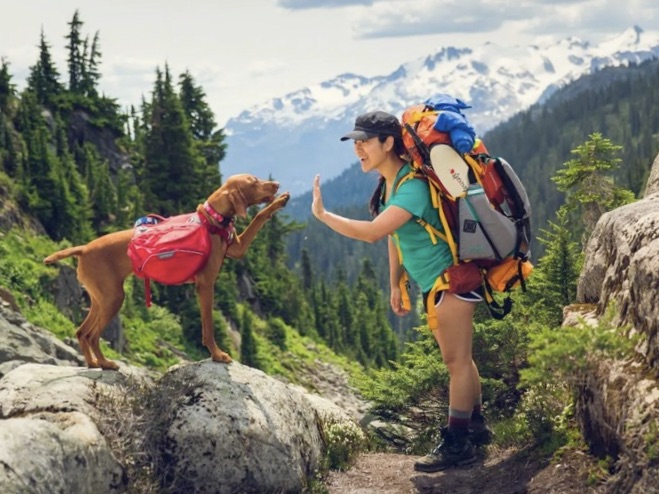 How to select the best hiking pack for dogs
Make sure to consider:
The fit and comfort for your pup
Your budget and style preferences
Features (such as a sturdy handle for helping your dog)
The size (spacious pockets, or slim ones)
Hiking packs for dogs are available in a variety of styles and budgets. Before purchasing one, make sure to check the reviews for more information from pet owners like you. Don't skip measuring your dog beforehand! Some packs fit better on certain breeds or body types than others. You want to make sure the backpack fits them perfectly for their own comfort and safety.
Many dog backpacks double as a harness for walking on a leash. Many of them also have a handle so you can help your dog scramble up a slope or so you can grab them away from a tricky situation.
Some backpacks have larger pockets that are good for long trips (and stronger dogs who can handle the weight). Others are lightweight and only allow for minimal items to be carried. Some dog backpacks have hydration bladders in them, which is great! Just keep in mind that water can add a fair amount of weight, so make sure your dog can handle it.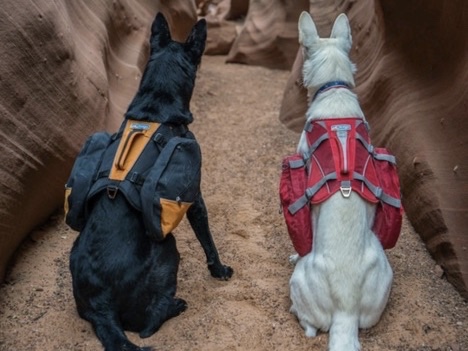 Know how much weight your pup can carry when selecting a dog backpack
Your dog should never be asked to carry more than 25% of their body weight. If your dog weighs 20lbs, their load will have to be 5lbs or less. If they weigh 80lbs, then they may be able to carry up to 20lbs of weight. But also keep in mind your dog's health and body condition. If they are older, out of shape, or are prone to injury, then you should strongly consider a lighter load for them.
Don't introduce the weight all at once
It's very important to train your dog before the day of your hike! Start by putting the empty pack on them and rewarding them as they learn to get used to it. Then, add some weight on walks near home. Start slowly and add more as they get used to the pack and the weight. Positive reinforcement is key, so offer plenty of praise and treats!
For more dog-centric products (including hiking packs for dogs) you'll want to have in tow for your next hiking trip, check out the American Kennel Club website.
---
See where this story/article ranks in popularity: Top 10 List