Reading Time:
5
minutes
By October 2018 I had covered some fairly impressive ground:
the backcountry of Yosemite including using the cables to summit Half Dome (September 2014)
the Laugavegur Trek in Iceland (August 2016)
the Thorofare Trek in the southeast corner of Yellowstone (August 2017)
the "O" Circuit in Torres del Paine Patagonia (March 2018)
Anyone interested in hiking Kilimanjaro?
2018 turned out to be my best backpacking year yet, going to Death Valley, Glacier and Isle Royale National Parks in addition to Patagonia. So, when a complete stranger on the Homemade Wanderlust group on Facebook asked if anyone was interested in hiking Kilimanjaro I said "Heck yeah!"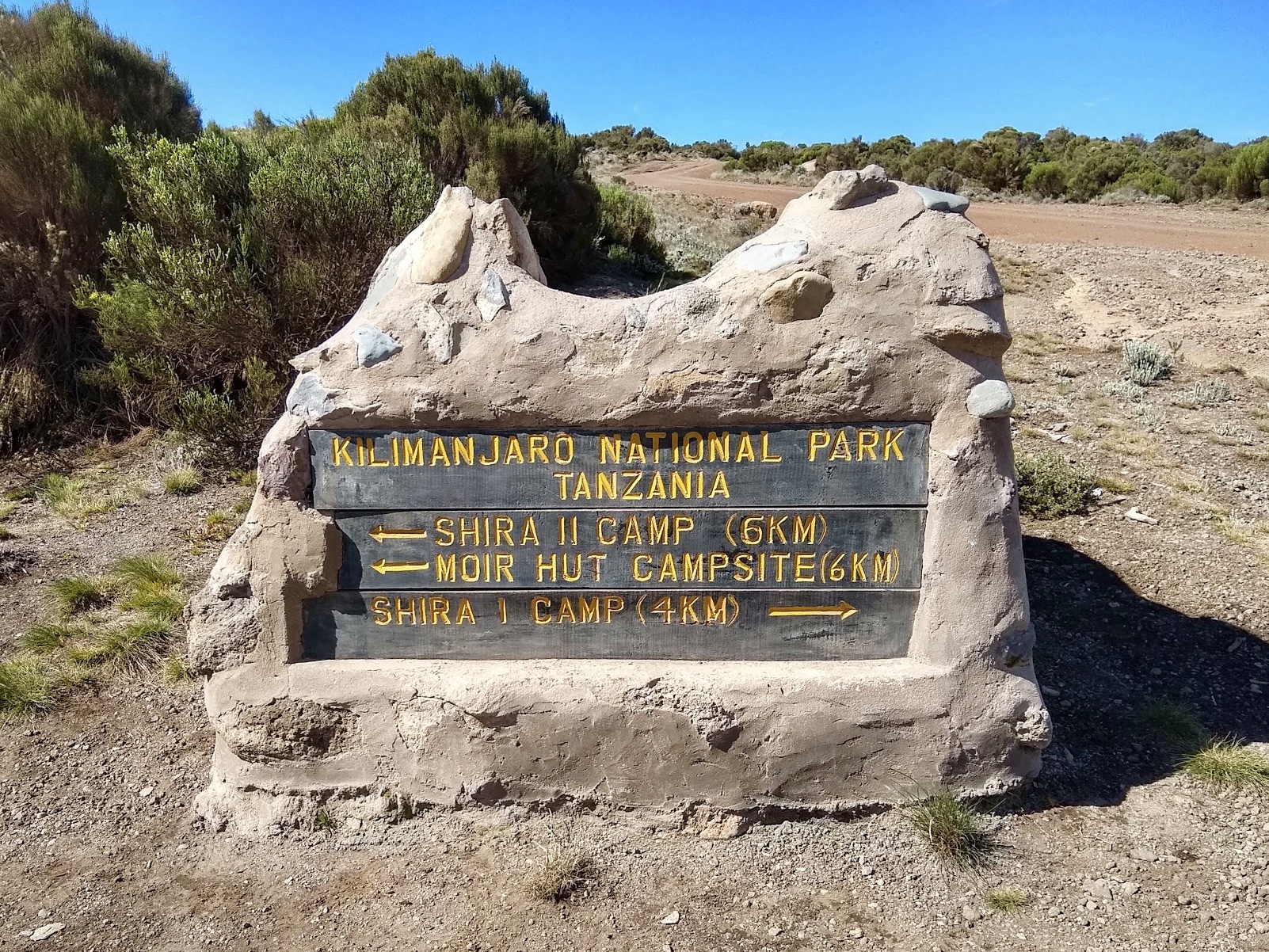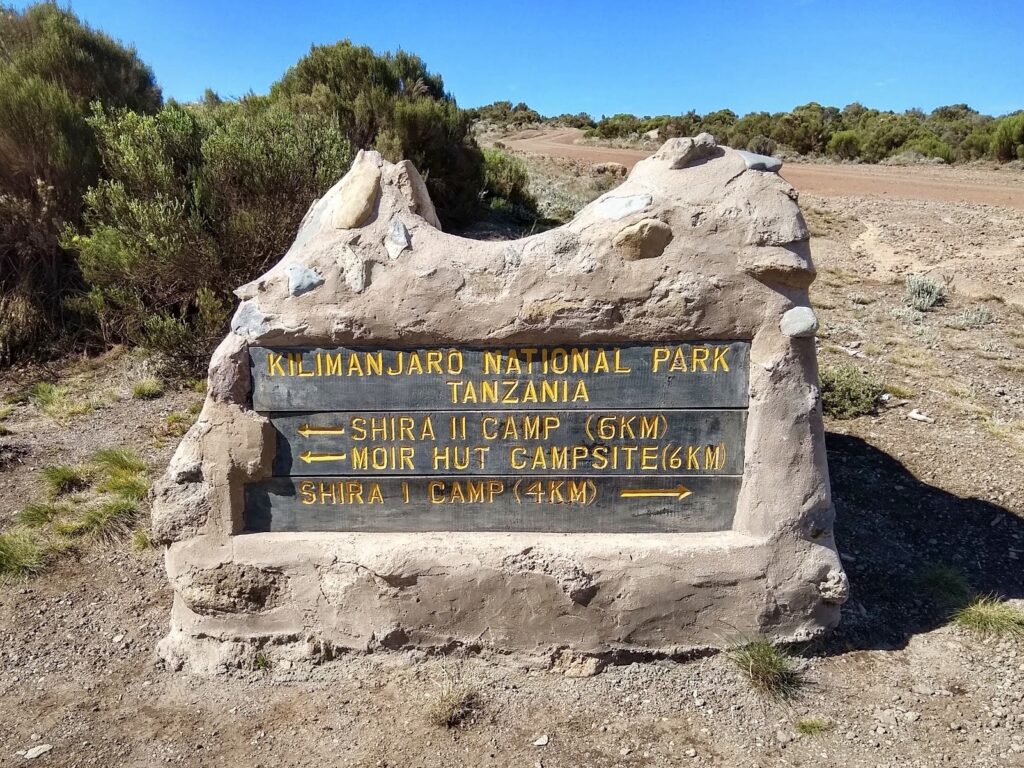 At the time I had no idea what this would entail, but I didn't have a hike lined up for the winter, so why not? Brian said that he had done some research on local guides and had found one he liked. He was leaning toward an 8-day trek. Brian and I had both researched the odds of reaching the summit, and at 90% the 8-day trek was the way to go. So he reached out to propose a start date, and Eastland Adventures was available!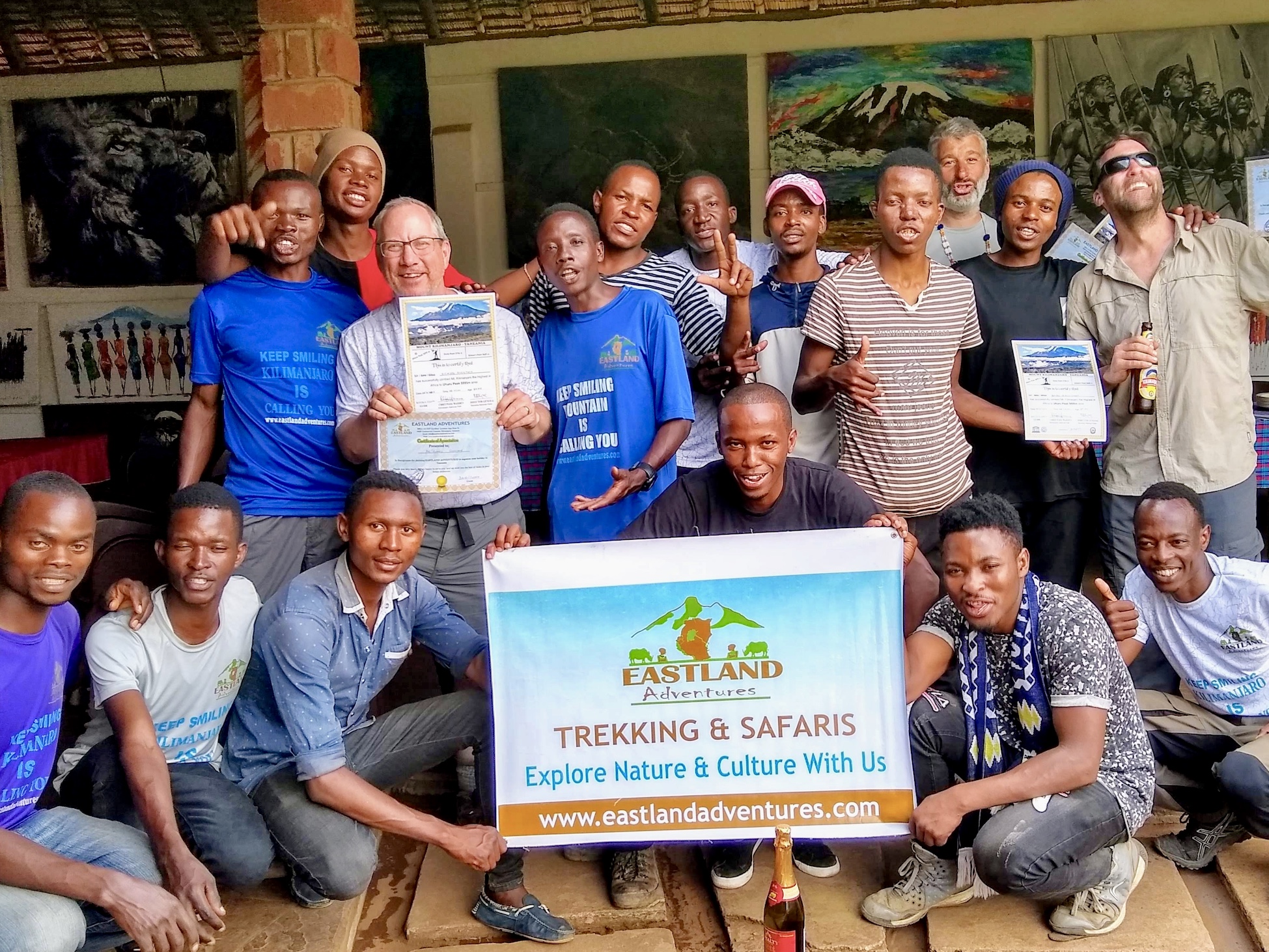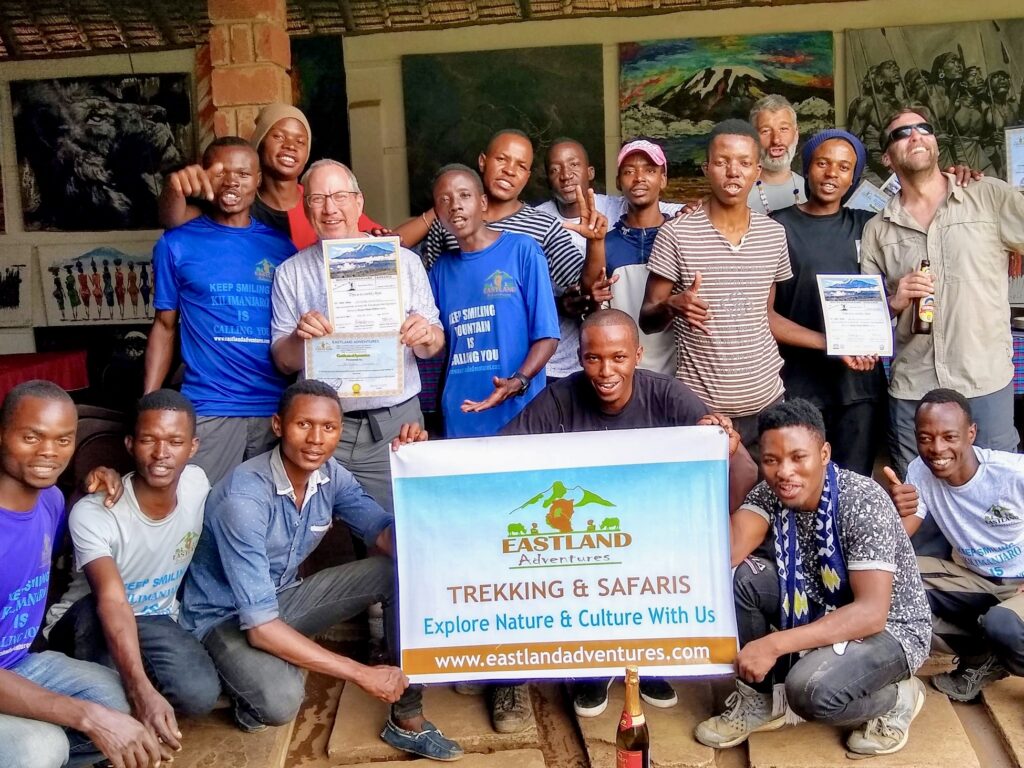 Choosing a Local Guide
I didn't realize it at the time, but picking a reputable guide would be the most important piece of planning needed for this trek. A guide is required to hike Kilimanjaro and is also a large expense. We paid $2,200 per person for our 3 person group. This included keys items:
transport from and to the airport
a hotel for 1 night on both ends of the trek
all park fees and permits
food and treated water
porters to carry everything but your snacks, rain gear and other things you may need while you are hiking

What we received for this was an experienced, customer-focused crew that included a lead guide, assistant guide, cook and 10 porters. You may be able to reduce your cost $200-300 per person with a larger hiking contingent, but we were willing to pay this for what we received.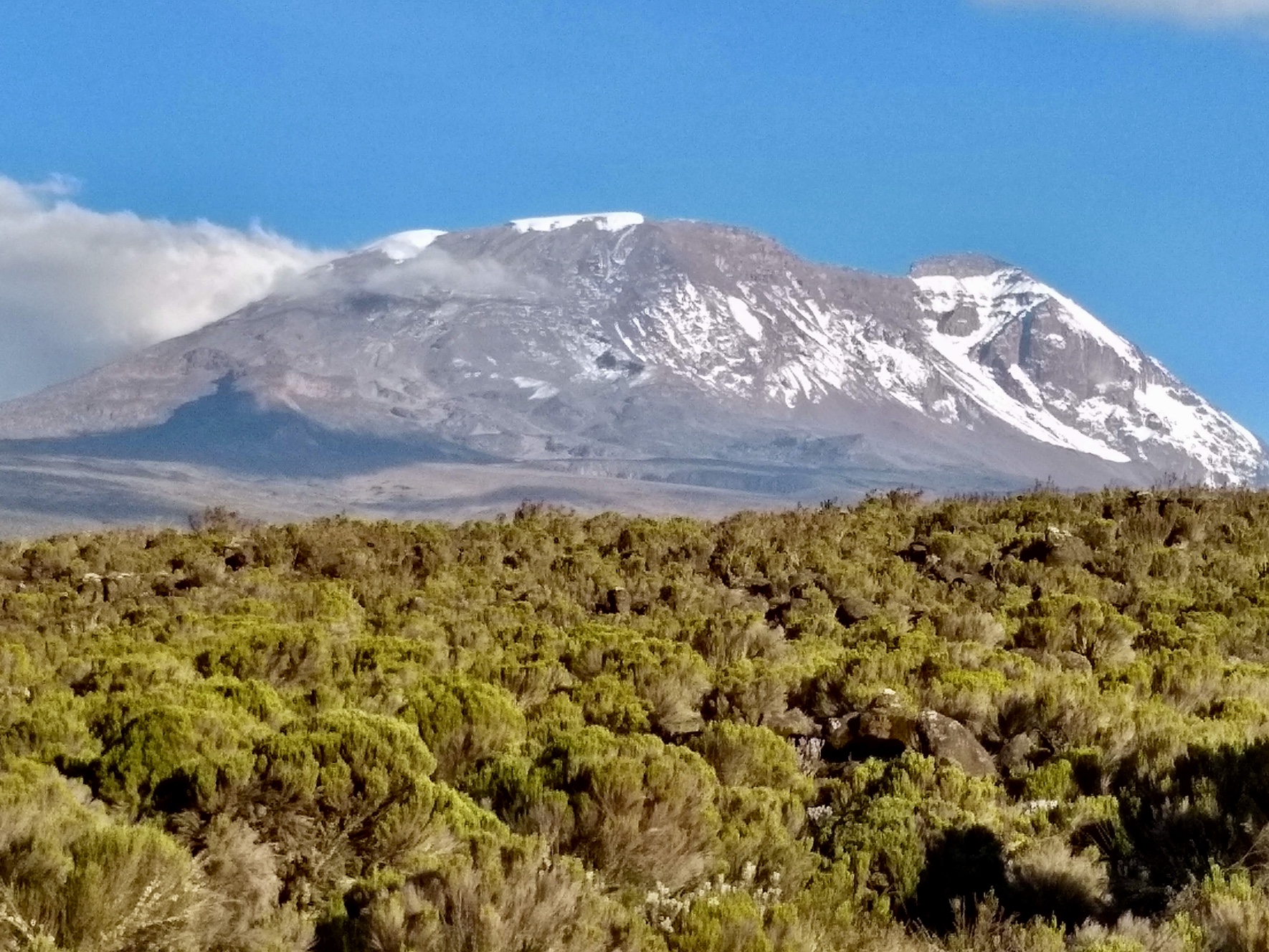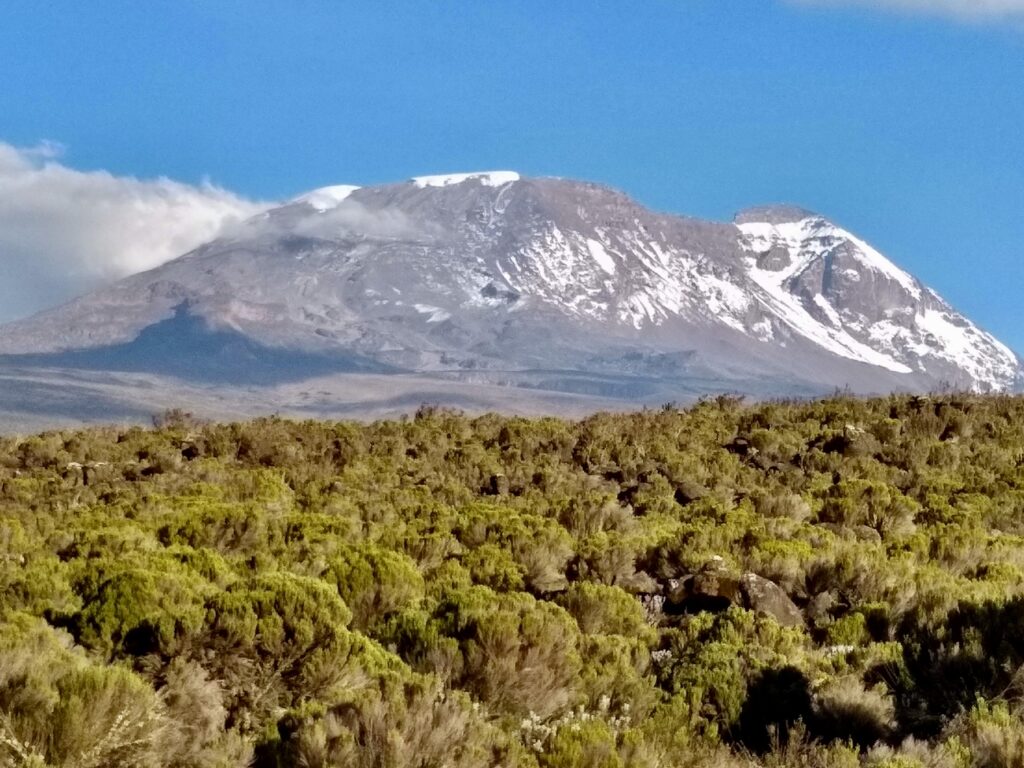 When to go
On the topic of dates, we had researched the preferred times to go and chose February as it was a bit less crowded then and it was not the wet season! There are 2 wet seasons on Kilimanjaro – April-May and November-December. My recommendation is to avoid these times.
Getting there
After that it was a matter of booking a few flights, getting some cold weather gear and making sure my vaccinations were up to date. On the flight side, I saw that KLM flew directly from Amsterdam to Kilimanjaro airport. I live on the east coast of the US, and I was also able to get a direct flight to Amsterdam. I treated myself to business class from the US to Amsterdam and back, but you can definitely get an economy class ticket for under $1,000 for each leg. And you can find less expensive flights through other cities and with more stops.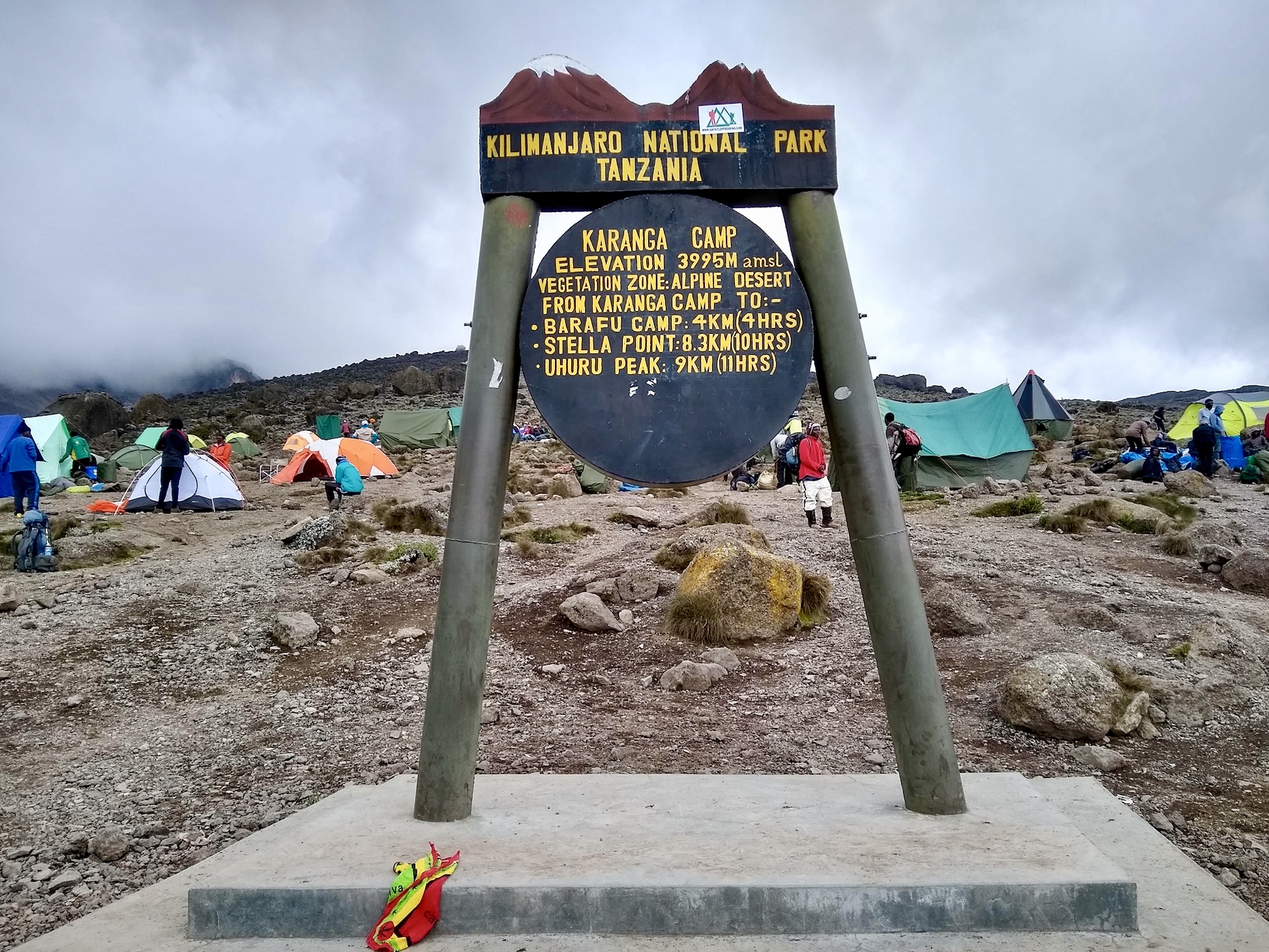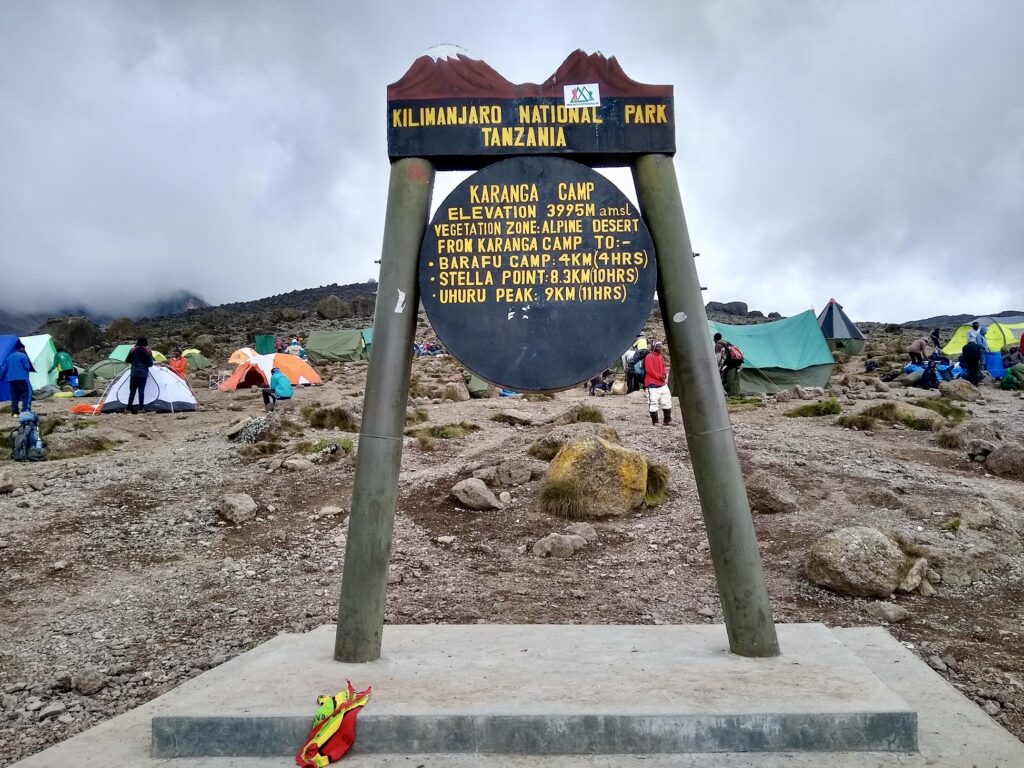 Gear
On the gear side, our guide company sent us a list of what to bring. I ended up not bringing everything recommended (I don't need a change of clothes, socks, and underwear for each day!). But I did need a colder weather sleeping bag. The temps at night were right around freezing, maybe a few degrees less (32⁰ F or 0⁰ C). So my recommendation is to bring a bag that will keep you comfortable down to at least 20⁰ F. You will definitely need warm gloves and multiple layers (I had four: a base layer, hiking shirt, fleece, and a waterproof layer), including rain gear. I didn't need all of the layers until summit night when it got down to 5⁰F! The one piece of gear I was glad I took even though it was not on the list was my Exped Synmat sleeping pad. The porters carried sleeping pads, but they were 1" closed cell versions and as a slide sleeper that doesn't cut it for me!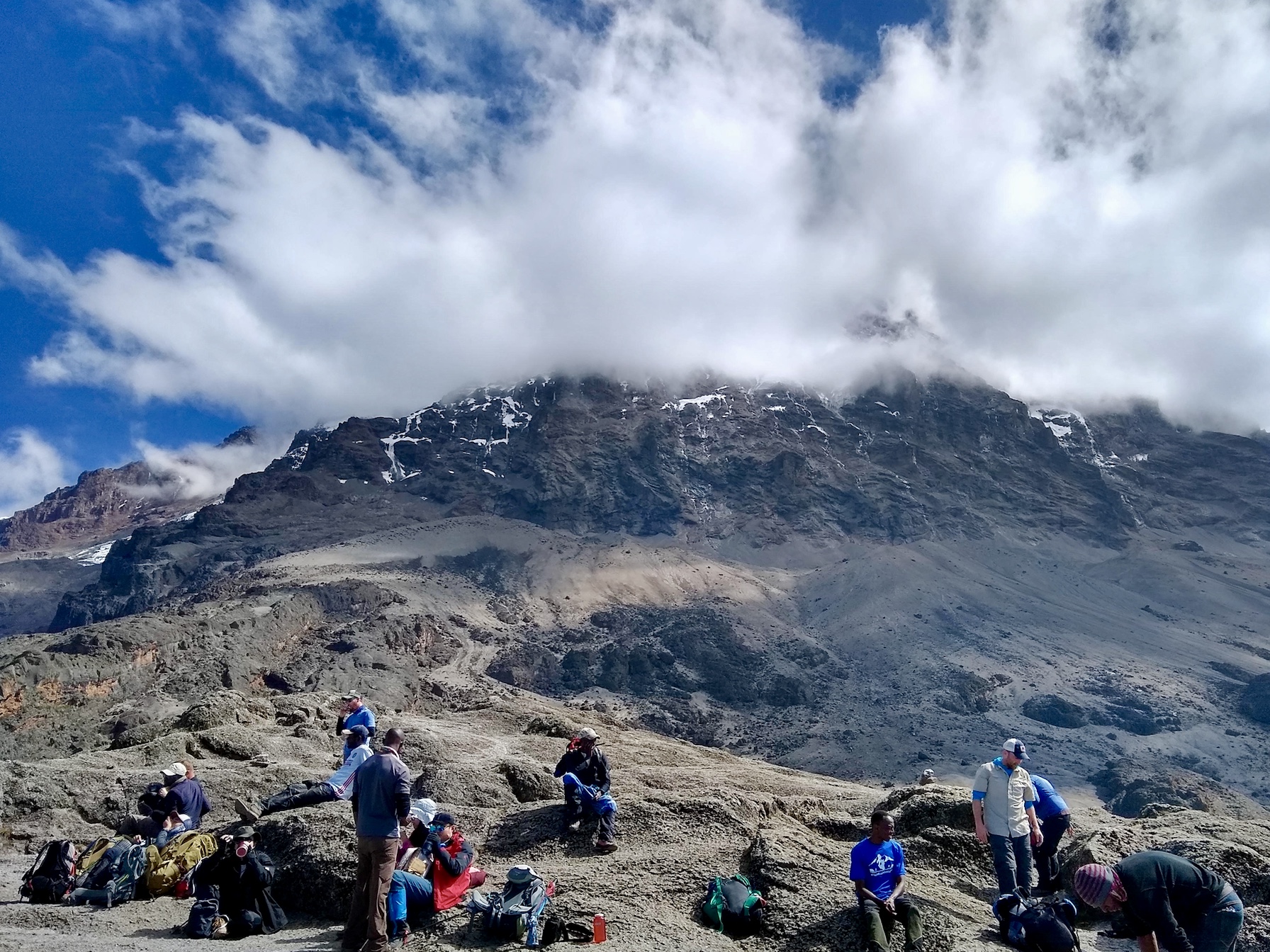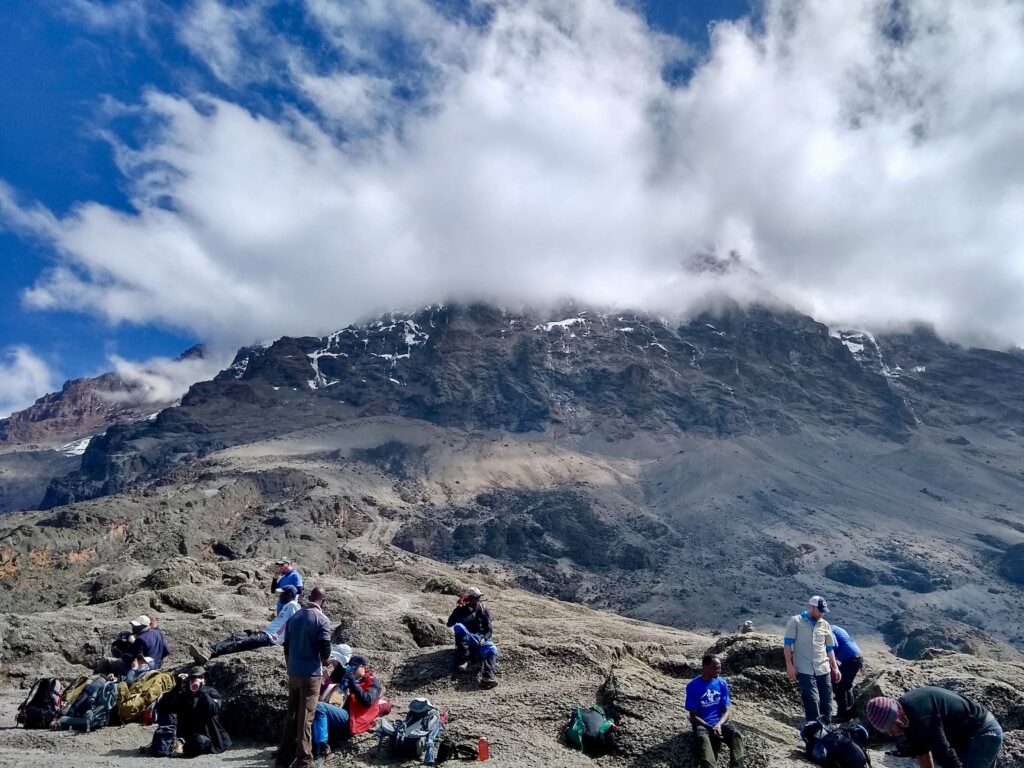 Health and safety
As far as vaccinations go, you need to make sure that the usual things like tetanus and rabies are up to date. I also got vaccinated for typhoid and Hep B, which I was not up to date on. Though the guide company recommended malaria vaccine, it is not recommended by the US State Department for Tanzania unless you will also be going on a safari or spending extended time in other parts of Africa where malaria is common. I saw very little in the way of bugs – mostly flies and bees. So the evidence supported that this vaccine was not needed.
The only medicine that I took on the trip was ibuprofen and acetazolamide (the generic version of Diamox), which is used to prevent altitude sickness. I used the ibuprofen twice during the trip to relieve my headaches caused by the altitude. I also gave a couple to one of my hiking mates, who did not bring any! Though I had the acetazolamide, I did not take it. On the first night, a guide said that if we stayed hydrated, ate well and were well rested we would not need it. That being said, it is difficult to predict how your body will react to high altitude, and you need to listen to your body – failure to do so could result in death.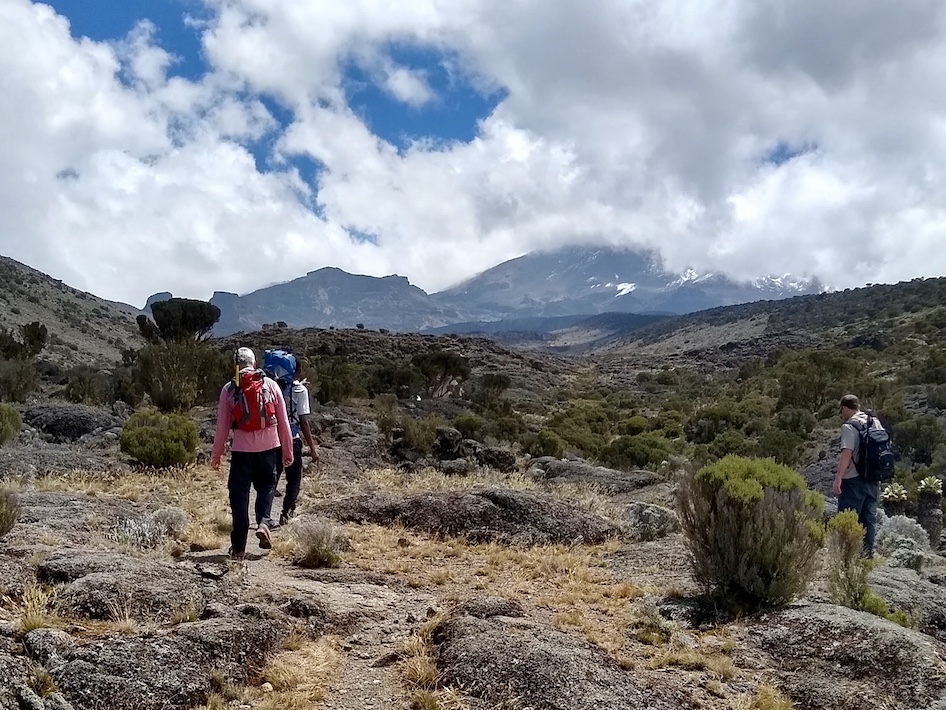 Our guides did a great job of keeping track of our health. Every night after dinner they checked and recorded our oxygen level and pulse rate with a portable oximeter, and also asked a number of questions about our overall status – appetite, nausea, diarrhea, vomiting – and how we would rate the day. This enabled them to take steps in the event someone was starting to go downhill. Thankfully none of us encountered any issues.
The hike
The hiking itself was not overly difficult, with the exception of the hike to the summit. The typical day was 3-5 hours of hiking, covering 4-6 miles, with a good bit of up and down and occasionally some rock scrambling. The approach by the guides on the uphill portions was "pole pole" (pronounced polay), which in Swahili means slowly, slowly. In most cases, we were doing about 1 mile per hour, which provided good practice for the summit climb. I typically carried about 15 pounds in my day pack, which included 3 liters of water, snacks, rain gear, my first aid kit, an extra pair of socks and underwear and a few other items.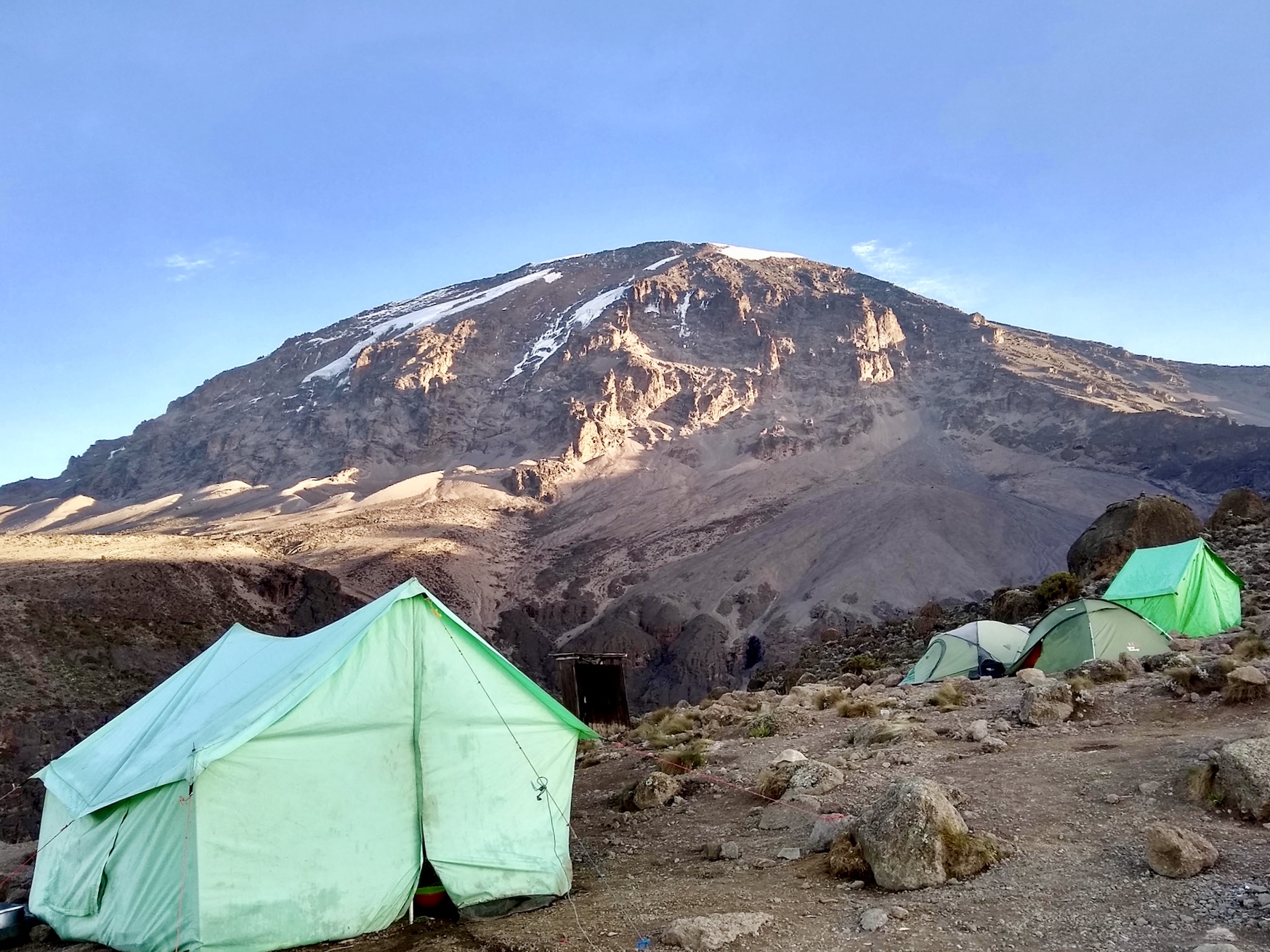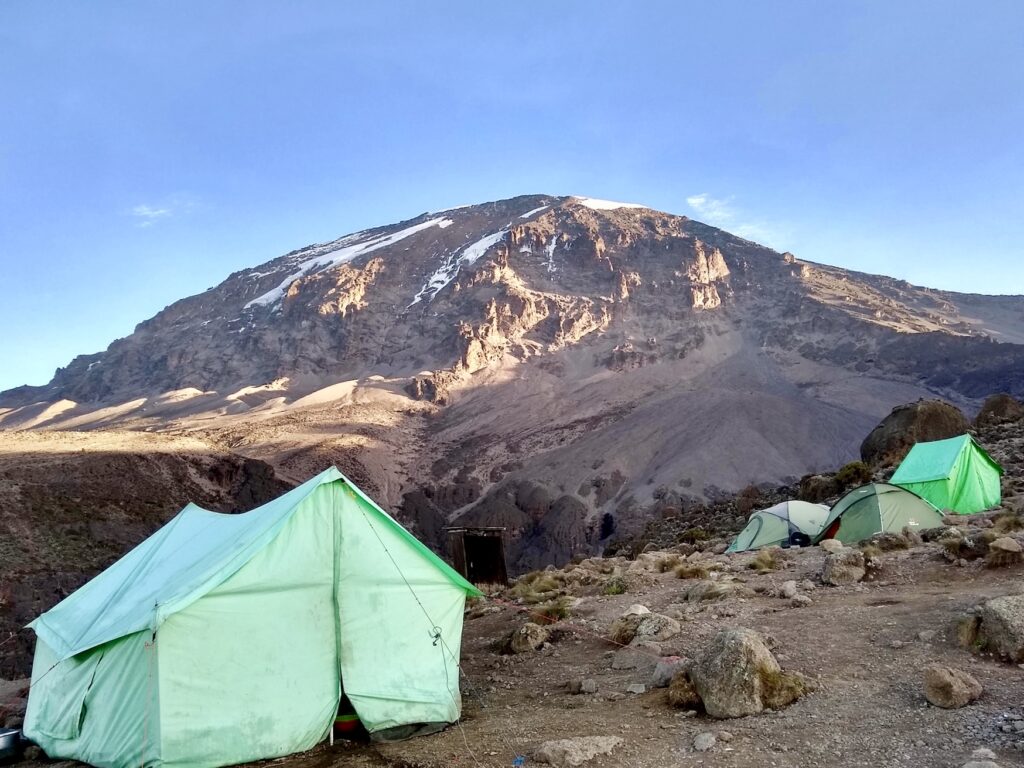 The only hiking where I had some challenges was when we were going up to Lava Tower, which was my first time at 15,000 feet, and on the way to the summit. My previous high altitude was 12,200 feet at a Boy Scout camp in New Mexico. On the way up to Lava Tower, I started getting dizzy a couple of times and felt a little nauseous. The guides immediately took my pack and had me sit down. I got up a few minutes later and walked up to the top, where we had lunch. By the time we were done with lunch, I was good to go.
The summit
On summit night we started climbing at midnight in order to be able to see the sunrise from the top. It took us a total of 7 hours to get to Uhuru peak, the highest point, and the timing worked out perfectly! But about 3 hours in I was having trouble catching my breath. One of my hiking partners reminded me to exhale deeply – when we think of breathing deeply we often just focus on the inhale – and a few minutes later I was good to go.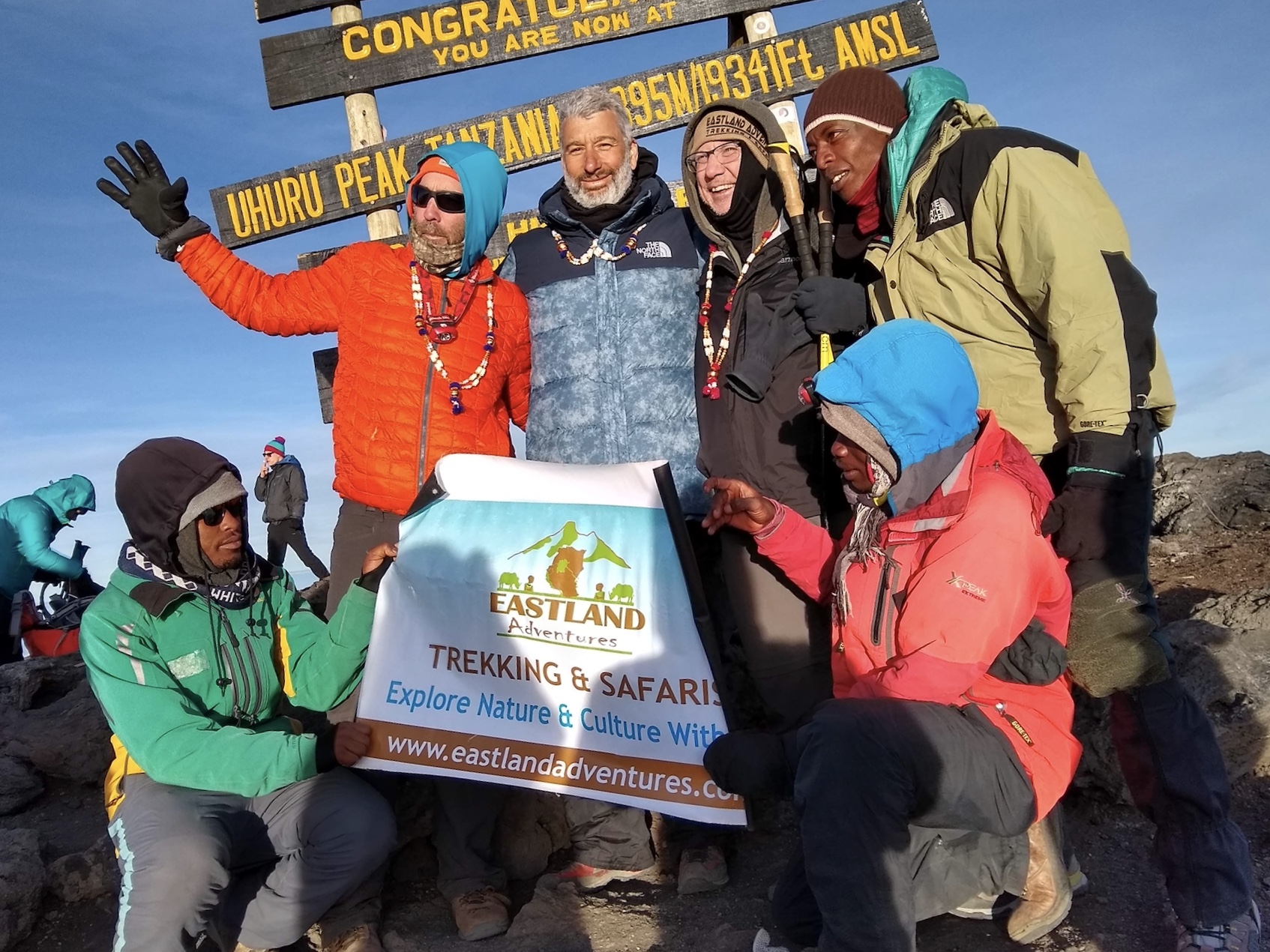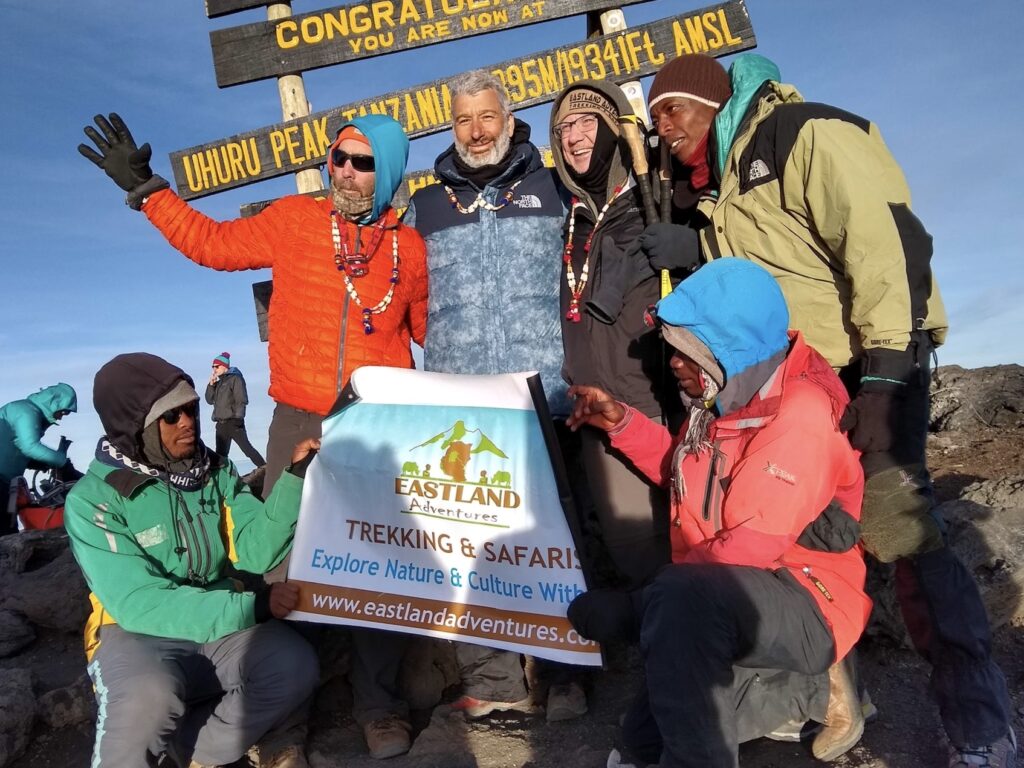 Mount Fuji anyone?
This was the first trek I had done which had a significant chance that I would not be successful. Kilimanjaro is the tallest freestanding mountain in the world and depending on how your body reacts to altitude, it may not be possible. But all went even better than planned, and I am happy that I was able to successfully summit. Though reaching a summit has not been part of my previous treks, it will definitely be part of my future treks. Mount Fuji anyone?
See where this story/article ranks in popularity: Top 10 List
Click here to read: -10 Degrees: Tips for Hiking in Cold Weather